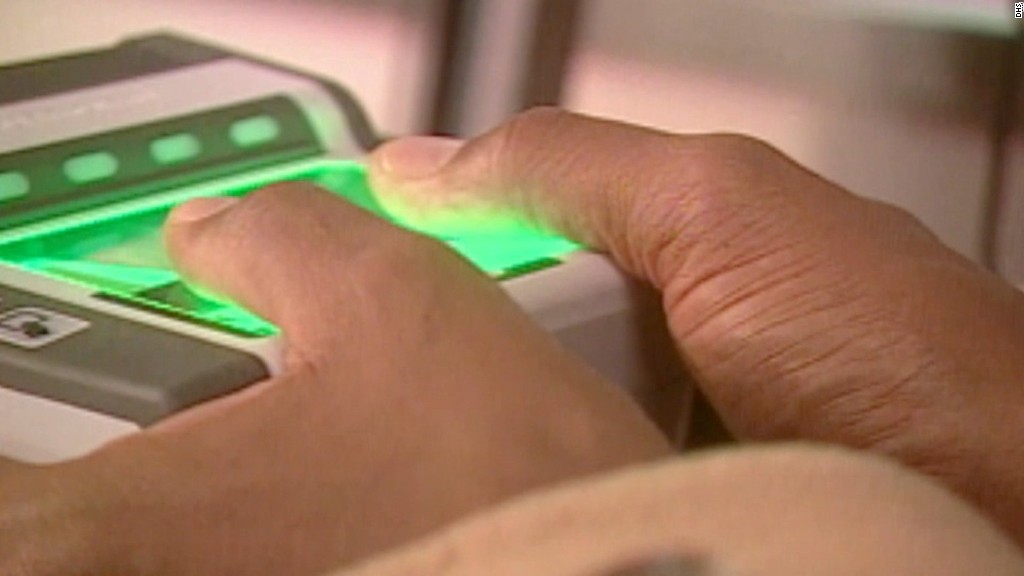 It's an unlikely friendship.
Laila Alawa is a 25-year-old Muslim woman living in D.C. Troy Pflum is a 49-year-old Lutheran man living in Wisconsin.
She's a moderate who voted for Hillary. He's a Republican who voted for Trump.
But Pflum, a truck driver and jewelry salesman, has become an important Twitter ally to Alawa.
Alawa is the founder of The Tempest, a media platform that gives voice to millennial women of all ethnic backgrounds. Alawa, who has more than 22,000 followers on Twitter, is Syrian. She was born in Denmark, lived in Japan for several years, then immigrated to the United States as a child. Her religion, her appearance, and her outspoken nature have made her the recipient of a lot of Twitter vitriol, including death threats.
Pflum, who has just under 2,000 followers, acknowledged that "Twitter has a problem" with trolls.
Pflum isn't alone in this belief. The platform is often criticized for its slow, sometimes nonexistent, response to online threats and harassment.
CNNTech has previously covered the barrage of hate tweets hurled at Alawa. "I hope you die slowly in a pool of pigs blood," and "Can I use that towel on your head to wipe my a**" were just a couple. Pflum, who has three teenage girls, often sweeps in to help Alawa fend off her trolls. "If someone starts attacking her, I'll go right back on the attack. I'm actually more sarcastic than I am mean -- that actually ticks them off even more."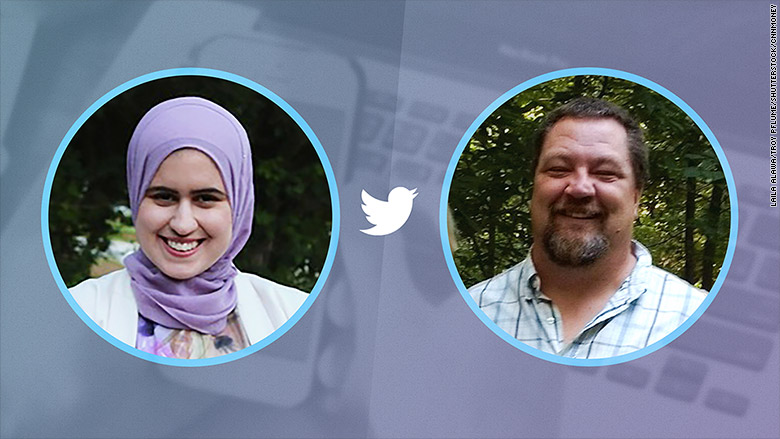 He's set Twitter notifications so he's alerted when Alawa tweets -- that way, he can be quick to help her, if need be. Sometimes that means trolling the trolls back.
In some ways, he feels it's his duty. "I wanted to do something as one of those white guys who votes Republican," he said. "I wanted to be one of them who is helping her."
In fact, when Pflum went silent in 2015, Alawa tweeted at him to make sure he was OK.
While neither Pflum nor Alawa remember exactly when they first connected, Pflum said it was shortly after the Fort Hood shooting in April 2014. The Fort Hood gunman had pledged support to the leader of ISIS, sparking renewed fears that Muslims in the U.S. would be targeted. Pflum said he was looking for someone, like Alawa, from whom he could learn from about Muslim culture and beliefs.
Related: MuslimGirl.com founder on Islamophobia
"There's good people in every group and there's bad people," Pflum told CNNTech. "We could become friends, and I figured that I could learn about being a Muslim. I didn't want to go to Google. I wanted to learn from someone who lives that every day."
Pflum would ask questions of Alawa like "what is duaa?" after reading a tweet of her's mentioning the word. "It's Arabic for 'prayer' or 'invocation.' It's a conscious connection with God," she tweeted back.
Alawa said she'd respond to his questions, but it took a while for her to fully trust him -- and follow him back. "A lot of people will show interest then disappear. But he's been persistent ... Earlier this week I sicced him on a troll when I got tired of defending myself."
Pflum said while he voted for Trump, he'd like for Trump to be more careful with his tweets and his speech. "I wish he wouldn't say a lot of the things he said," said Pflum. "Saying a 'Muslim ban' -- that's stupid, it's unconstitutional."
Related: Will data brokers help build a Muslim registry?
Trump issued an executive order on Friday to implement "extreme vetting" of refugees. According to drafts obtained by CNN, the order temporarily bars all persons from Iraq, Syria, Iran, Sudan, Libya, Somalia or Yemen from entering the United States. The effort is in line with his campaign promise to implement stricter policies on Muslims seeking to come to America. Even ahead of the official action, critics were already slamming the order as nothing more than a racist and xenophobic effort that won't actually make America safer.
Pflum said he thought the U.S. may need to do a better job vetting, but he doesn't believe it should be tied to religion. He said knowing Alawa has helped him start to understand what life after 9/11 has been like for a Muslim woman in America.
"If people don't like me, there's usually a reason. An actual reason. For her, [it can be because of] what's on her head or because she's Syrian," he said. It's not fair, he added: "She's awesome."