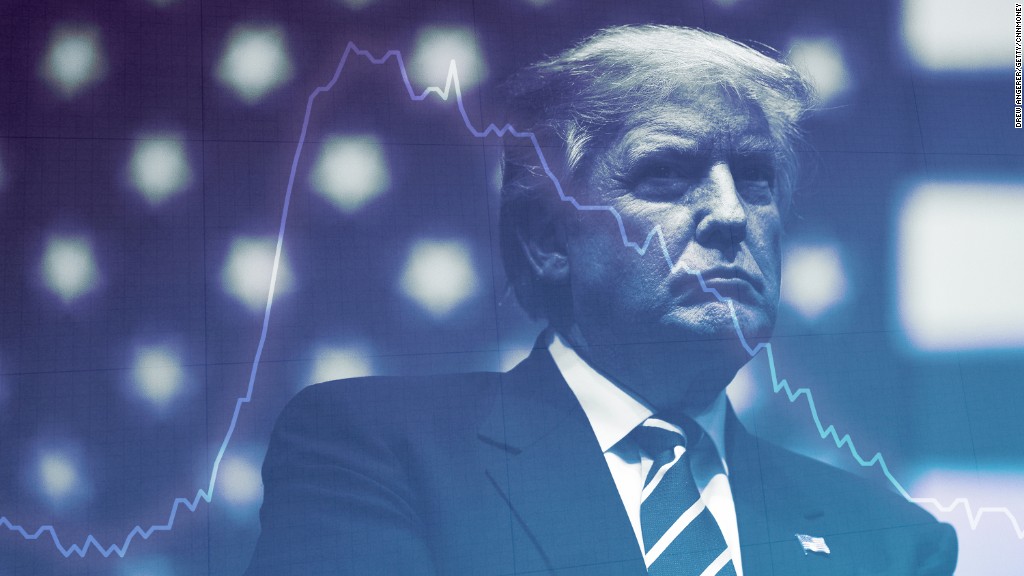 1. Earnings bonanza: This is a busy week for earnings.
On Tuesday, Apple will reveal just how successful the iPhone 7 was during the holiday season. Analysts predict Apple's (AAPL) sales for the final quarter of 2016 will clock in at $77.4 billion, up from $75.9 billion this time last year. But profit is expected to sink.
Investors will also be keeping an eye on ExxonMobil (XOM) Tuesday. The oil giant -- whose former CEO Rex Tillerson cleared an important hurdle on his path toward becoming Trump's Secretary of State -- is expected to report $222.7 billion in annual sales. That's a 17.2% decrease from 2015.
Facebook will report quarterly results on Wednesday and expectations are high. Analysts are hoping to see $27.3 billion in sales for the whole of 2016, a more than 52% increase from 2015. Still, Facebook (FB) is working hard to keep its huge audience coming back for more. It announced plans to revamp its trending topics section to combat fake news. It also began testing a new feature, similar to Snapchat Stories, that allows users to post temporary videos.
It will be Amazon's (AMZN) turn in the hot seat on Thursday, with sales for 2016 expected to reach $137 billion. Amazon made history last week by becoming the first streaming service to receive a Best Picture Oscar nomination for its film 'Manchester By the Sea.' Earlier this month, the company announced it would create 100,000 U.S. jobs.
2. Jobs report: Friday marks the first jobs report since President Donald Trump's inauguration -- and he's got big shoes to fill. In Former President Barack Obama's last full month in office, unemployment clocked in at a low 4.7%. December also marked a record 75 straight months of job growth.
Trump has made job creation a priority, saying in his inaugural address that he plans to put "America First" by keeping jobs in the U.S. On Friday, Trump released an initiative to grow American manufacturing jobs. It's part of his broader promise to create 25 million new jobs over the next decade, which would be the most by any American president.
3. Fed meets to discuss rates: The Federal Reserve is meeting on Tuesday to discuss interest rates. Fed Chair Janet Yellen made waves in December when she announced the Fed would hike key interest rates 0.25 percentage points. It was the first rate hike in a year, reflecting the Fed's confidence in the improving U.S. economy.
The Fed may also discuss Trump's economic policies. Before Trump took office, Fed officials said there was "considerable uncertainty" surrounding his financial plans. They also said the U.S. economy could grow faster under Trump's policies, which could lead to more rate hikes.
4. Obamacare on life support: Tuesday is the last day for Americans to enroll in coverage under Obamacare. Earlier this month, the government reported that more than 11.5 million Americans had signed up for 2017 coverage. But within hours of his inauguration, Trump signed an executive order to start rolling back Obamacare. On Friday, the Trump administration halted up to $5 million worth of advertising for Obamacare.
Trump isn't the only one dealing blows to the Affordable Care Act. Health care company Aetna (AET), which will report quarterly earnings on Tuesday, pulled out of 11 Obamacare exchanges last year. Aetna claimed the decision was strictly a business move fueled by mounting losses. But a judge ruled this month that Aetna's real reason for dropping Obamacare was to avoid judicial scrutiny over its merger with Humana (HUM).
5. Coming this week:
Monday - Pending home sales index
Tuesday - Fed meeting begins; Last day for Obamacare open enrollment; Apple (AAPL), Nintendo (NTDOF), Aetna (AET), ExxonMobil (XOM), Under Armour (UA) and UPS (UPS) report earnings
Wednesday - Facebook (FB) earnings; Auto sales report
Thursday - Amazon (AMZN) and Chipotle (CMG) earnings
Friday - Jobs report
Correction: An earlier version of this story incorrectly stated that Rex Tillerson had received Senate confirmation to become secretary of state. Tillerson was approved by the Senate Foreign Relations Committee but not the full Senate.