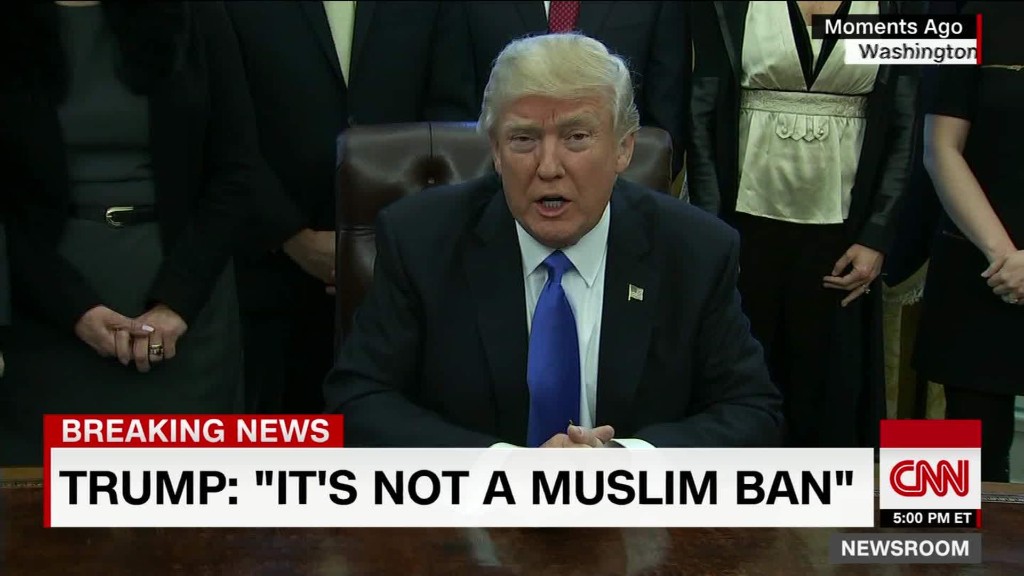 General Electric CEO Jeff Immelt says he shares the "concern" felt by his employees over President Trump's executive order banning travel from seven Muslim majority countries.
In a message posted on the GE employee blog Sunday, Immelt said the company has many employees from the countries named in the ban, and added that GE does business "all over the region."
"These employees and customers are critical to our success and they are our friends and partners," Immelt wrote, adding that GE would "stand with them" and work with federal officials to find a balance between security and the "movement of law abiding people."
"We are a very global team and we will stand together as the global political situation continues to evolve," Immelt said.
Related: Trump launches manufacturing initiative with business leaders
Immelt is one of 28 business leaders named to a council last week that will advise Trump on manufacturing growth.
Another one of those executives, Tesla CEO Elon Musk, has previously called the ban "not the best way to address the country's challenges."
Musk tweeted to his nearly 7 million Twitter followers on Sunday asking for suggestions on "specific amendments" to the ban. He added that he would "seek advisory council consensus" and present ideas to Trump.
Several tech executives have publicly denounced the travel ban.
Uber CEO Travis Kalanic called the ban "unjust" in a Facebook post on Sunday, and said his company would "urge the government to reinstate the right of U.S. residents to travel."
Uber had earlier been criticized for what many saw as an inappropriate response to the ban.
Kalanick, who along with Musk is a member of another economic council giving advice to Trump, said he would use his position on the council to "stand up for what's right."
JPMorgan Chase also weighed in on the ban Sunday. The company released a statement saying it has reached out to employees on sponsored visas who could be affected by the executive order.
"We want every one of you to know of our unwavering commitment to the dedicated people working here at JPMorgan Chase," the statement read.
Like Kalanick and Musk, JPMorgan Chase CEO Jamie Dimon is also on the president's business and economic council.