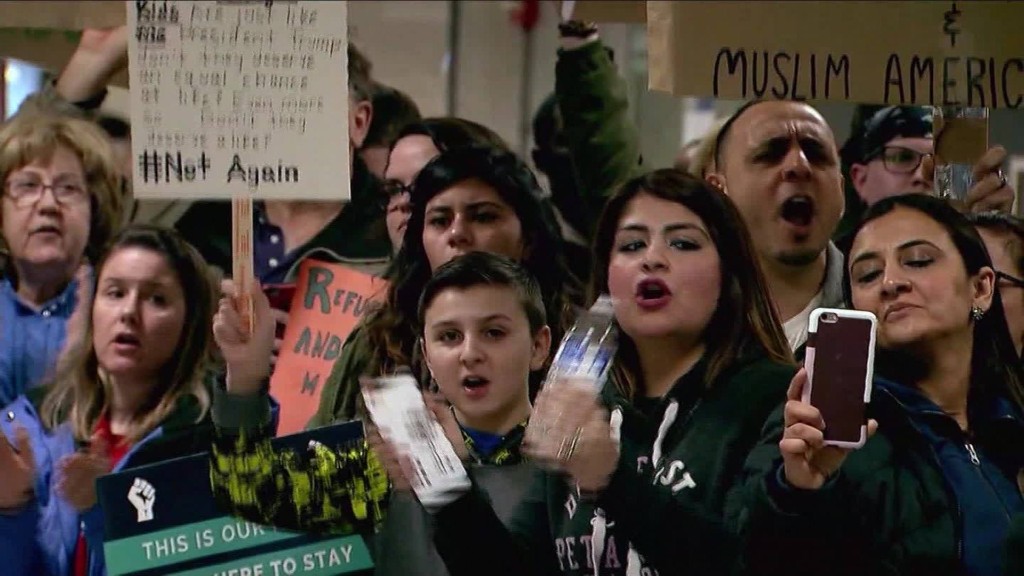 Goldman Sachs CEO Lloyd Blankfein fired off a companywide voicemail Sunday night saying he does not support President Trump's travel ban and warned it could cause "disruption" to the Wall Street bank.
"This is not a policy we support," Blankfein said in the message sent out to the firm's global staff.
The comments followed a weekend of confusion and protests over Trump's ban on travelers from seven Muslim-majority countries and a freeze on the U.S. refugee program.
"I recognize that there is potential for disruption, and especially to some of our people and their families," the Goldman Sachs (GS) boss said in the voicemail, a transcript of which the bank provided to CNNMoney.
Like other global banks, Goldman has a significant presence in the Middle East. The Wall Street firm has offices in Israel, Qatar, Saudi Arabia and the United Arab Emirates -- none of which are part of the ban.
Blankfein said Goldman executives will "work to minimize such disruption to the extent we can within the law and are focused on supporting our colleagues and their families who may be affected."
Related: The tech firms fighting Trump's travel ban
In a subtle rebuke to Trump, Blankfein also quoted from Goldman's business principles that preach the importance of diversity.
"We must attract, retain and motivate people from many backgrounds and perspectives. Being diverse is not optional; it is what we must be," Blankfein quoted the principles as saying.
"Now is a fitting time to reflect on those words," the CEO said.
Interestingly, a former Goldman employee is said to have played a role in the Trump travel ban: Steve Bannon. Trump's chief strategist worked at Goldman in the 1980s as an M&A banker and has since emerged as a critic of Wall Street. Bannon was among the senior White House advisers who helped interpret the meaning of the executive order amid widespread confusion in the government, sources told CNN.
Bannon is one of several former Goldman execs who Trump has tapped for senior roles in his administration, including treasury secretary nominee Steven Mnuchin and top economic adviser Gary Cohn.
Goldman is the latest global company to raise concern over Trump's travel ban.
The response has been the loudest from Silicon Valley, where Lyft donated $1 million to the ACLU, Google launched a $4 million fund that will also partly benefit ACLU, Airbnb offered free housing to those impacted and a slew of executives donated money to fighting the travel ban.
Related: Companies and execs speak out on Trump travel ban
Elsewhere, Starbucks (SBUX) announced plans to hire 10,000 refugees over five years and General Electric (GE) CEO Jeff Immelt said in a blog post that he shares the "concern" felt by his employees.
JPMorgan Chase (JPM)CEO Jamie Dimon pledged "unwavering commitment to the dedicated people" who work at the bank and said the company has reached out to impacted employees.
Morgan Stanley (MS) CEO James Gorman sent an email to all employees Sunday afternoon saying he is "concerned" for employees who may be impacted by the new U.S. travel restrictions.
Gorman didn't expressly say he opposes the travel ban, but the Australia native said Morgan Stanley "immensely" values the contributions of "all our employees from all over the world."
--CNNMoney's Jill Disis and Cristina Alesci contributed to this report.