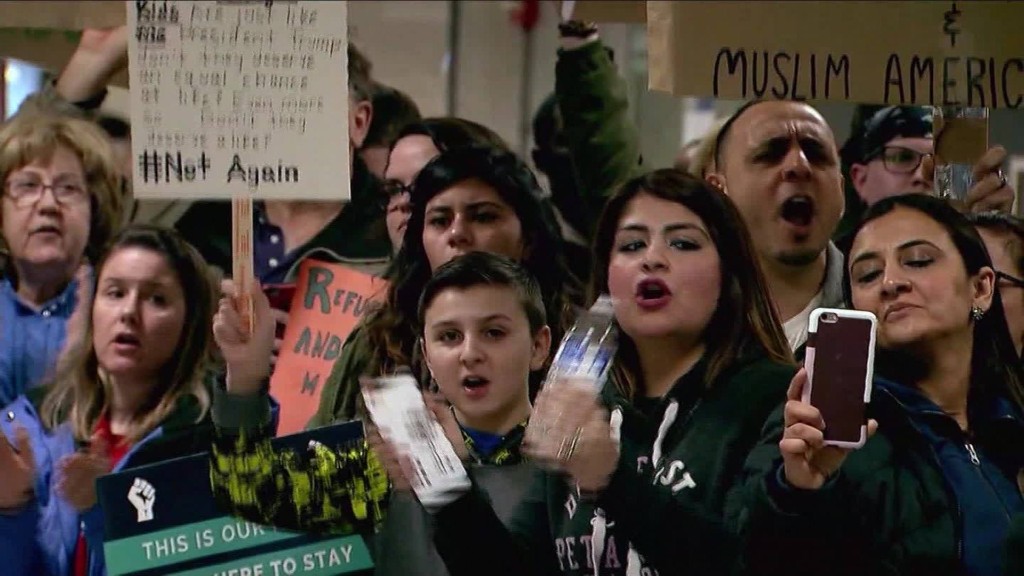 U.S. airlines say they will offer full refunds to travelers from seven Muslim countries affected by the Trump administration's ban on travel to the United States.
American, United and Delta airlines all say they are complying with Friday's order that bans citizens of Iran, Iraq, Libya, Somalia, Sudan, Syria and Yemen from entering the country unless they have green cards granting them resident status. American (AAL), the world's largest airline, says it is " treating all of our customers with respect and taking great care of any affected customers by assisting them with rebooking options and full refunds."
United Airlines (UAL) CEO Oscar Munoz says the airline will offer customers affected by the ban "refunds and other accommodations." United doesn't serve any of the seven countries, but the travel ban applies to their citizens no matter what city they're traveling from.
Related: Tech firms fighting Trump's travel ban with cash
British Airways and Emirates Airlines also said they are offering refunds or rebooking. Emirates, the largest airline based in the Middle East, said that only "a very small number of our passengers traveling were affected by the new U.S. immigration entry requirements." Air France said it is offering a "full refund subject to penalties."
The ban is in effect for the next 90 days, so many travelers from these seven countries will have to cancel or delay their U.S. travel plans.
German airline Lufthansa issued a statement saying, "Customers who have been affected by these new regulations are offered a free rebooking." But the airline didn't say whether it would provide refunds.
Related: Airbnb offers free housing to people barred from flights to U.S.
Other travel-related companies are taking a stand against the travel ban. Airbnb CEO Brian Chesky is offering free housing to "refugees or anyone else who needs it in the event they are denied the ability to board a U.S.-bound flight and are not in your city/country of residence."
Steve Kaufer, CEO at TripAdvisor, posted an essay on LinkedIn denouncing the ban, saying it was "not only heartless and discriminatory, but also against the principles that make our country great."