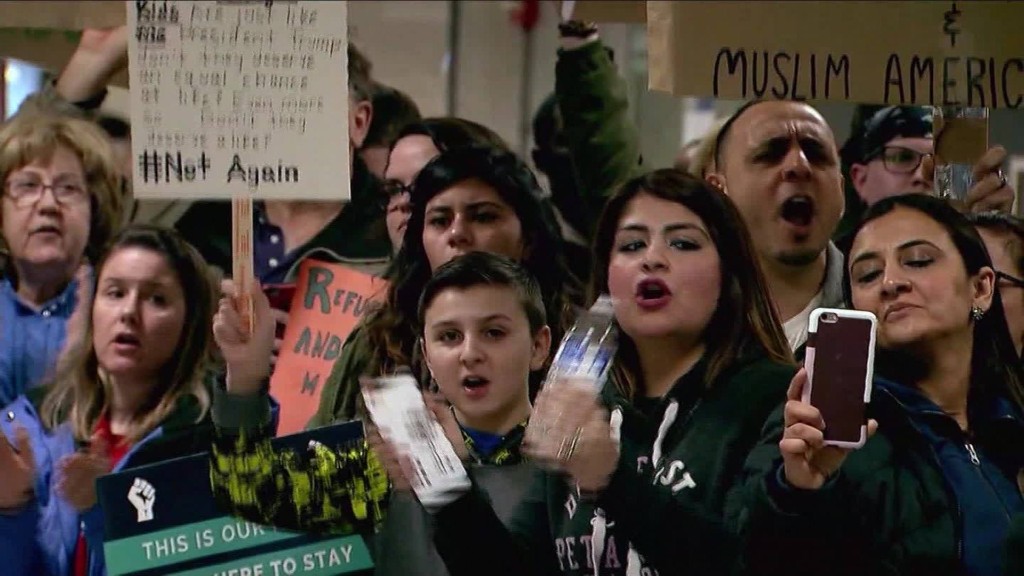 Tech companies and industry executives have been among the most vocal opponents of President Trump's travel ban.
But some are going further, and backing up their rhetoric with real action.
Here are the companies and investors who are putting their money where their mouths are:
Google
The search giant has created a $4 million crisis fund that benefits the American Civil Liberties Union, Immigrant Legal Resource Center, International Rescue Committee and United Nations High Commissioner for Refugees.
The fund will be made up of employee donations and cash from the company.
Google (GOOGL) co-founder Sergey Brin also participated in protests at San Francisco International Airport.
Lyft
The car sharing startup said it will donate $1 million to the ACLU over the next four years to help "defend our constitution."
"We stand firmly against these actions, and will not be silent on issues that threaten the values of our community," the company's founders wrote in an email to customers.
The ACLU, which struck an initial blow against Trump's order in court, received $24 million in online donations over the weekend. That's about six times what the activist group would collect in online donations in a normal year.
Related: Tim Cook says 'Apple would not exist without immigration'
Airbnb
Trump's executive order has left many people, including refugees, stranded at airports.
Airbnb has offered to help by providing free housing to anyone affected by the travel ban. The company's offer applies to refugees or anyone else who is denied the ability to travel to the U.S. and is not in their city or country of residence.
"Not allowing countries or refugees into America is not right, and we must stand with those who are affected," said CEO Brian Chesky.
Viber
Messaging service Viber is offering free calls between the U.S. and countries targeted by the travel ban. The company said it acted so that "those affected will now have one less barrier to cross when trying to reach their loved ones."
Executive giving
A slew of tech luminaries have pledged to match donations made by their followers on social media.
Twitter (TWTR) investor Chris Sacca, Nest founder Tony Fadell and Facebook (FB) exec Andrew Bosworth are among industry leaders who have pledged to match tens of thousands of dollars worth of donations to the ACLU.