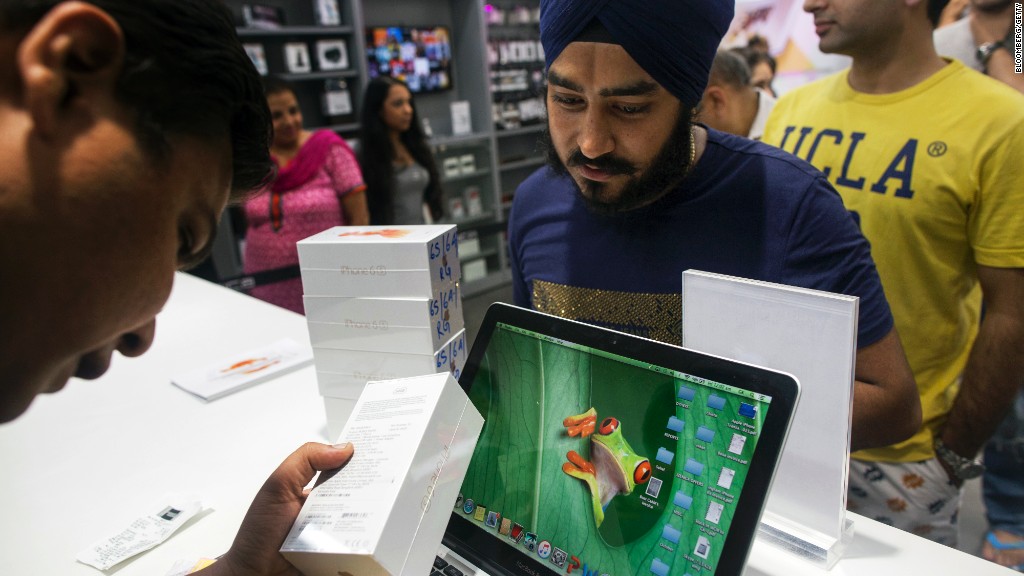 Vodafone is preparing to beat a partial retreat from India, wounded by a ferocious price war in one of the world's fastest growing mobile markets.
The British telecoms firm confirmed Monday that it was talking about merging its Indian subsidiary with local rival Idea Cellular. Both companies said there was no certainty of a transaction being agreed.
A deal, if it happens, could create India's largest mobile operator by revenue and number of subscribers. But it would effectively mean Vodafone offloading its troubled business -- the company said it would no longer consolidate Vodafone India in its accounts if the merger goes ahead.
Vodafone (VOD) had been hoping to bring its Indian business to market in an IPO but the fierce competition may have killed that idea.
Analysts say that the cut-throat price war gripping India's telecoms sector makes mergers between big players increasingly likely.
Related: Why India's 4G license auction was a flop
"Both Vodafone India and Idea have to figure out their long term business strategy and a merger could well be the path, given current industry competitiveness and dynamics," said Amresh Nandan, a research director at technology consultancy Gartner.
Vodafone and Idea — the second and third largest mobile operators in India — have been battling the industry's newest entrant. Reliance Jio, launched last September and bankrolled by the country's richest man Mukesh Ambani, has offered subscribers 4G internet for free until March 2017.
Vodafone slashed its prices in response, even as it wrote down the value of its Indian business by $5 billion. Other big players including Idea and market leader Airtel have also been forced to cut their prices.
Related: India is planning to give free WiFi to more than 1,000 villages
Combining Vodafone and Idea would create a high-speed mobile network covering most -- if not all -- of India. That would significantly boost their ability to compete in a country with over 300 million smartphone users but where more than 900 million people are still without internet access.
Vodafone shares were up more than 3% in London on Monday, while Idea's rose by over 25%.