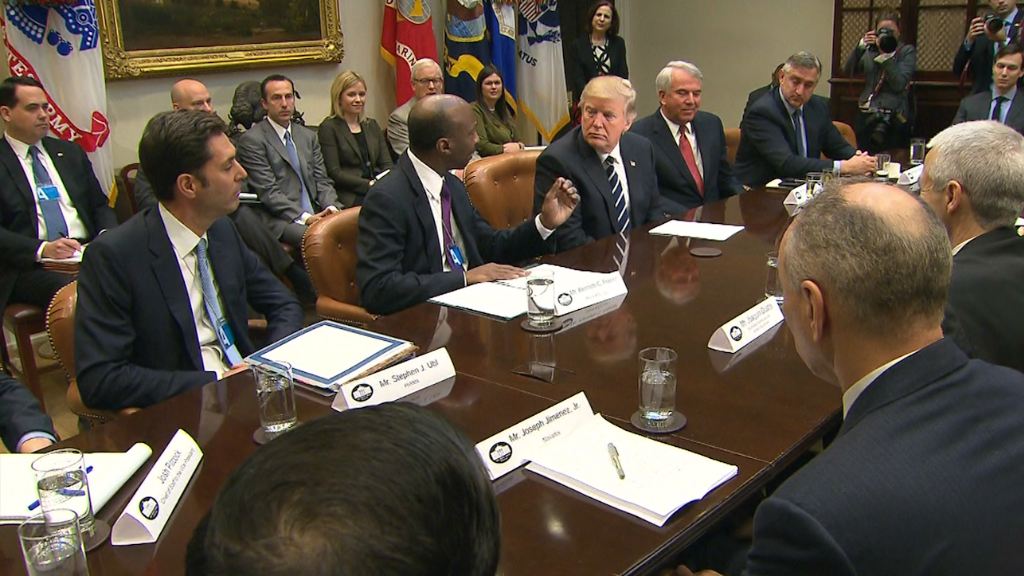 President Trump met on Tuesday with several CEOs of prominent pharmaceutical companies, like Johnson & Johnson, for another pow wow on jobs.
Trump brought in the pop quiz: cameras and the press. Time to talk about your company on TV.
These guys all did their homework and passed with flying colors.
For future CEOs, here are the CliffsNotes on how to pass a White House jobs summit with Trump, who says he will be "the greatest jobs president" of all time.
Start with stating: 1) How many employees you have in the United States 2) That you're hiring in America or 3) You have a long history in the United States
"We've been in this country for 125 years. We employ about 23,000 Americans," Kenneth Frazier, CEO of Merck (MRK), told Trump, enunciating the "23,000" part. "We have tremendous numbers of high-paying, high skill jobs."
"Our global headquarters is up near Boston...[we] employ about 20,000," emphasized Joseph Jimenez, CEO of Novartis (NVS). (Novartis is actually headquartered in Switzerland. The company clarified that the CEO was referring to its research headquarters here)
"140 years we've been in Indiana and in Indianapolis, and that's where we still make a lot of our products," David Ricks, CEO of Eli Lilly (LLY), told Trump.
I'm "representing a company that employs directly about 50,000 people in the U.S.," Joaquin Duato, chairman of pharmaceuticals giant Johnson & Johnson (JNJ), said as cameras clicked.
Second, drop in the word "manufacturing."
"We're hiring manufacturing jobs as I speak," Ricks of Eli Lilly, stressed to the president.
"We have about 13 manufacturing sites here in the U.S.," Jimenez noted at the conference table.
Of Johnson & Johnson's 50,000 American employees, "most of them [are] in manufacturing," Duato said.
Third, sprinkle in stuff that business leaders really want Trump to do: Cut taxes and regulations.
"One of things that can help us is a lower tax rate," Jimenez of Novartis said.
"We're just delighted to be here this morning to talk about reducing regulation, lowering taxes," Steve Ubl, CEO of PhRMA, told the president.
"Tax and deregulation -- those are things that could really help us expand operations," Ricks concluded.
Just remember that no matter what, Trump may talk of things you might not want to hear.
"The pricing (of drugs) has been astronomical for our country...we have to get the prices down," Trump said at the start of the meeting.
We digress. Back to the CliffsNotes.
Fourth, throw in cool buzzwords like "innovation" and "R&D" for research and development.
"We're confident about the outlook for innovation in this country," Robert Bradway, CEO of Amgen (AMGN), told Trump.
We have "one of the biggest investments in R&D," Duanto said.
"The industry invests about $70 billion in R&D in the United States, which is more than any other industry," Ubl of PhRMA added.
Fifth: The icing on the cake -- We're bringing jobs back!
"I'm proud to say we'll be adding 1,600 jobs at Amgen this year," Bradway noted.
"In fact, we're bringing manufacturing back for our cancer drug, you may have heard..." Frazier of Merck said.
Trump responded "that's very good," then shook Frazier's hand.