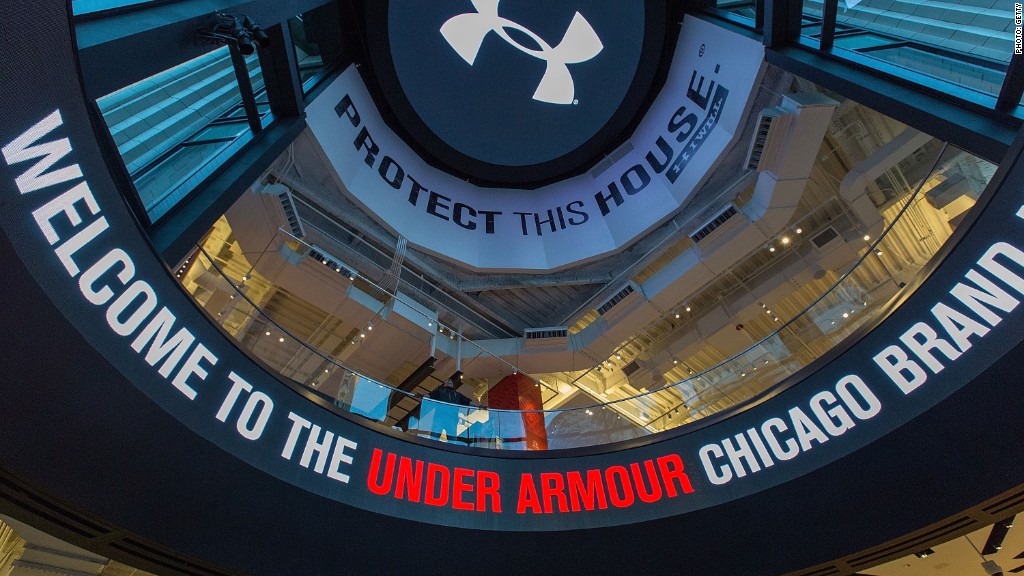 Stephen Curry and the Golden State Warriors have the best record in the NBA. Tom Brady will attempt to win his fifth Super Bowl with the New England Patriots on Sunday.
Both endorse Under Armour. But their winning ways aren't helping the company. At all.
The sportswear company reported sales and earnings that missed forecasts. It also said revenues for 2017 would be lower than what Wall Street expected.
And the company said its chief financial officer was stepping down for "personal reasons." Wall Street often assumes that an executive leaving for "personal reasons" is a sign that a company is in trouble and that someone needs to take the fall.
Under Armour (UAA) tanked on this trifecta of bad news. Shares plunged nearly 25% in early trading Tuesday. That put the stock on track for its worst one-day drop ever.
Under Armour CEO Kevin Plank, who is part of a group of business leaders advising President Trump about economic policy for U.S. manufacturers, said in the earnings announcement that there were "numerous challenges and disruptions" in the quarter.
Many big retailers -- most notably Macy's (M) and Kohl's (KSS) -- reported weak results for the holidays, leading investors to wonder whether the American consumer is in trouble or if traditional retailers are just losing more ground to Amazon.
Related: Under Armour CEO is part of Donald Trump's manufacturing council
Under Armour has been hit particularly hard by the problems facing brick-and-mortar retailers, especially those specializing in athletic wear. The Sports Authority went out of business. Finish Line (FINL) closed hundreds of stores last year.
The poor start to 2017 for Under Armour is even more troubling when you consider how awful a year the company had in 2016. The stock plummeted nearly 30% last year because of weak sales and the broader challenges in the athletic apparel industry.
Archrival Nike (NKE) also had a dismal 2016. In fact, it was the worst-performing Dow stock last year.
Both were hurt by a resurgent Adidas (ADDDF), which posted strong sales and earnings last year, partly because of ties to the Summer Olympics in Rio and the Euro 2016 soccer tournament.
Related: Nike was the big winner in Alabama-Clemson NCAA rematch
But while Under Armour is still struggling, Nike has bounced back. It reported solid results for its latest quarter, fueled by a rebound in China and Europe.
Nike's stock did fall Tuesday along with Under Armour. But the House of Swoosh's shares are still up nearly 4% this year. Nike also recently announced plans to set up small Nike stores at JCPenney (JCP) -- a deal that could hurt Under Armour, too.
Under Armour can't seem to catch a break. It was once a Wall Street darling. Investors embraced its upstart, underdog story.
They also loved that the company was able to sign big names like Curry, Brady and others -- such as Carolina Panthers quarterback Cam Newton, baseball star Bryce Harper and golf champion Jordan Spieth -- to big deals.
But Under Armour has a lot of challenges it now has to overcome. The company's famous marketing tagline -- "We Must Protect This House!" -- now sounds like a rallying cry that's fallen on deaf ears on Wall Street ... and with sneaker-buying consumers.