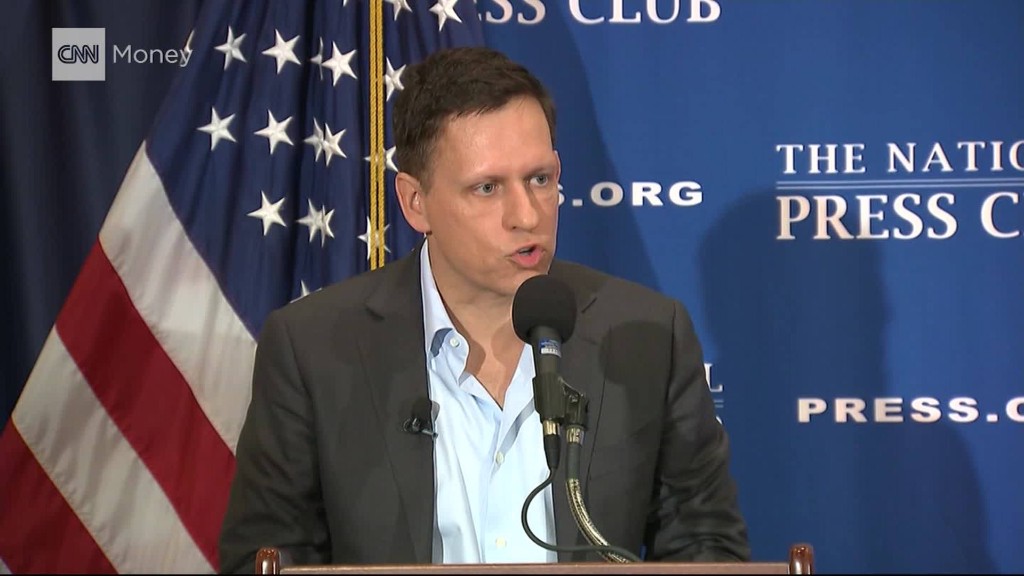 Lyft is having what could only be described as a banner week.
The ride-hailing service earned praise from customers for condemning President Trump's travel ban and pledging to donate $1 million to the ACLU over the next four years. Many on social media urged followers to #DeleteUber for appearing to break up a driver strike about the ban. On Monday, Lyft cracked the top 10 free apps on Apple's App Store.
Less noted, however, is the fact that Peter Thiel is one of Lyft's investors. Thiel, the billionaire investor and PayPal (PYPL) cofounder, is Trump's top tech advocate and an adviser on his transition team. He also recently appeared to defend the travel ban, despite the many concerns about it in Silicon Valley.
"Peter doesn't support a religious test, and the administration has not imposed one," Jeremiah Hall, Thiel's spokesman, said in a statement provided to USA Today this weekend. The executive order on immigration affects seven Muslim-majority countries.
Hall did not respond to a request for comment.
As one software engineer put it on Twitter, "So you're boycotting Uber, and running to Lyft where Peter Thiel is an investor? This ain't the woke you're looking for." (For those keeping track, Carl Icahn, a special adviser to Trump, is also an investor in Lyft.)
"We don't always agree with our investors and aren't afraid to say so," Adrian Durbin, a spokesman for Lyft, said in a statement provided to CNNTech. "We do respect their right, and that of every American, to freedom of expression."
"Our position on Trump's executive order is clear," Durbin added, when asked if the company disagrees with Thiel specifically. "I haven't seen if Thiel has made public comments about the EO, but if he supports it then it's safe to say we don't agree with him on that particular issue."
Lyft isn't the only tech company to be outspoken against Trump's controversial executive order while opting not to distance themselves from Thiel.
Related: The tech firms fighting Trump's travel ban with cash
Brian Chesky, the cofounder and CEO of Airbnb, slammed the ban as "not right" and announced his company would provide free housing to "refugees and anyone not allowed in the U.S." Patrick Collison, the cofounder and CEO of Stripe, said he would match $50,000 in donations to the ACLU.
Yet both companies count Thiel as an investor. Neither business responded to CNNTech's requests for comment.
Artsy, a startup whose CEO signed an open letter to Trump opposing the ban, downplayed Thiel's involvement in its business.
"Thiel was an early investor in Artsy and has no involvement in the day-to-day of the business," said Graham Newhall, a spokesman for Artsy.
Tech companies faced criticism during the campaign for speaking out against Trump's policies and rhetoric while refusing to distance themselves from Thiel.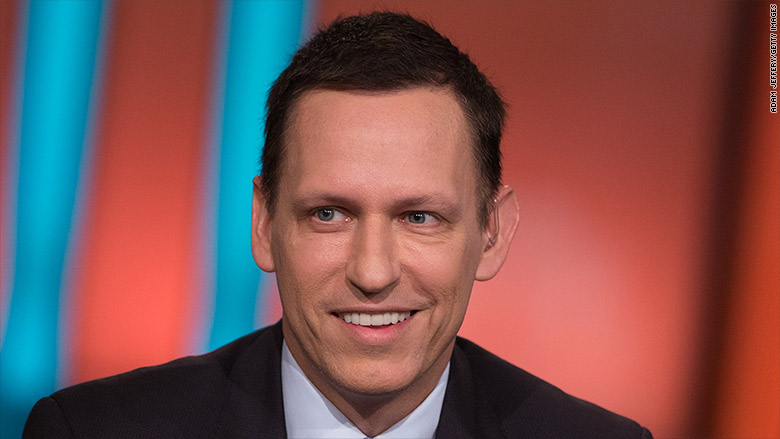 Mark Zuckerberg, the founder and CEO of Facebook (FB), where Thiel is the longest-serving board member, framed the issue as allowing for diversity in all things, including politics.
"We can't create a culture that says it cares about diversity and then excludes almost half the country because they back a political candidate," Zuckerberg wrote in a post shortly before the election. "There are many reasons a person might support Trump that do not involve racism, sexism, xenophobia or accepting sexual assault."
Zuckerberg spoke up against Trump's executive orders on immigration and refugees last week. Facebook did not respond to a request for comment on Thiel.
Related: Former Google exec calls Trump travel ban an 'enormous problem'
Y Combinator president Sam Altman, who wrote a blog post Saturday calling on the tech industry to "start speaking up" against the Trump administration, struck a similar tone to Zuckerberg about Thiel.
"I do not believe that deciding to get rid of all founders/employees who voted for someone is much better than a Muslim ban," Altman wrote on Twitter in response to a comment on his ties to Thiel, who is a part-time partner at Y Combinator.
Pando, a tech publication that counts Thiel's Founders Fund as an investor, has published articles critical of Thiel and Trump. But founder Sarah Lacy notes the challenges that startups face in speaking out against the influential investor.
"Entrepreneurs are under a lot of pressure and Thiel ... [is] very powerful," Lacy told CNNTech. "Think about it this way: Look at how many people at the very top of the food chain are not speaking out or are only doing so recently and in mealymouth ways."