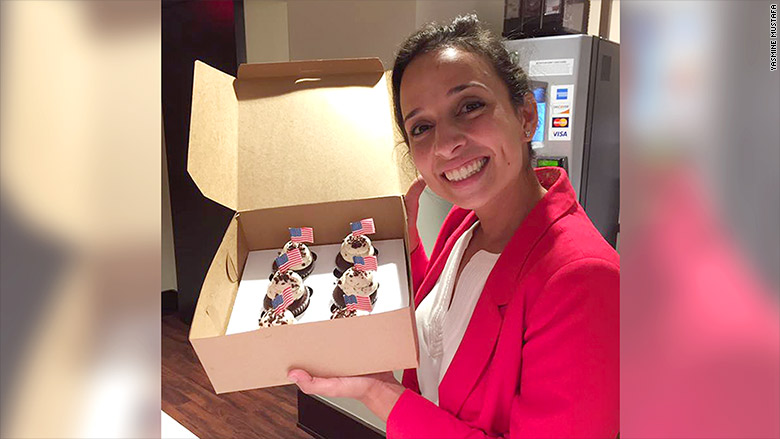 Entrepreneur Yasmine Mustafa was able to get a "reset" on her birth lottery.
She worries that others like her might get robbed of that same chance under President Trump. On Friday, Trump called for "extreme vetting" of refugees from seven majority-Muslim countries.
Mustafa, whose parents are Palestinian, was born in Kuwait and came to the U.S. as a refugee of the first Gulf War, when she was eight. Her younger brother happened to have been born in the U.S. while her parents were on a business trip to Philadelphia just seven weeks before. This meant that when U.S. citizens were being evacuated from Kuwait, her entire family was able to escape to the U.S.
She talks about the idea of a birth lottery in a 2016 TEDxPhilly talk.
Related: When Laila Alawa is harassed on Twitter, this Trump voter comes to her defense
People don't get "the privilege of choosing our starting point in life," she told CNNTech. "The country in which we're born, our gender, our socioeconomic class, they determine the paths -- or lack of -- we're going to have in our lifetime."
These days, Mustafa is the founder of a smart wearable startup, ROAR for Good. Designed to reinvent self defense tools and reduce sexual assaults, ROAR's Athena device can clip onto pants, a necklace or a purse. It contains a button that, when pushed, emits a loud alarm and messages family and friends with your whereabouts. Preordered devices are slated to ship within the next two months.
Mustafa is now a citizen, but it took years for that to happen due to glitch in the immigration system. She spent 10 years without proper paperwork and was technically undocumented.
"That was probably the worst of all," she said. "[I felt] invisible, waiting for the pieces of paper I needed -- like a social security number on a little, blue piece of paper -- that would unlock so many privileges."
Mustafa has devoted her life to helping lift others up around her -- from starting ROAR to sitting on the board of a nonprofit that helps inner city youth break out of poverty.
"My cofounder likes to say I went from dodging bombs to saving lives," she said, adding that she appreciates the privilege that comes with naturalization. "[I am] so sorry others will not get to experience it because of where they were born or their faith."