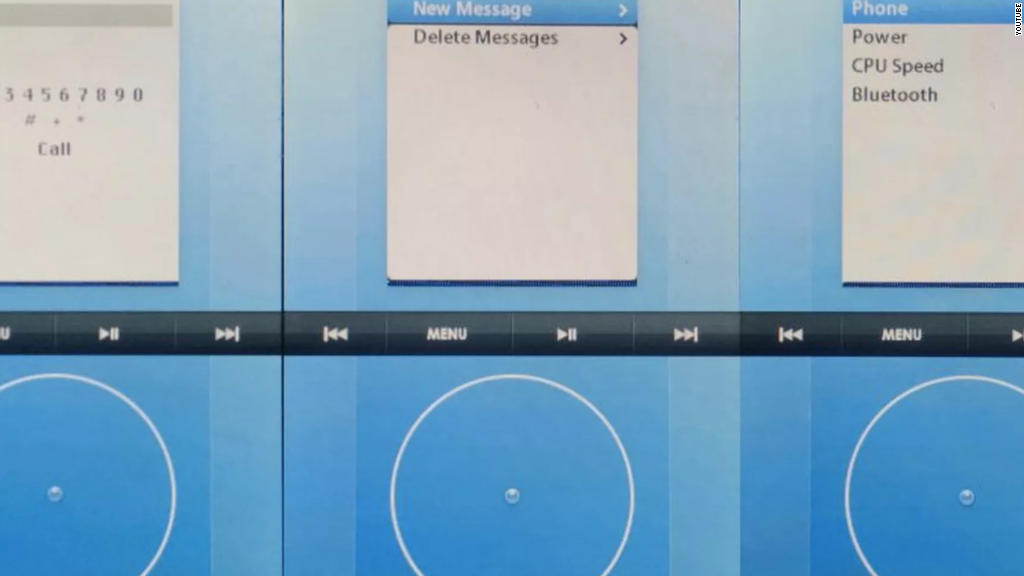 Apple continues to mint money.
The maker of iEverything had $246.1 billion in cash and investments on its balance sheet as of the end of its most recent quarter, up nearly $10 billion from the end of September.
That's a new record for non-financial companies. (Banks tend to have a lot more cash than most other companies for operational purposes.)
To put this into context, if Apple's cash were a separate company, it would be the 13th most valuable in the S&P 500. Apple is the most valuable, of course. The remaining eleven are Google-parent Alphabet, Microsoft, Warren Buffett's Berkshire Hathaway, Amazon, Facebook, ExxonMobil, Johnson & Johnson, JPMorgan Chase, Wells Fargo, GE and AT&T.
Apple's cash pile is bigger than the market values of Procter & Gamble (PG), Bank of America (BAC), Chevron (CVX) and Walmart (WMT).
And if President Trump and congressional leaders get their way, Apple (AAPL) and other cash hoarders may soon be able to put this money to work in the United States instead of having it sitting in foreign bank accounts collecting interest -- not to mention dust.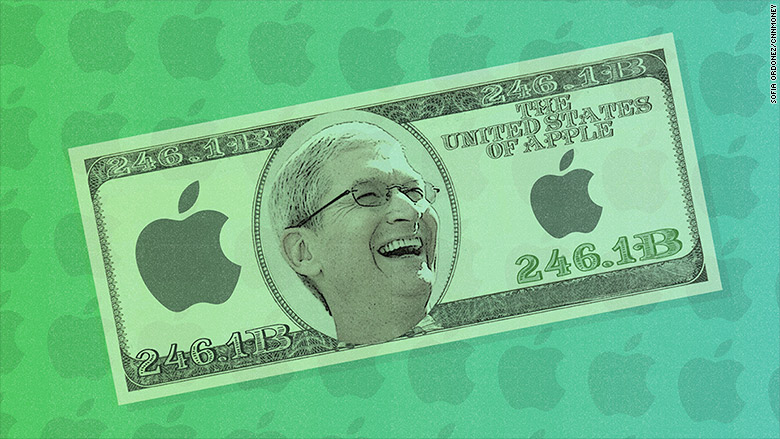 Apple CFO Luca Maestri said during the company's conference call with analysts on Tuesday that $230.2 billion of its cash -- 94% of it -- was being held overseas.
President Trump has called for a one-time tax cut to bring back -- or repatriate -- the cash that big businesses have in foreign accounts. Microsoft (MSFT), Alphabet (GOOGL), Cisco (CSCO) and Oracle (ORCL) also have a significant chunk of their cash overseas.
Trump is hoping that Apple and these other tech giants could use this cash to hire more American workers. Skeptics claim that companies will be more likely to boost dividends, buy back more stock and maybe acquire companies.
That could be good for investors, but not for average Americans who have little (if any) exposure to the stock market.
Related: Apple considering legal action over Trump's travel ban
Apple CEO Tim Cook said during the conference call that he was "optimistic" that there will be "some sort of tax reform this year," adding that there are "people in both parties that would favor repatriation as a part of that."
Cook hinted Apple might use the money on deals.
In response to a question from Morgan Stanley analyst Katy Huberty about uses for its cash, he said tax reform would be "very good for the country and good for Apple" and added that "we are always looking at acquisitions."
So what could Apple buy with all of its cash?
If it wanted (and I'm not suggesting at all that it will...this list is meant for the purposes of fun only) Apple could make a bigger move into media.
It could buy Disney or NBCUniversal/DreamWorks Animation parent Comcast -- and have more than $65 billion left for a proverbial rainy day.
Or Apple could scoop up Fox, CBS, Viacom and CNN owner Time Warner too. And it would still have about $70 billion more in its bank account.
Related: Apple ends earnings losing streak with solid quarter
Of course, there are obvious antitrust issues with this fanciful scenario, not to mention the fact that Time Warner already has agreed to sell itself to AT&T.
But Apple could go another (admittedly monopolistic) route in the world of media.
Salesforce chief digital evangelist Vala Afshar crunched the numbers and tweeted that Apple could buy EVERY team in all four professional U.S sports leagues.
I wonder if this includes the new expansion NHL team in Sin City though? The Vegas Golden Knights won't hit the ice until the new hockey season starts in the fall of 2017.
Another Twitter user looked at economic statistics and found that Apple would be a pretty large country if it were to become its own iNation.
An iPhone in every house and a future Apple Car (if you believe the rumors) in every garage from President Cook of the United States of Apple? Probably not.
It's also worth noting that Apple has been borrowing a lot in the past few years, despite having all that cash overseas. Apple's long-term debt load did fall slightly in the most recent quarter, but still stands at $73.6 billion.
Still, investors love the fact that Apple's sales and earnings are back on track and that the company is increasing its cash levels too. The stock surged more than 6% Wednesday, helping to boost the overall market.
Now we just need to see what Cook will do with all that Apple dough -- and how President Trump will respond to those plans.