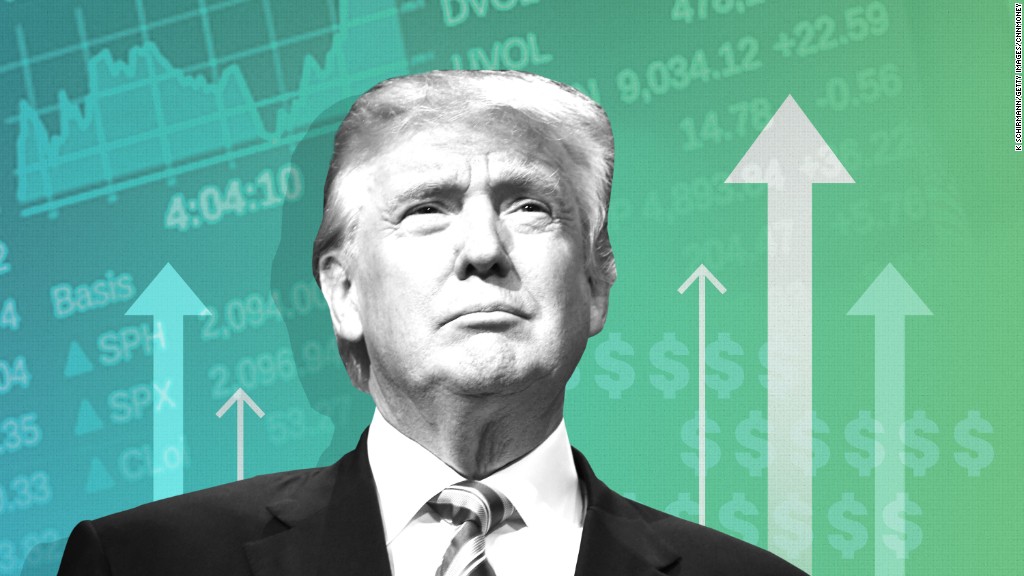 Be careful what you wish for, Mr. President.
Donald Trump criticized Federal Reserve chair Janet Yellen throughout the presidential campaign. He argued that Yellen and the Fed were keeping interest rates artificially low to help the chances of Trump's rival Hillary Clinton.
But now that Trump is the president, the Fed could wind up pushing rates higher several times this year, next year and in 2019.
The Fed met Wednesday, and, as expected, decided to leave rates unchanged. But most believe the central bank will signal that it's still ready, willing and able to boost rates a few more times this year.
If the Fed goes too far -- and it has made the mistake of raising rates too aggressively in the past -- Trump could actually wind up being sabotaged by exactly what he wanted Yellen to do.
The Fed already raised interest rates once since the election, boosting them by a quarter of a point in December. That was the first hike since December 2015 and only second rate increase since June 2006.
Related: Audit the Fed? Trump's Treasury Secretary nominee isn't a fan
Yellen -- and her predecessor Ben Bernanke -- were slow to raise rates and get rid of all the emergency programs the central bank had in place during the immediate aftermath of the 2008 financial crisis.
But the time for unusually low rates and loose monetary policy is finally behind us.
Other policies like federal spending and a crackdown on immigration could also affect rates.
Yellen (ironically enough) might finally get the help from Washington that she's been calling for during the past few years.
Yellen and Bernanke both urged President Obama and Congress to do more to boost the economy so the Fed would not have to do as much heavy lifting with the managing of interest rates.
Trump is expected to soon propose a $1 trillion economic stimulus plan, focusing mainly on rebuilding the nation's roads, bridges and other infrastructure.
Still, future rate hikes from the Fed could mitigate some of the impact of this stimulus.
"Fed rate hikes could take a bite out of stimulus and tax breaks," said Mark Doms, managing director and senior economist at Nomura.
"The other issue is how the market reacts. If the dollar and long-term rates go up, that could dampen any impact from Trump and congressional growth plans," Doms added.
Related: Fed poised for major makeover in Trump era
Despite Trump's public pressure on companies like Carrier owner United Technologies (UTX), GM (GM) and Ford (F) to hire more in the U.S., almost all big U.S. firms depend on selling their goods overseas as well.
A stronger dollar, or worse, a trade war, would hurt profits for large American firms, and that would probably make them less (not more) likely to boost their hiring plans.
What's more, the bond market has already started to assume that rates are going to head even higher.
The yield on the benchmark 10-year Treasury has spiked from about 1.8% on the eve of the election to 2.5% today.
This rate, even more than short-term rates set by the Fed, helps influence how much interest consumers pay on their mortgages, auto loans and credit cards. So higher rates could hurt many Americans.
But the good news is that savers will finally be rewarded as higher rates boost the amount of money they earn in bank accounts.
A tougher immigration policy could also be a factor in pushing rates up.
Nomura's Doms thinks that Trump's crackdown on immigration could backfire and hurt the economy too, especially if it widens to include more countries.
Doms said the U.S. labor force benefits from having both immigrants willing to do manufacturing and home building jobs at lower wages as well as highly-educated foreigners that could command big salaries at tech companies.
Related: Fed concerned about Trump economic plans having 'considerable uncertainty'
Either way, these immigrants would spend American dollars in the U.S. to boost the domestic economy.
Doms also worries that banning even more immigrants would wind up just pushing wages higher and create even more inflation. That's because the U.S. needs new workers to replace the droves of baby boomers who are now starting to near retirement age.
"Labor force growth is slowing due to changing demographics," Doms said. "Immigration is an important source of new workers that would be hampered by Trump's policies. We are already hearing about labor shortages in certain industries."
Finally, more anti-global rhetoric from the Trump administration risks the possibility of Japan and China, the two largest foreign holders of U.S. government bonds, retaliating by selling more Treasuries.
China has been selling off U.S. bonds for the past six months while Japan has reduced its bond holdings every month since July.
Further bond sales hurt consumers by pushing bond rates even higher. Yields and bond prices move in opposite directions.
So Japan and China could help make your next home loan more expensive if they keep dumping bonds. And that would be an unintended consequence of Trumponomics.