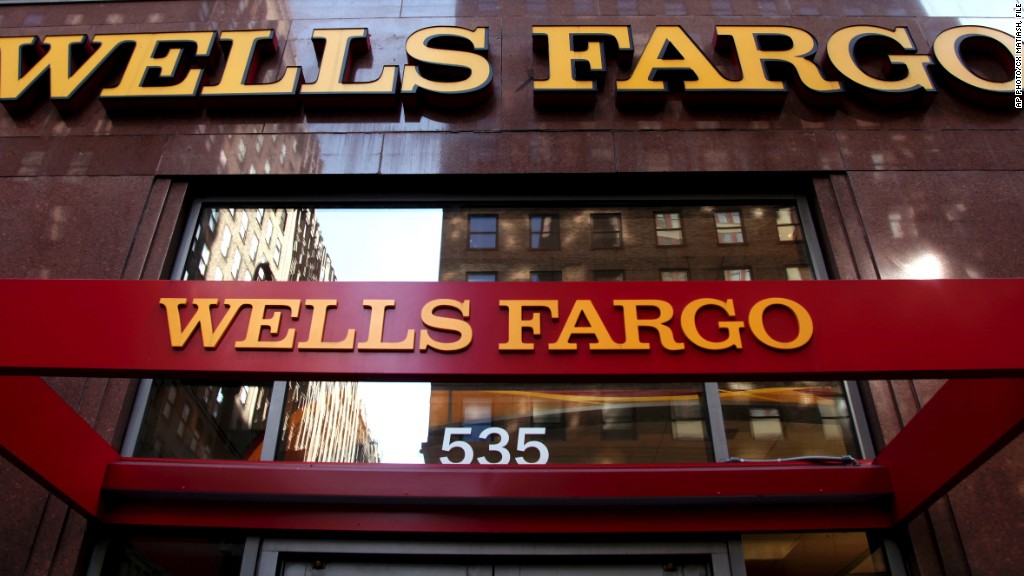 Wells Fargo's fake account fiasco is holding up severance payments to more than 400 employees who were recently laid off from the bank.
The laid-off employees, who range from administrative assistants to senior executives, were not terminated for cause. Nor were they among the 5,300 fired as part of the bank's settlement with law enforcement agencies last September.
Here's what happened: Banking regulators slapped Wells Fargo (WFC) with extra sanctions on November 18. The punishment came after it became clear that the Wells Fargo scandal was deeper than previously thought and included allegations of mistreating workers. new restrictions prohibited Wells Fargo from paying "golden parachutes" to managers who leave.
Wells Fargo said on Tuesday that as a result of those requirements from the federal banking regulator Office of the Comptroller of the Currency, it has been unable to pay severance to more than 400 employees who worked throughout the bank.
These employees were notified they were being let go prior to November 18, but were slated to receive severance on or after that date, Wells Fargo said.
Related: Elizabeth Warren: Why has Wells Fargo complaint site vanished?
In a statement, Wells Fargo explained that it continues to "formally request approval from our regulators" to pay these employees.
"This is undoubtedly an incredibly-difficult situation for those impacted team members. We are deeply sorry for the hardship that this causes them," a Wells Fargo spokeswoman said.
The news was previously reported by The New York Times.
The OCC declined to comment, citing policy that prevents it from commenting on "supervisory matters pertaining to a specific bank."
The OCC referred questions to the vaguely-worded statement the regulator released last November that left Wells Fargo executives and also analysts scratching their heads.
Related: Trump ledges to 'do a big number' on Dodd-Frank
That statement, which was released at 5:30 p.m. ET on a Friday, announced restrictions on Wells Fargo that allow the government to reject the hiring of senior executives, closely review branch openings and closings and also block golden parachute payments.
The OCC didn't explain precisely why it decided to clamp down on Wells Fargo, but compensation was a hot issue at the time. Former Wells Fargo CEO John Stumpf walked away with $130 million when he abruptly retired under pressure.
CSLA analyst Mike Mayo said at the time the OCC sanctions were evidence that regulators were "tightening the straitjacket around Wells Fargo."
At the time, Wells Fargo said the sanctions wouldn't "inhibit our ability to...operate the company."