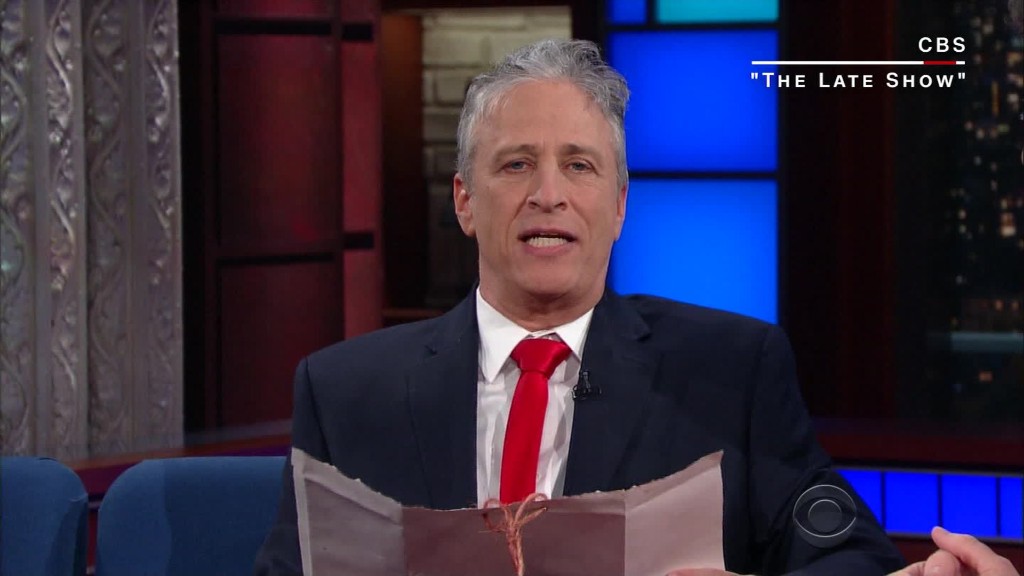 The duo of President Trump and Jon Stewart (now, there's a surprising pair) may be giving Stephen Colbert a ratings surge.
CBS' "The Late Show with Stephen Colbert" topped the late night ratings for the second time this week bringing in a 2.4 overnight rating on both Monday and Tuesday.
This was enough to give Colbert the lead over his competition of late night Jimmys, NBC's Fallon and ABC's Kimmel, who came in second and third on Monday and Tuesday.
Monday Colbert returned after a week off, and on Tuesday he brought back his old "Daily Show" boss, Jon Stewart, to take some shots at Trump.
Nielsen takes the percentage of households watching in 56 US markets and comes up with an overnight average, which means that 2.4% of households in these markets tuned into Colbert both nights.
In the advertiser beloved demo of adults aged 18 to 49 years old, Colbert tied Fallon on Monday with a 0.6 rating. However, Fallon overtook Colbert in the demo on Tuesday night with a 0.7 rating.
These numbers are intriguing because Fallon has, for the most part, been the ratings king of late night since Colbert came on the scene in September 2015.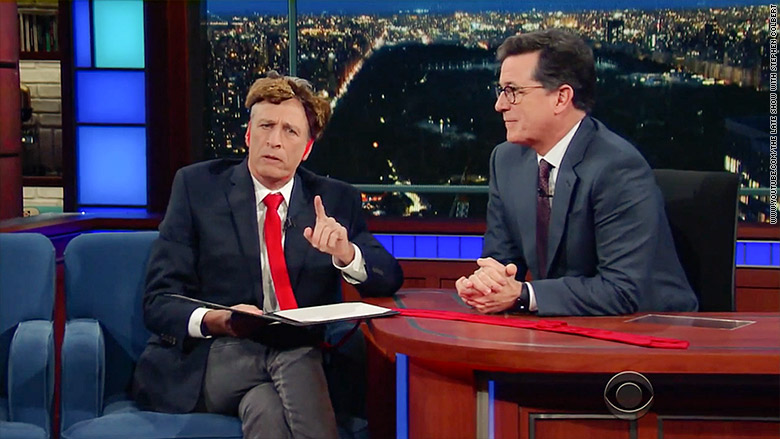 Related: Jon Stewart on Trump: 'We have never faced this before'
Yet, Colbert has been on a bit of winning streak as of late thanks arguably to being a foil to President Trump with him winning six of the last seven nights that weren't reruns.
Fallon has kept his schtick of goofing on the commander-in-chief by donning a blonde wig and doing an impression of Trump.
Colbert, however, has brought some new edge to his opening monologues that has seemingly caught on with viewers both on TV and online. For example, Colbert's Monday night opening has been viewed on YouTube more than 2.5 million times.
The week's full viewership numbers won't hit until next Tuesday, but it appears that thanks to Trump and Stewart, Colbert is seeing some momentum.