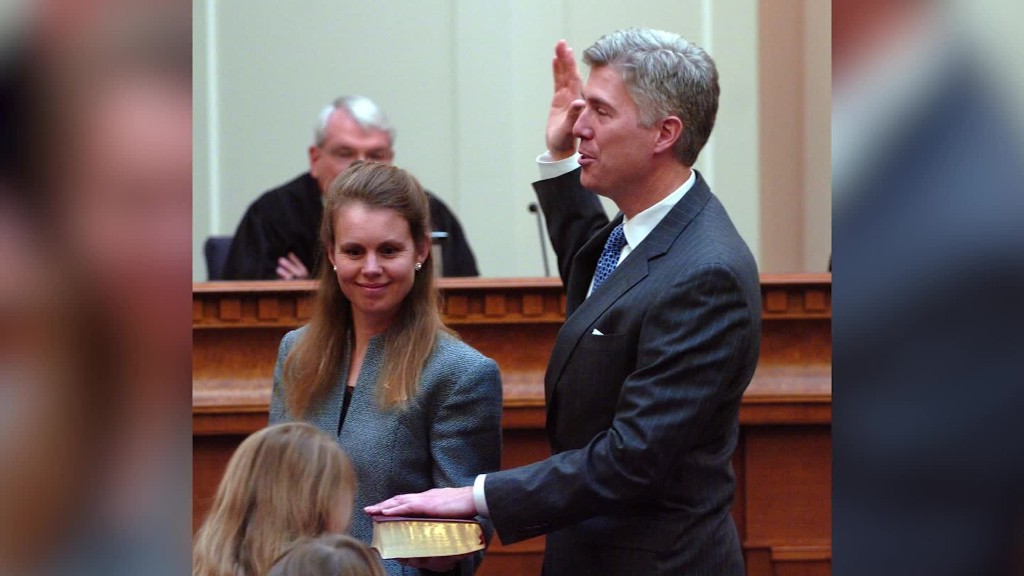 President Trump's prime time Supreme Court reveal was Tuesday evening's highest-rated TV show.
The president's announcement reached about 33 million viewers through a combination of eight different broadcast and cable channels, according to Nielsen. Additional people watched via web live streams, but comparable data is not available for streaming.
CBS had the biggest single TV audience for speech coverage, with 7.97 million viewers watching at 8 p.m. On cable, Fox News was dominant, averaging 7.56 million viewers during the announcement.
The most-watched non-Trump show of the night was a once-a-year CBS show called "Super Bowl's Greatest Commercials." It averaged 6.47 million viewers.
Trump's event in the East Room didn't depart much from the typical White House script, but Trump's decision to hold the announcement for prime time added a dramatic flourish.
The president played with the TV audience a bit, naming Neil Gorsuch as his Supreme Court pick and then asking "So was that a surprise? Was it?"
The announcement received widespread praise from Republicans, widely-anticipated criticism from Democrats, and high marks from Washington veterans who thought the prime time roll out strategy was smart politics.
Related: Can Democrats filibuster Gorsuch? Here's the math
The first prime time address of Trump's presidency did not measure up to President Obama's first prime time event, however. Almost 50 million viewers -- 49.4 million to be exact -- tuned in when Obama held a press conference the night of February 4, 2009.
At the time there was intense interest in what Obama would say about the stimulus bill and other economy-boosting efforts.
President Trump is known to closely track Nielsen ratings. Last week he even tweeted a congratulatory message to Fox News about the channel's ratings.
Television has changed a lot in eight years, with more and more viewing happening on-demand. On the other hand, the U.S. population is also bigger than it was eight years ago.