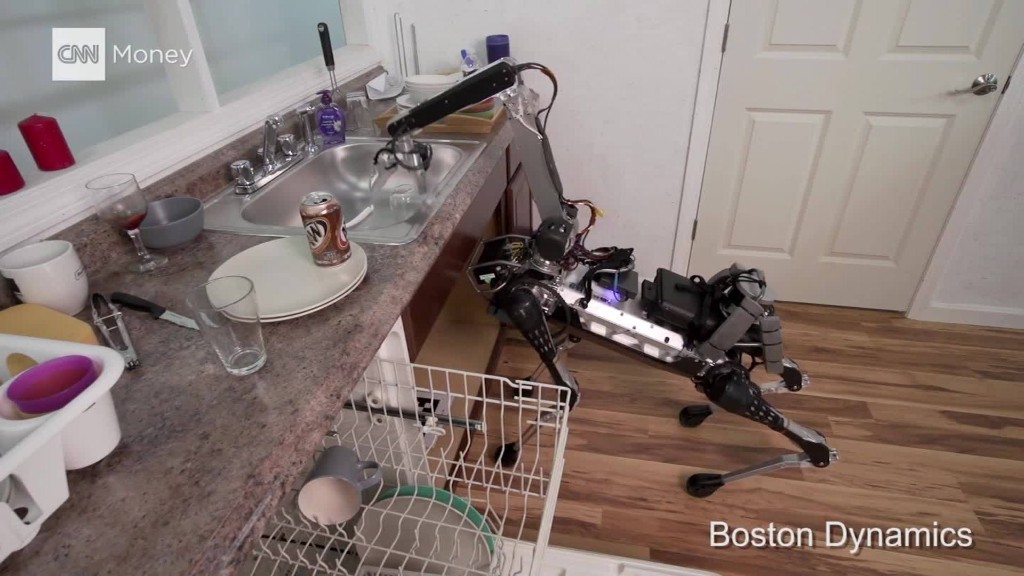 The latest robot from Google can twirl with the grace of a figure skater and jump over tall obstacles.
The company's Boston Dynamics unit recently showed off a new robot called Handle. Resembling a human with a torso, two arms and legs, Handle's feet have been replaced by wheels.
At a recent event, Boston Dynamics teased the robot, which will be able to carry objects and perform other tasks. A video of Handle, taken by a guest at the debut, later surfaced on YouTube. However, Boston Dynamics requested certain portions to be blurred out.
The clip highlighted the robot's impressive balance, shown as it rolled down a grassy hill and over a curb. Handle's wheels make it more efficient to move than a robot with legs.
Traditionally, the division has made robots that walk on two or four legs. Its videos often go viral.
Related: Google's new robot can do the dishes
"This is the debut presentation of what I think will be a nightmare inducing robot if you're anything like me," Boston Dynamics CEO Marc Raibert told the crowd, drawing laughter. While the appearance of Handle might be alarming to some, it's an indication of how robots could look and operate in the future.
Boston Dynamics has kept a low profile in the last year. Google has described the Boston Dynamics' team as being "heads down," rather than speaking about projects publicly.
In March 2016, Google reportedly put it up for sale as a part of an effort to control costs. At the time, Boston Dynamics wasn't expected to deliver a marketable product in the near future. It's unclear if that's changed.