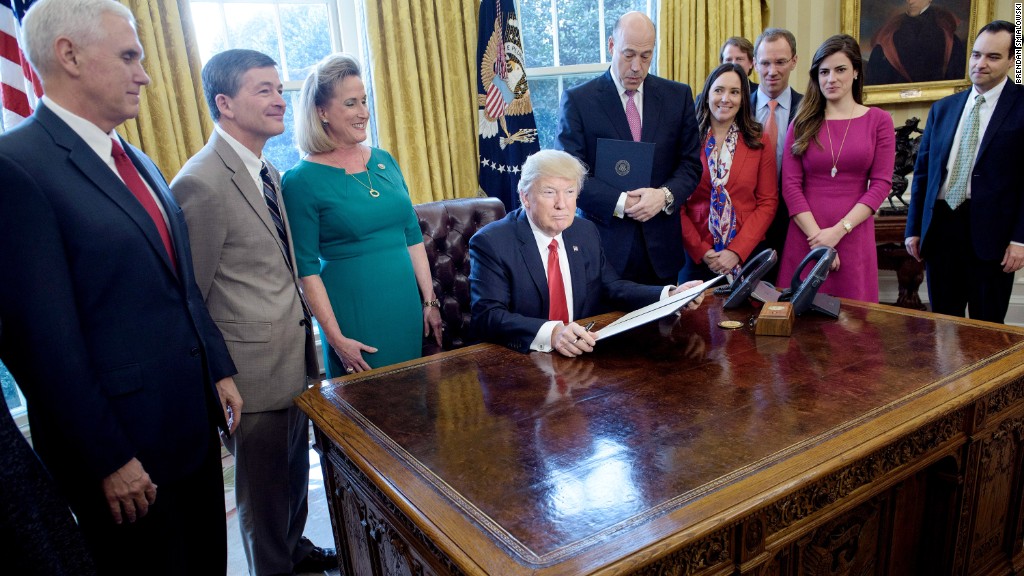 With the stroke of a pen, President Trump has begun the push to dismantle the sweeping Dodd-Frank reform of Wall Street.
Trump signed an executive order on Friday that sets the stage for rewriting U.S. financial regulation in an effort to encourage more lending to American businesses.
While no immediate changes were made, Trump ordered the heads of regulatory agencies to report back to him within 120 days with suggestions to change existing financial regulation.
Trump identified seven key principles that would guide regulators, including that it must be "efficient, effective, and appropriately tailored" and "foster economic growth."
The new president has promised to "do a big number" on Dodd-Frank, a law that he has called a "disaster." Dodd-Frank was enacted in 2010 to safeguard against another financial meltdown of Wall Street.
Friday's executive order hinted at easing the burden of regulation on banks by more closely assessing the impact of existing regulation and keeping American companies "competitive" with foreign rivals.
Related: Trump pledges to 'do a big number' on Dodd-Frank
Trump's order stressed that regulation should be intended to prevent taxpayer-funded bailouts.
The White House also signaled a possible shake-up of the structure of financial regulators, especially the Consumer Financial Protection Bureau. Trump wrote that regulation must "restore public accountability," a backhand reference the CFPB, which some Republicans have painted as a rogue regulator that lacks oversight.
Earlier on Friday, Sean Spicer, the White House press secretary, echoed these sentiments by saying Dodd-Frank created an "unaccountable and unconstitutional new agency that does not adequately protect consumers."
The executive order came after Trump met with a team of all-star CEOs on his advisory council, that includes Jamie Dimon, the CEO of JPMorgan.
"There's nobody better to tell me about Dodd-Frank than Jamie," Trump said on Friday.
Another big name on Wall Street, former Goldman Sachs president Gary Cohn, served as the face of the administration's Dodd-Frank efforts on Friday.
Cohn, tapped to be Trump's top economic adviser, gave interviews on television and in newspapers to explain how burdensome regulations are holding back growth.
"We're going to attack all aspects of Dodd-Frank," Cohn told Bloomberg. "We want banks to be back in the lending business."
Earlier on Friday, Senator Elizabeth Warren called on Cohn to recuse himself from matters directly or indirectly related to Goldman Sachs due to the $285 million he left the Wall Street firm with.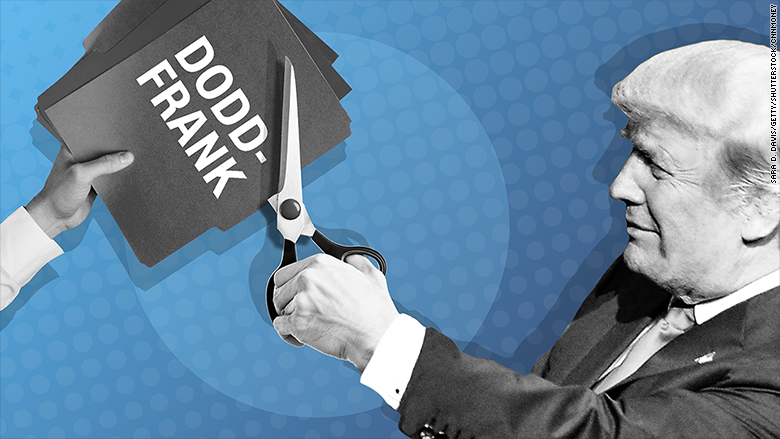 Investors are already cheering the deregulatory efforts. The Dow soared 186 points on Friday, its best day of 2017, as big bank stocks like Goldman Sachs (GS), JPMorgan Chase (JPM) and Wells Fargo (WFC) soared.
But talk about gutting Dodd-Frank is raising alarm in other corners.
"It makes me nervous. Hopefully we won't have another 2008, but tearing up the rules of the road is not a good start," Austan Goolsbee, an economics professor at the University of Chicago who was a top economic adviser to former President Obama, told CNN.
"The administration apparently plans to turn over financial regulation to Wall Street titan Goldman Sachs," Lisa Donner, executive director of Americans for Financial Reform, a nonprofit coalition pushing for Wall Street accountability, said in a statement.
Michael Barr, a former assistant Treasury secretary under Obama, said the overall direction the administration is taking is to make the financial system "less safe and less fair."
Fitch Ratings said it doesn't anticipate a full repeal of Dodd-Frank, but said some parts could be altered significantly.
Bank credit ratings could be lowered if the changes cause lenders to reduce the amount of capital they hold to protect against losses, according to Joo-Yung Lee, head of North American financial institutions at Fitch.
Related: Elizabeth Warren has a message for Trump's $285 million man
There's a great deal of uncertainty over precisely which parts of Dodd-Frank are on the chopping block.
Some of Dodd-Frank could be adjusted by Trump through executive actions, while other parts will require Congress. A bill sponsored by Republicans called the Financial Choice Act would eliminate the Volcker Rule, which bans banks from making risky bets with their own money, and also the Consumer Financial Protection Bureau, the Warren-inspired watchdog that has gone after big banks like Wells Fargo.
Treasury secretary nominee Steven Mnuchin has said he thinks the CFPB is worth keeping, but suggested it should be funded by Congress, not the Federal Reserve. Such a move could hurt the CFPB's independence, allowing Republicans to starve it of funding.
Mnuchin has said he wants to reform the Volcker Rule to make sure there aren't unintended consequences that hurt markets.
Another key issue: Banks had grown so large before 2008 that the government had no choice but to bail them out when they collapsed.
Spicer argued on Friday that despite Dodd-Frank's "overreaching," it failed to solve one the core issues of the financial crisis: Too Big To Fail banks.
"We must determine conclusively that the failure of a large bank will never again leave taxpayers on the hook," he said.
-CNNMoney's Kate Trafecante contributed to this report.