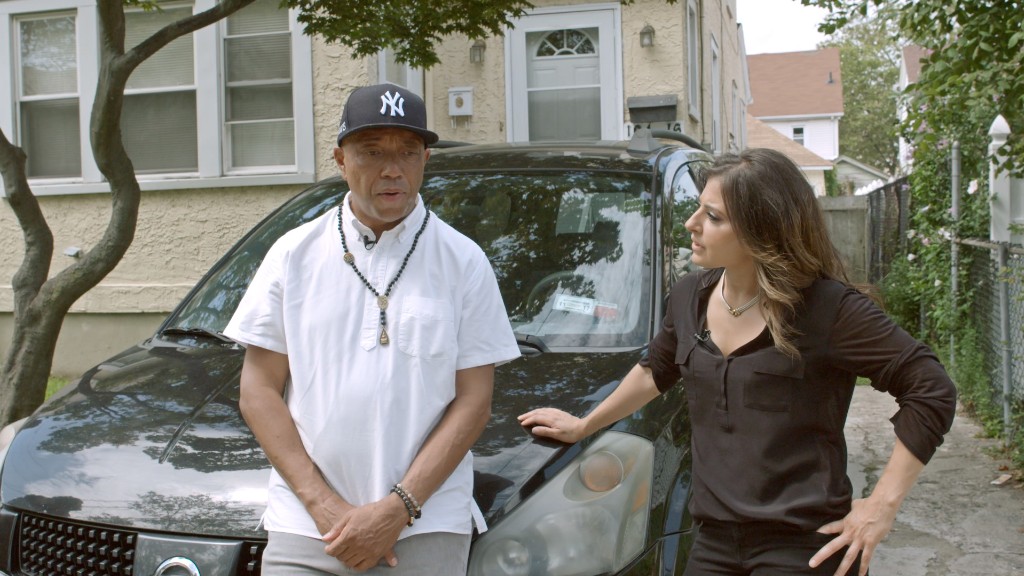 Donald Trump is a "contradiction" to the American Dream.
That's how Russell Simmons, the legendary hip-hop pioneer turned entrepreneur and activist, described the now-president of the United States.
Simmons was once friendly enough with Trump to poke lightheartedly at his eccentricities.
"I used to call him Richie Rich," said Simmons, who flew on Trump's private jet years ago. "[Trump] would always say, 'Look at my water bottle, Russ. It says Trump.' Most rich people don't get so many kicks out of their toys."
But he doesn't pal around with Trump these days. In fact, the two men are no longer friendly.
Simmons,59, said Trump is unraveling years of hard work that activists have spent fostering better relations among different ethnic and religious groups. For Simmons, it's a deeply personal issue.
Simmons is the chairman of the Foundation for Ethnic Understanding, a nonprofit focused on promoting racial harmony.
"He thinks he's a crusader for making America great again, which is code for promoting sexism, racism, Islamophobia and anti-semitism," Simmons said in an interview for CNNMoney's The American Dream: New York, a few months prior to the presidential election. Trump's actions in the first few weeks of his presidency, particularly the travel ban, have deepened Simmons' concerns.
In addition to Simmons, the project features J. Crew CEO Mickey Drexler, former Federal Reserve Chairman Alan Greenspan, former Xerox CEO Ursula Burns and Starbucks CEO Howard Schultz. Each overcame adversity to achieve success beyond their highest hopes.
Today, the American Dream is in question. Many Americans believe it is too elusive to ever achieve, and Trump effectively campaigned on the idea that it was dead and only he could revive it. It remains to be seen how big of a difference Washington politics and policies can make. For now, the lives of these five business leaders show the American Dream's enduring power.
Check out the full The American Dream: New York series here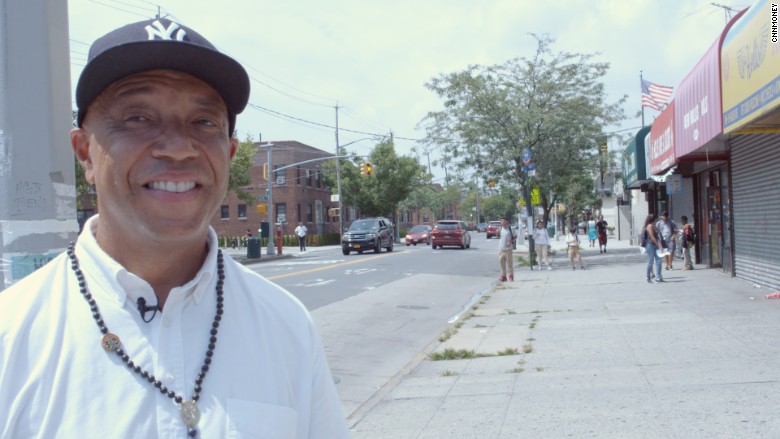 Simmons grew up in a predominantly African-American and middle-class suburb of Hollis, Queens in New York City. He described it as a church-going community. His parents instilled strong family values. But the city's heroin epidemic in the 1970s and 80s brought death, violence and despair.
"This was the heroin capital," said Simmons. "Jail culture took over, where church culture existed."
Standing on the corner of 205th Street and Hollis Avenue, Simmons painted a bleak picture of his childhood neighborhood. He watched his eighth grade classmates use heroin. Many of his friends ended up in prison or dead. As a teenager, Simmons was arrested for selling marijuana.
Simmons' childhood home isn't far from that intersection, which the city re-named Run-DMC JMJ Way after the hip-hop group Run-DMC that Simmons helped propel to national fame. Run is Joseph Simmons, Russell's younger brother.
During a recent trip back to his neighborhood, residents weren't shy about approaching Simmons to say hi and pitch music recordings.
For more on the American Dream, go to our American Opportunity section
Simmons found hip hop when he was attending City College of New York. Although he eventually dropped out, Simmons decided that promoting clubs and musicians was more fun — and potentially more lucrative — than drug dealing.
Hearing Simmons speak today, he sounds more like a yogi than a hip-hop legend. A Buddha greets visitors in the foyer of his home in Los Angeles. He uses phrases like "neediness is the cause of suffering."
Despite the tranquility that surrounds him now, Simmons is unsettled by the lack of hope he sees among many young people.
"Everybody should have a chance to achieve anything. We should have access to education, access to health care," Simmons said. But he acknowledges that the country faces massive inequality.
As a result, he said, "there are places in this country where the American Dream is lost."