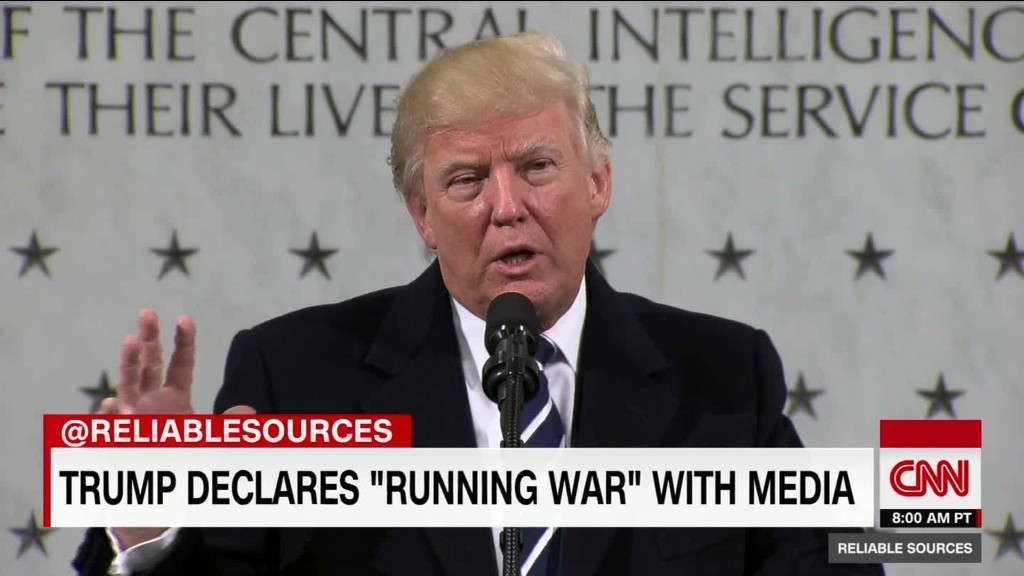 While President Trump's White House publicly berates the media, behind the scenes his top advisers are going to the media in an effort to tamp down rumors of strife inside the building.
Trump's chief strategist Steve Bannon and chief of staff Reince Priebus met privately on Friday with reporters from The New York Times, The Washington Post and Politico, sources with knowledge of the meeting told CNNMoney.
Related: On "Bowling Green massacre," Kellyanne Conway asks for leniency Trump team won't give media
The purpose of the meeting, as these sources interpreted it, was to push back on recent reports suggesting that Trump's administration was suffering from chaos and confusion amid internal conflicts, especially between Bannon and Priebus, as well as opposition from officials in other parts of the government.
One source who attended described it as a "Kumbaya meeting."
In recent weeks, several outlets have published reports portraying Trump's White House as a chaotic organization beset by power struggles and discord.
"Steve Bannon and Reince Priebus's War for the White House," one New Yorker headline read.
"Distrust in Trump's White House spurs leaks, confusion," stated a recent Politico headline.
"A feeling of distrust has taken hold in the West Wing of Donald Trump's White House and beyond, as his aides view each other and officials across the federal government and on Capitol Hill with suspicion," that report began.
White House press secretary Sean Spicer did not respond to a request for comment regarding Friday's meeting.
The meeting came just over a week after Bannon railed against the press during an interview with The Times, referring to the media as the "opposition party" and advising it to "keep its mouth shut and just listen for a while." This Thursday, Kellyanne Conway, another top Trump adviser, said the media was "inciting mob mentality if not mob violence" with its coverage of Trump.