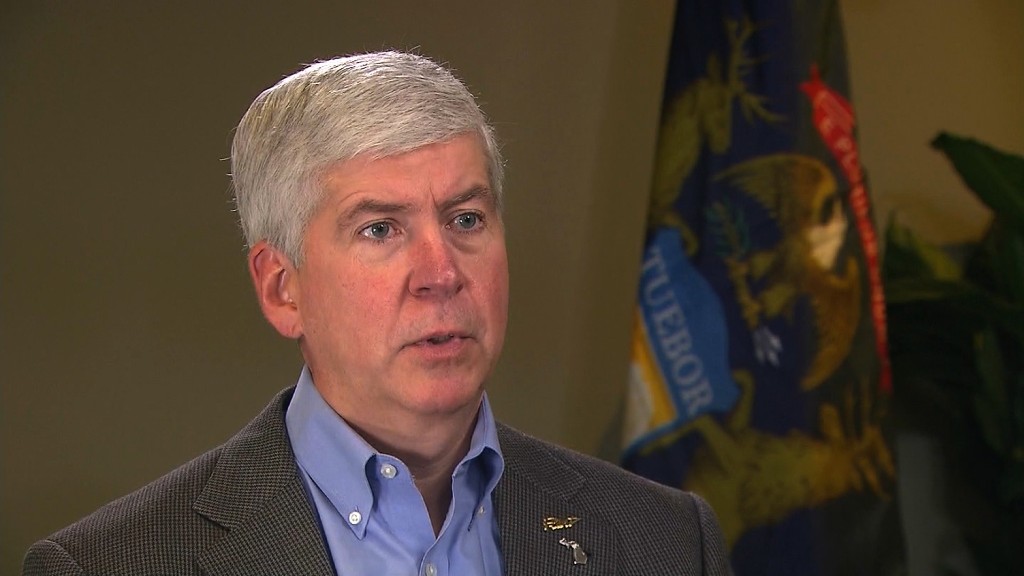 The pace of Obamacare sign-ups slowed in the final days of open enrollment last month, as the Trump administration repeatedly blasted the law and pulled ads reminding procrastinators of the January 31 deadline.
Some 9.2 million consumers selected a plan on the federal exchange, healthcare.gov, which handles enrollment for 39 states. That's down from 9.6 million a year ago.
Only 376,000 people signed up in the last two weeks of enrollment, compared to nearly 700,000 who picked plans in the final week a year ago.
The final figure, which will include data from the District of Columbia and 11 states that run their own exchanges, won't be available until March. Some 13.8 million people were expected to sign up during open enrollment, Obama administration officials said in October.
Related: Insurers to Congress: Stabilize Obamacare in next 30 days
Enrollment in Obamacare this year will prove a critical indicator of the program's value to Americans. Insurers are closely watching the figures, which will play a big role in whether they decide to remain in the market in 2018 and what premiums they will charge. Already, several large insurers, including Aetna (AET), Anthem (ANTX) and Cigna (CI), said they were evaluating their participation for next year amid mounting uncertainty over Congress' plans to repeal and replace the law. Carriers have signed contracts to provide coverage through this year.
Related: Aetna CEO: We will not expand Obamacare in 2018
The Trump administration pointed to the lackluster finish as a sign of the health reform law's troubles, noting the steep 22% premium hike for the benchmark silver plan for 2017 and the 28% decline in insurers offering plans -- meaning consumers had fewer choices.
"Obamacare has failed the American people, with one broken promise after another," said Matt Lloyd, spokesman for the Department of Health & Human Services. "We look forward to providing relief to those who are being harmed by the status quo and pursuing patient-centered solutions that will work for the American people."
Lloyd cited a 25% increase in premiums, which covered only the states on the federal exchange.
Trump and Congressional Republicans continue to emphasize that Obamacare is collapsing, even as their rush to repeal the law has hit resistance from within their own party. Many lawmakers want more details on how their leaders will replace Obamacare, with some on Capitol Hill now calling for repairing and stabilizing the law, at least for the short term.
But former Obama administration officials blamed the weak finale on Trump's cancellation of about $5 million in advertising in the days before the end of open enrollment. That outreach is critical to spurring people -- particularly coveted young and healthy consumers -- to sign up.
"Open enrollment was a success, and it would have been even higher without the Trump Administration's efforts to suppress enrollment," said Leslie Dach, a former agency official and director of Protect Our Campaign, who called the pulling of the ads "attempted sabotage." "Despite that, Americans continued to enroll in the final weeks, proving that there is considerable demand for quality and affordable coverage."
Related: Trump pulls Obamacare ads days ahead of enrollment deadline
Sign-ups had been running ahead of the prior year in the weeks after enrollment opened on Nov. 1, which former Obama officials cited as a sign of its popularity. It's likely that many who needed insurance jumped to lock in coverage in light of the Trump administration's vow to repeal the law soon after assuming power. Others, however, may have opted to stay away, thinking that Obamacare will soon be dismantled.
Before they left office, the outgoing administration focused on boosting enrollment with television ads, online outreach, in-person enrollment campaigns and the hashtag #coveragematters.
Related: Republicans add to Obamacare confusion with new 'repair' pitch
The states that run their own exchanges continued their advertising campaigns, and several reported a strong finish to the season.
In New York, more than 908,000 people signed up for coverage, up 39% from a year ago. The state's Essential Plan, which provides low-cost plans to low-income residents who make too much for Medicaid, attracted the most interest.
More than 225,000 Washington residents selected plans, a 13% increase over last year.
"The exchange is doing exactly what it was intended do and helping record numbers of working families who need and deserve health care," said Governor Jay Inslee, a Democrat. "While congressional leaders in Washington, D.C. are trying to take health care away from people in our state, I will do all I can to ensure these families do not see their coverage repealed until a viable replacement is in place."
Because of a flurry of sign ups at the end of open enrollment, Covered California gave residents who began picking plans through Feb. 4 to finish the process.
And Minnesota extended its enrollment through Feb. 8. MNsure, the state exchange, prolonged enrollment so consumers can take advantage of a new state law that provides an automatic 25% reduction in premiums to those who buy policies on the exchange but aren't eligible for federal subsidies.