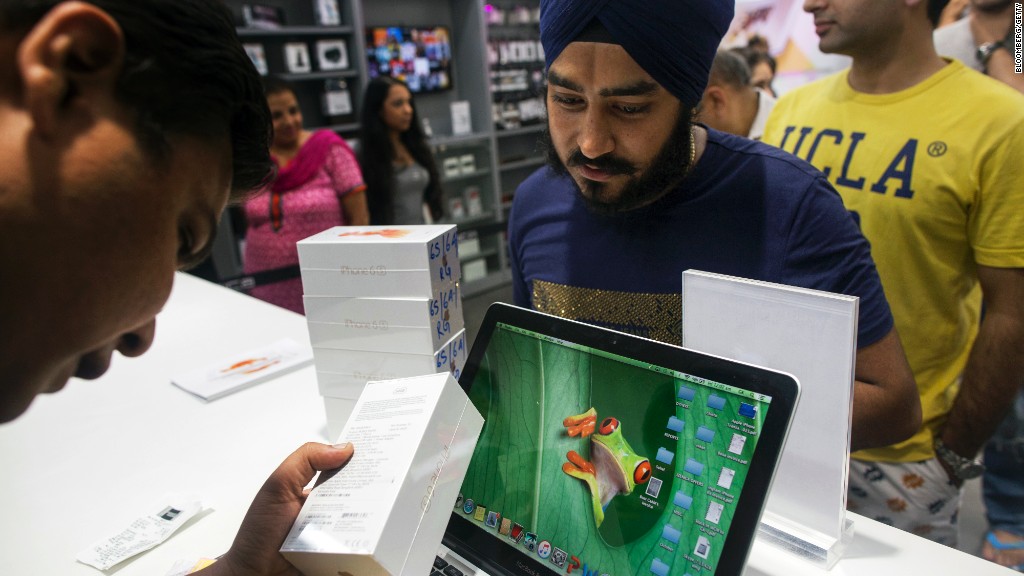 After months of negotiations, Apple is set to start manufacturing iPhones in the Indian tech hub Bangalore, a government official says.
The state of Karnataka, where Bangalore is located, has reached an agreement in principle with Apple (AAPL), said Priyank Kharge, the state's information technology minister.
Kharge told CNNMoney on Friday that iPhone assembly could start as soon as April at a plant on the outskirts of Bangalore. The plant will be operated by Wistron, an Apple supplier that's headquartered in Taiwan.
Apple would neither confirm nor deny the Indian official's remarks. The company said in a statement last week that it has been talking to the Indian government about "expanding" its local operations.
Related: Apple has $246 BILLION in cash, nearly all overseas
The U.S. tech giant currently sells iPhones and other products in India through local distributors, but it lags far behind Samsung (SSNLF) and Chinese brands such as Xiaomi, Oppo and Lenovo in terms of market share.
Apple has been hampered by a rule that prevented it from opening its own retail stores in the country. Foreign retailers can only sell products if 30% of the raw materials used to make them are sourced locally. The Bangalore manufacturing unit could pave the way for the first Apple stores in India.
Related: Apple considering legal action over Trump's travel ban
Setting up a new plant in India would also be at odds with President Trump's call for American companies to create manufacturing jobs at home.
But it looks like Apple has decided India's rapidly ballooning smartphone market is too tempting to resist.
The South Asian nation currently has more than 300 million smartphone users, and is poised to overtake the U.S. as the world's second largest market for the devices this year.