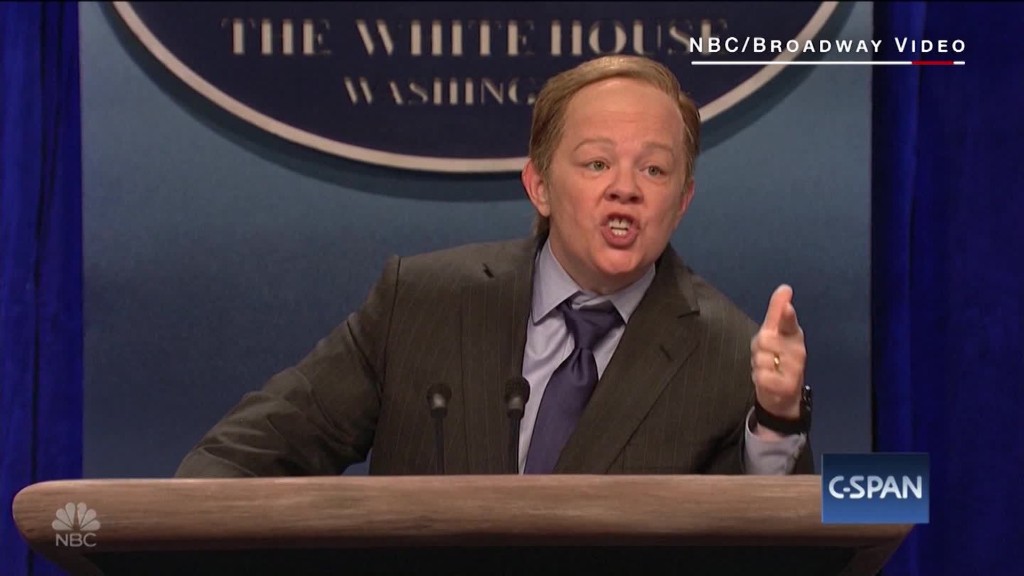 No one in President Trump's administration is safe from parody on "Saturday Night Live."
The latest target? White House Press Secretary Sean Spicer.
Frequent "SNL" host Melissa McCarthy made a surprise appearance on NBC's sketch-comedy show this weekend to skewer Spicer's combative tone with the press.
And the resemblance was uncanny.
"I know that myself and the press have gotten off to a rocky start," McCarthy-as-Spicer said. "I'd like to begin today by apologizing on behalf of you to me for how you have treated me these last two weeks. And that apology is not accepted."
Related: Spicer holds rapid-fire first press briefing
McCarthy also played on a testy exchange between Spicer and reporters over the use of the word "ban" to describe Trump's immigration executive order, which barred travel from seven Muslim majority countries.
Spicer said the order was not a "ban," even though Trump had used the word in tweets about the measure.
"He's quoting you. It's your words," McCarthy told a cast member who played a reporter asking about the ban. "He's using your words when you use the words and he uses them back. It's circular using of the word, and that's from you."
CNN media analyst Bill Carter said McCarthy's spoof was one of the best ever on "SNL."
The sketch was one of a number in Saturday's show that took aim at Trump's White House. Another segment parodied Trump's interactions with foreign leaders.
Trump, who has for months taken to Twitter to attack the show's portrayal of him, has yet to respond to the latest episode.