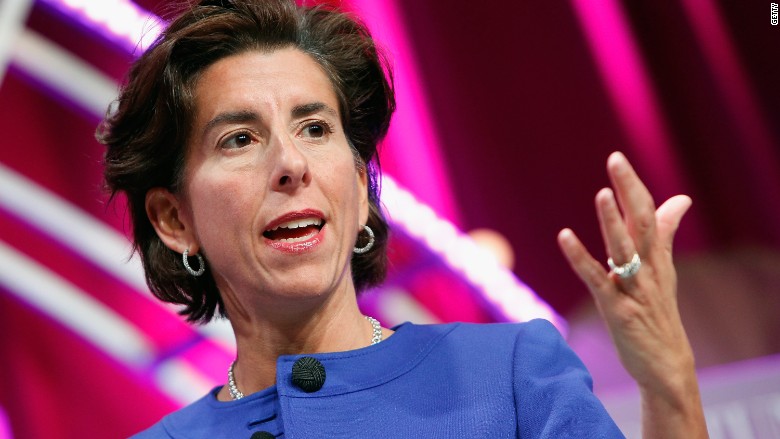 This week, the guest curator for "The Big Idea" on the CNN MoneyStream app is Gina Raimondo.
Occupation: Governor of Rhode Island
Best-known for: Revamping and protecting Rhode Island's pension system
Before Governor Raimondo entered public service, she was embedded in the small business world. After completing her robust education (an undergraduate degree from Harvard, a law degree from Yale, and a stint at Oxford as a Rhodes Scholar) Raimondo worked for private equity investment firm Village Ventures. She was a founding employee and a senior vice president with the Massachusetts-based firm, but she left the company to found Point Judith Capital in her home state of Rhode Island.
In 2010, a decade after she returned to Rhode Island, Raimondo was elected the state's General Treasurer. She held that position from 2011 to 2015, when she took the helm as governor. During her tenure, she has pushed for tech companies to move to Rhode Island and pump up its economy.
Here's a sample of what Gina Raimondo is reading this week (to see more, add "The Big Idea" stream on the CNN MoneyStream app)
- Can cities create innovation hubs that work for the broader economy? (Curbed)
- Rhode Island's offshore wind farm will power thousands of homes (CBS News)
- Why companies are rehiring old employees (Entrepreneur)
- Inside Google's effort to get more diverse and change the way we see the world (Fortune)
- Why clean energy is at the core of American strategic interests (Forbes)
- Small businesses will save the Middle-American economy (Fast Company)
- Solar energy jobs are growing 12 times as fast as the U.S. economy (Business Insider)
- American consumer sentiment rises on optimism about economy (Bloomberg)
- Apple shareholders want more diversity among top leaders (Quartz)
- Tech firms are departing from their see-no-evil stance on society and politics (The Economist)
- Narragansett Beer is brewing in Rhode Island once again (Rhode Island Monthly)
- Listen: Facebook confronts the role it plays for entrepreneurs (NPR)
- Consumers are powering U.S. economic growth (Reuters)
- Rhode Island commits to incentives for jobs and growth -- and begins to see result (Providence Journal)
"The Big Idea" lets you peek into the minds of leading people in business.
Every day, you will see multiple stories appear in your stream that are hand-picked by the guest curator of the week. Last week's curator was Tumblr President Jeff D'Onofrio. Previous guests include Richard Branson, Ellevest CEO Sallie Krawcheck, T-Mobile CEO John Legere and many other top business leaders.
Reading this article on your Apple device? Click here to download CNN MoneyStream. Or if you are on Android, download it here.