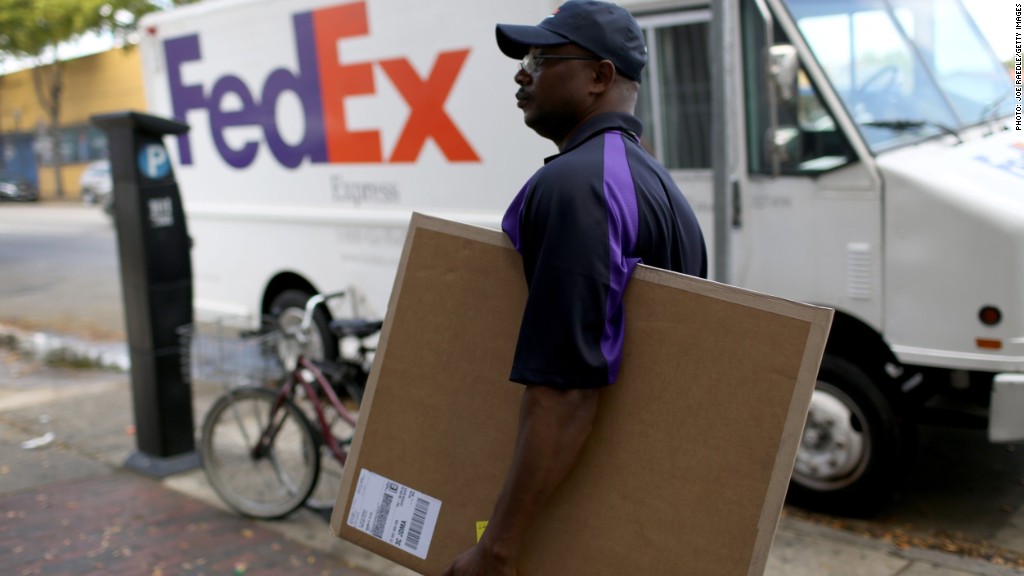 FedEx is getting deeper into the e-commerce game.
The global shipping giant announced Tuesday the launch of FedEx Fulfillment, a logistics network for small and medium-sized businesses.
Participating businesses will store their products at FedEx warehouses in the United States and Canada. FedEx will package and ship the products to customers. It's offering custom boxes with a brand's logo rather than with FedEx's own logo.
The service puts FedEx in greater competition with Amazon (AMZN), and is a reminder of the importance of e-commerce as traditional brick-and-mortar retailers struggle. Macy's (M) announced recently it would close at least 100 stores. The Limited is closing all of its stores.
Since 2000, Amazon has allowed third-party sellers to list their goods in Amazon Marketplace and store those goods in Amazon warehouses. Amazon then ships the products when they're purchased.
Related: Inside the holiday rush at FedEx
The program has been a great success for Amazon, which receives a cut of every sale. But for businesses listing products on Amazon, it can be a deal with the devil. Amazon connects them with customers, but it also competes with these sellers. Amazon can see which products are selling best, and start to sell those products itself.
FedEx (FDX) isn't a retailer, so businesses looking to sell online should be less wary of it.
"We're focused on the retailer, and doing what's right for the retailer, in helping them grow their business," Ryan Kelly, senior vice president of FedEx Supply Chain, told CNNTech. "I think that is differentiated in the marketplace. It's why we're getting such great feedback."
FedEx's solution appears to make the most sense for businesses that already have a robust online presence and don't need to rely on another marketplace, such as Amazon's, to find an audience.
Related: UPS, FedEx soar on holiday shipping hopes
FedEx has already been running pilots with businesses. It's tweaking its roughly 130 warehouses throughout the U.S. and Canada to accommodate storing goods.
Global shippers such as FedEx and UPS (UPS) have watched as Amazon has taken steps toward building out its own logistics network. Amazon is building a $1.5 billion air cargo hub in Kentucky and has leased jets. It's also working on a drone delivery program.
Now it appears that Amazon is getting a taste of its own medicine.