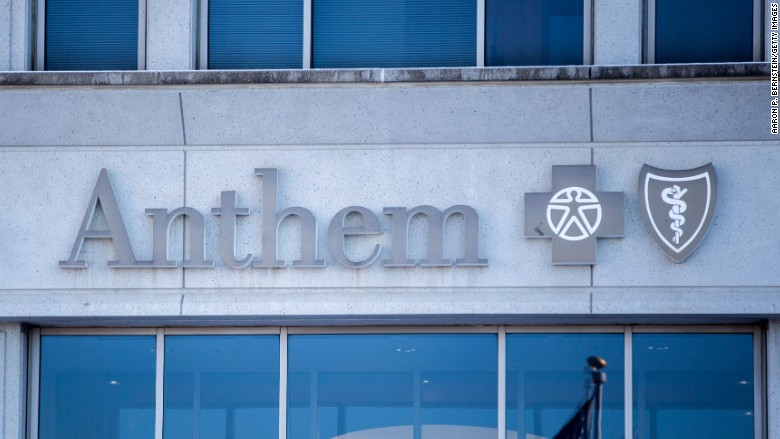 A federal judge has blocked Anthem's attempt to acquire Cigna in what would have created the largest health insurer in the nation.
At the time deal was announced in 2015, Anthem valued the acquisition at $54 billion deal.
The Department of Justice sued to halt the merger in July last year, claiming antitrust law violations, and District Court Judge Amy Berman Jackson in Washington D.C. ruled in agreement with the DOJ on Wednesday.
Anthem and Cigna are the U.S.'s second and third largest health insurance providers.
Related: Repealing Obamacare affects everyone
"They propose to create the single largest seller of medical healthcare coverage to large commercial accounts, in a market in which there are only four national carriers still standing," the order reads. "The evidence has shown that the merger is likely to result in higher prices, and that it will have other anticompetitive effects."
The judge closed the statement with praise for Cigna. She wrote that "while Anthem has moved to incorporate quality and cost savings incentives into its provider contract, Cigna has sought to differentiate itself with its approach towards reducing costs by increasing health."
"For this reason, some customers prefer Cigna notwithstanding its discount disadvantage, and there was some testimony from medical personnel that the approach is working," the judge wrote.
Anthem (ANTX) said Thursday it intends to appeal the decision.
Related: Health care battle cheat sheet: Democrats vs. GOP
The DOJ called the decision "a victory for American consumers."
"This merger would have stifled competition, harming consumers by increasing their health insurance premiums and slowing innovation aimed at lowering the costs of healthcare," the department said in a statement Wednesday.
Anthem's bid to take over Cigna was first announced in 2015. The deal was immediately criticized by regulators and some in the industry concerned it would hike health care prices for Americans.
It's the second roadblock a federal judge has put up for an attempted health care merger since the beginning of the year. Aetna's plans to takeover Humana for $37 billion was frozen by a federal judge last month.
Cigna (CI) did not immediately respond to a request for comment.
Cigna saw its stock dip slightly during after hours trading Wednesday following the news. Anthem's stock was flat.