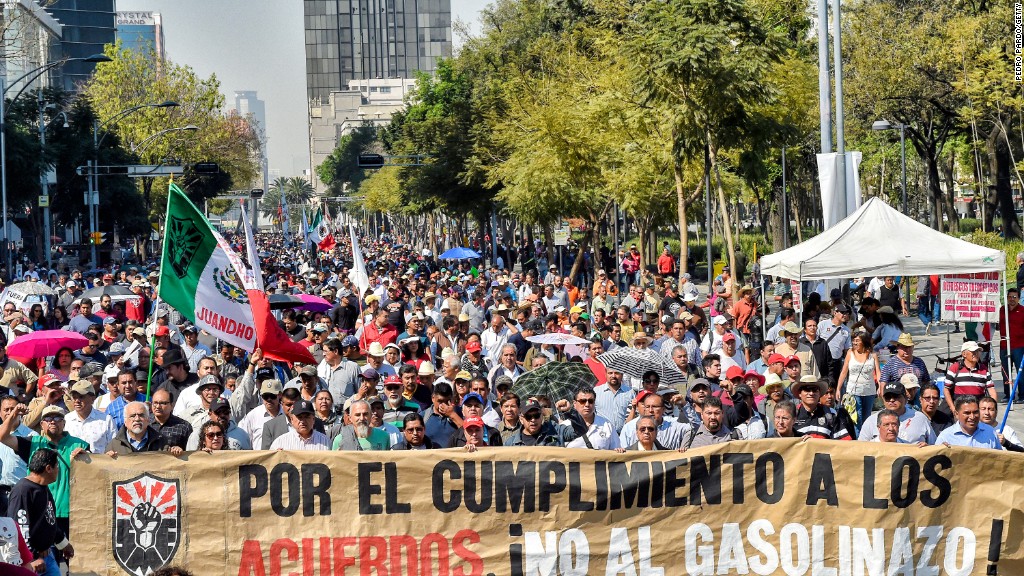 Mexicans are protesting by the thousands, looting and even forcing the U.S. to temporarily close the border.
But their rallying cry isn't against President Donald Trump and his threats against Mexico.
They're marching against huge gas price increases -- dubbed "el gasolinazo" -- that went into effect in early January.
"What Trump is doing doesn't shake us...El gasolinazo concerns us," says Fernando Mejia Ortiz, a painter from Cabo San Lucas, who was visiting Mexico City with his wife Eva.
As part of a plan to deregulate prices and cut back on subsidies, the Mexican government raised gas prices as much as 20%.
The hike led to violent protests throughout the country, leaving at least six dead and 1,500 arrested.
Hundreds of gas stations also closed down for fear of looting.
Prices were supposed to go up again on February 3, but the increase was suspended after the protests and social backlash.
The Mexican government decided to delay the second price increase to February 18, citing the volatility in international oil prices as one of the main reasons.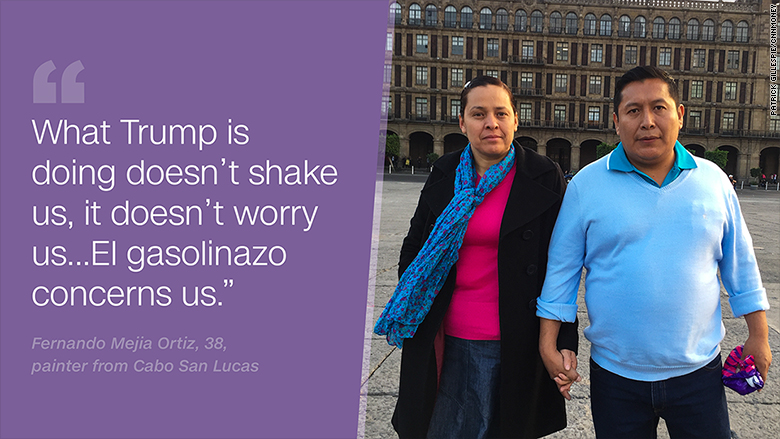 In December, Ortiz used to pay 520 pesos (about $25) a week for gas. Now he pays 580 pesos.
"It can seem like a little but when you are counting it over time, you notice it," says Ortiz, 38, who earns about 2,300 pesos ($112) a week.
Related: #AdiosStarbucks: Mexicans threaten to boycott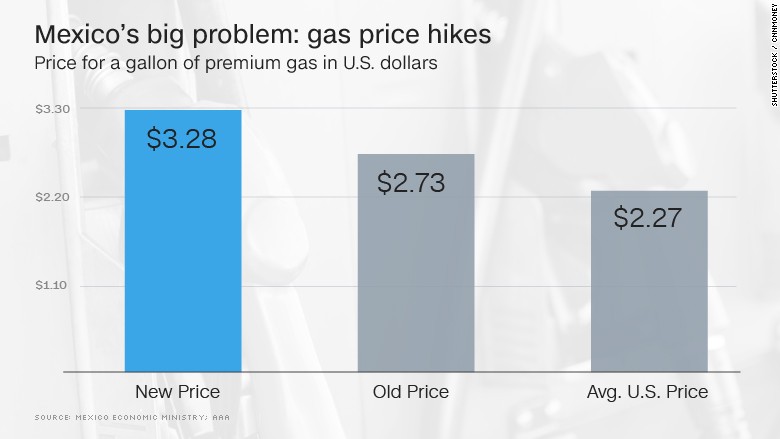 Over the weekend, Mexicans continued to protest, taking to the streets in Mexico City and other towns. In the border town of Tijuana, protests got so out of hand that U.S. officials decided to temporarily close the border.
It's an especially tough time for Mexicans, because their currency, the peso, has fallen in value to record low levels. It's declined 11% since Donald Trump won the U.S. presidential election.
Trump's threats against Mexico have weakened the peso, and could seriously damage Mexico's economy, which ships 80% of its exports north of the border.
Mexicans know Trump could hurt their jobs, wages and also the money that relatives in the U.S. send home. A massive protest against him is scheduled for this Sunday in Mexico City.
But at the moment, gas price hikes are hitting wallets.
Related: Trump wants to speed up NAFTA talks
But it's not just gas. Food prices have gone up as a result of the gas price hikes, as companies charge more to transport food and goods. Local media reported in January that food prices had increased in 17 of Mexico's 31 states, with prices of eggs going up 16% nearly overnight.
Javier Ramos, a lawyer, says he is cutting back, even buying less chicken because of higher gas prices.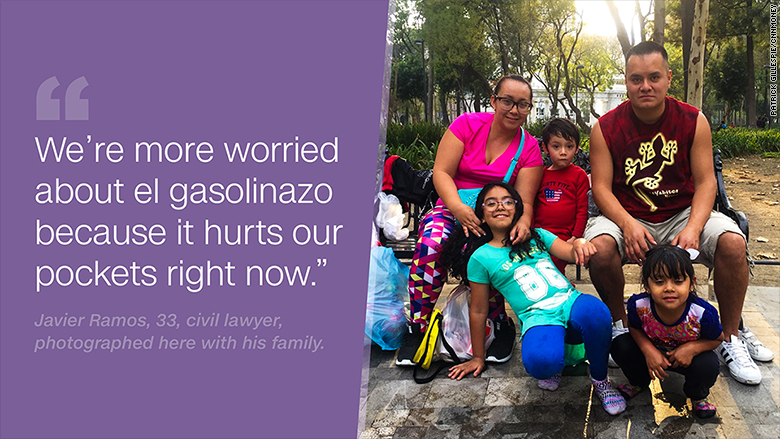 To feed his family of five, he used to buy a 1,000 grams (over 2 lbs) of chicken. Now he's bringing home about 750 grams (1.6 lbs) for his family of five including his wife Claudia, daughters Angie, 8, and Zuria, 4, and 3-year old son Aaron.
"We're more worried about el gasolinazo because it hurts our pockets right now," says Ramos, 33, as he watched Zuria jump around a sprinkler playfully.
Related: Guess where all those avocados come from
Ramos says it's not that he's not worried about Trump and what it means for Mexico's future. But right now, gas prices have become a central part of the kitchen table conversation, more than the new U.S. president.
In addition to driving his Mazda Impreza to get to his job everyday, Ramos uses Uber a lot. A typical Uber ride in December cost him 80 pesos. Now Ramos says it's 110 pesos. He's cutting back on using the app too.
And life isn't any easier for Uber drivers like Juan Manuel Estrada, a lifelong resident of Mexico City.
He used to pay between 1,400 and 1,500 pesos a week for gas. Now gas costs him 2,200 pesos a week. Estrada, 62 and happily married with three adult kids and two grandchildren, earns about 4,000 pesos a week as an Uber driver, his only income.
"Look, right now, as a Mexican from Mexico City, the price of gasoline," is more concerning than Trump, says Estrada. "Everything is going up...going out to eat, to buy clothes, it's more expensive."