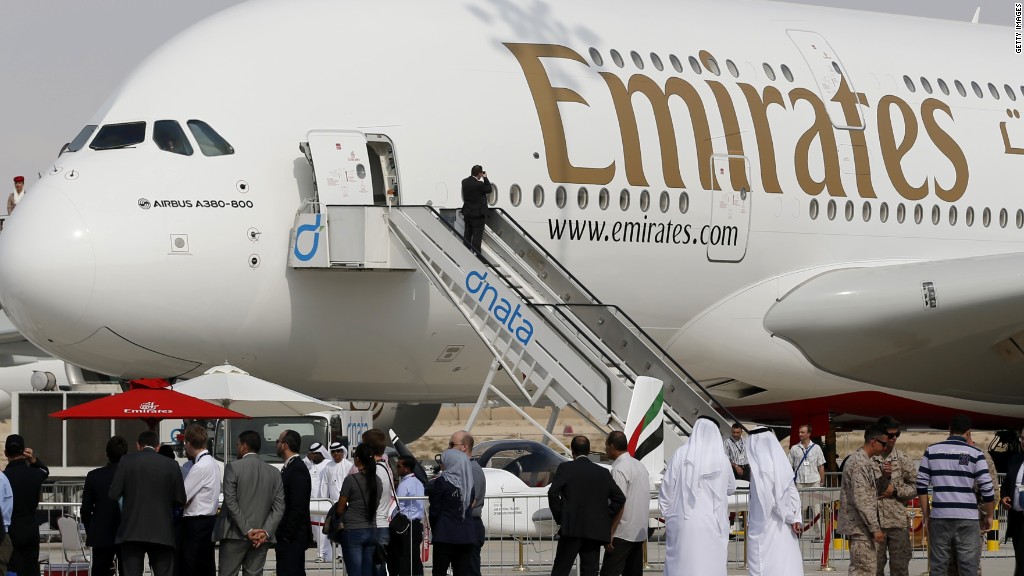 Gulf airlines are fighting back hard against claims they're destroying American jobs. They say the opposite is true.
American Airlines (AAL), Delta (DAL) and United want President Trump's administration to review agreements that allow their Gulf rivals to fly freely from the United Arab Emirates and Qatar to any U.S. destination. They say Emirates, Etihad and Qatar Airways have an unfair advantage because of government subsidies worth $50 billion.
"We really want to create more jobs in the U.S. and support the economy in the U.S.," Emirates chairman Sheikh Ahmed bin Saeed Al Maktoum told CNNMoney's Richard Quest in an exclusive interview.
"We carry nearly 4,000 people into the U.S. everyday, we invested 140 billion [U.S. dollars] and supported over a million peoples' jobs."
Related: Are America's airports going to be great again?
Emirates says it has ordered 346 Boeing 777s worth $140 billion at list prices since 1991. Including maintenance and repair deals with GE (GE), Emirates says those past and future orders support more than a million jobs.
Abu Dhabi's airline, Etihad, says it supported more than 100,000 American jobs and contributed $10 billion to the U.S. economy in 2016 alone.
And Qatar Airways says Gulf airlines have been following Trump's "America First" mantra for a very long time.
"[Trump] should try to support us because we always... bring America first by ordering American manufactured goods for our airlines, contrary to what the others are doing -- placing large airplane orders with European, Brazilian and Canadian manufacturers," Qatar CEO Akbar Al Baker told CNNMoney.
Related: Warren Buffett's big bet on airlines flies high
Al Baker said he would welcome an investigation by an independent third party into the claims of unfair subsidies.
"We are publishing our accounts, we are not running our airlines the way we are perceived to run [them] and we have open books and President Trump is most welcome to appoint a special counsel to look at this," he said.
Aviation industry executives, including the CEOs of Delta and United, are meeting Trump on Thursday.
American Airlines CEO Doug Parker will not attend due to an annual company leadership retreat in Dallas. The Open Skies Agreements is not officially on the agenda, said one of the people familiar with the meeting.
That doesn't mean it won't come up. But if it does, Trump will have to consider not only jobs at Boeing and GE but also the views of carriers such as Hawaiian Airlines and JetBlue Airways (JBLU) who want the Open Skies agreements with the UAE and Qatar to continue unchanged.
Those airlines want to keep passengers on the Middle East airlines flowing to their U.S. flights from overseas.