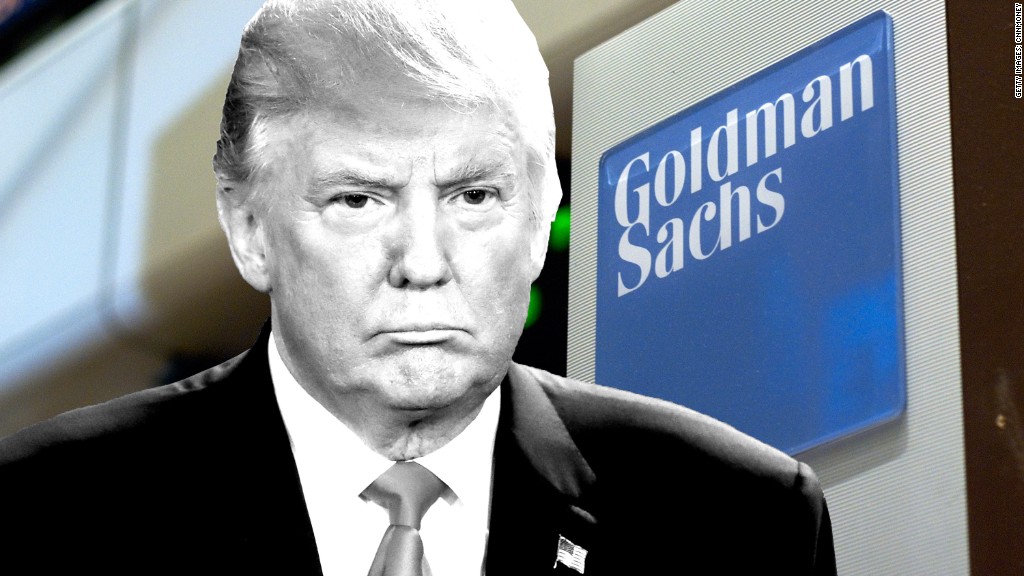 The market value of Goldman Sachs soared by $4 billion last Friday as President Trump signed an order to begin the process of dismantling Dodd-Frank, with former Goldman president Gary Cohn standing behind him.
Cohn just walked away from Goldman Sachs with $285 million to become Trump's top economic adviser. Lately he has also become the face of the White House's financial deregulation push, giving interviews on television and in newspapers.
Goldman's (GS) stock price has skyrocketed 33% since the election as Wall Street cheers the regulation-busting and promises of tax cuts. It also can't hurt that Trump has appointed a handful of Goldman alumni to powerful positions in his administration.
Now, Senator Elizabeth Warren wants Goldman Sachs to explain just how much "influence" the bank has over Trump's economic policies.
"Dismantling Dodd-Frank would be a financial boon for large banks, including Goldman Sachs," Warren and fellow Democratic Senator Tammy Baldwin wrote in a letter sent on Thursday to Goldman Sachs CEO Lloyd Blankfein.
The senators called on Blankfein to reveal whether Goldman Sachs was involved in drafting the two executive orders that Trump signed on Friday.
One order kicked off the process of rolling back the 2010 post-crisis financial reform law and the other set the stage for eliminating the Fiduciary Rule, a law that required investment advisers to act in the best interests of their clients.
Noting that Cohn was at Trump's side, Warren and Baldwin said the orders "raise our concerns about the degree to which Mr. Cohn's advice to President Trump is good for Wall Street, but bad for Americans."
In a statement, Goldman Sachs told CNNMoney, "We've had no involvement in the drafting of any executive orders."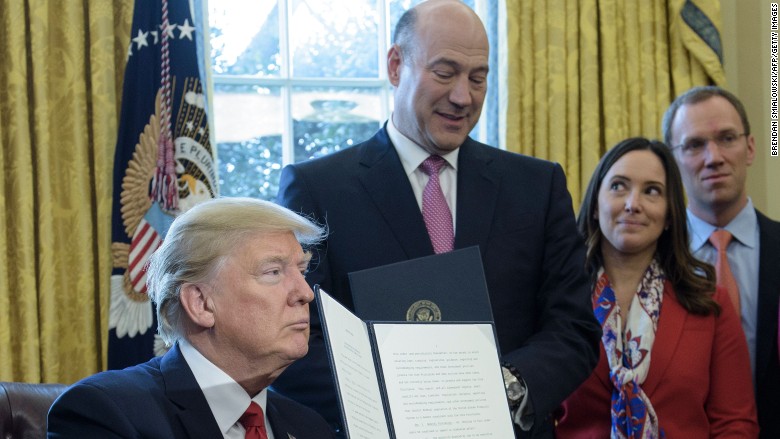 Related: Wall Street has a powerful seat at Trump's table
The letter comes just days after activists converged in front of the Goldman Sachs headquarters in Lower Manhattan to protest the bank's role in dialing back Dodd-Frank. The protestors are calling their action "Government Sachs."
Trump "said he was going to drain the swamp and all we see is that he's filling it more and more every week," Nelini Stamp, a 29-year-old protester, told CNBC.
Trump has accelerated a bipartisan tradition in Washington of hiring former Goldman veterans to help run the government.
The president's treasury secretary nominee Steven Mnuchin is a former Goldman partner, while his top economic adviser Cohn had been Goldman's chief operating officer, or its Number 2 executive. Trump also tapped Jay Clayton, a lawyer who represented Goldman Sachs, to lead the SEC, and former Goldman partner Dina Powell as an economic adviser.
Trump's chief strategist is a former Goldman banker Steve Bannon, though he has since become a Wall Street critic who has blamed big banks for the 2008 financial meltdown.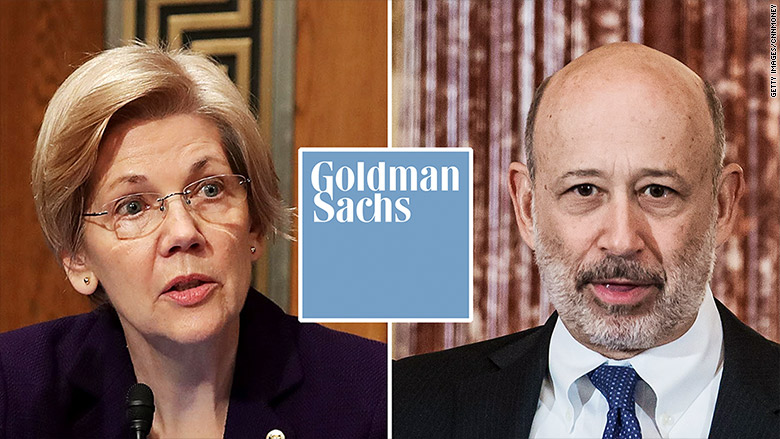 Related: GOP declares war on CFPB
Warren and Baldwin asked Blankfein to answer a series of questions by February 22. One question: Did any individuals employed by Goldman Sachs have "any communication" with Cohn, Mnuchin, Powell, Clayton or Bannon about the deregulation executive orders?
The letter requests the dates, times and nature of these communications as well as "any documents" related to the communications.
The senators also want Blankfein to explain whether Goldman Sachs supports Trump's recent executive orders on Dodd-Frank and the Fiduciary Rule, what "financial benefits" the firm expects to gain as a result and whether the it has lobbied or plans to lobby the White House on these issues.
Trump's ties to Goldman Sachs are surprising because during the campaign he repeatedly knocked Hillary Clinton's paid speeches to the firm. Trump's closing campaign ad even flashed an ominous image of Blankfein while condemning the "global power structure."
Trump has defended his ties to Wall Street executives.
"When I campaigned for office, I promised the American people that I'd ask for our country's best and brightest," Trump said last Friday.
Of course, Trump is hardly the first president to lean on Goldman veterans.
President Clinton tapped former Goldman co-chairman Robert Rubin as treasury secretary. Rubin presided over the repeal of Glass-Stegall that had prohibited banks from operating investment banks and Main Street-facing retail banks.
Likewise, former Goldman CEO Henry Paulson served as President George W. Bush's treasury secretary and oversaw the $700 billion bailout of Wall Street.