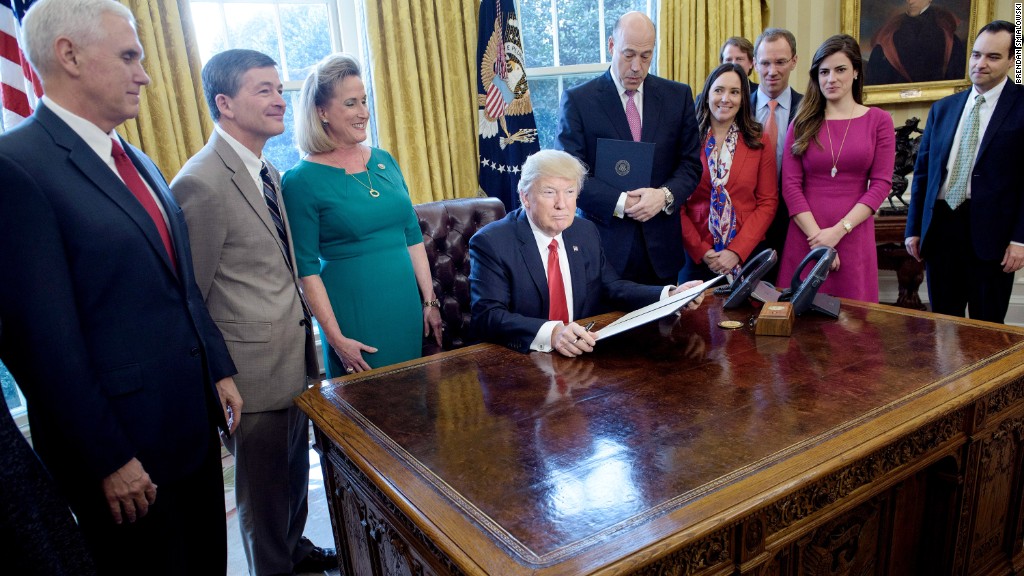 President Trump has bashed Dodd-Frank as a loan-killing "disaster" that's crushing the economy.
Trump recently complained that "many friends of mine who have nice businesses" can't get loans because of the regulations in Dodd-Frank. "The banks just won't let them borrow," the president said.
The White House argues this lack of business lending is precisely why the 2010 Wall Street reform law needs to be rolled back.
But a closer look at lending statistics suggests that this dramatic rhetoric about banks not lending doesn't match up with reality.
In fact, banks are lending a ton to businesses these days. Commercial and industrial loans from commercial banks are an all-time high of $2.1 trillion last November, according to the Federal Reserve.
Business lending did take a hit during the 2008 Wall Street meltdown. However, lending bottomed out after the Great Recession ended and bank loans to businesses have nearly doubled from the low.
That means banks ramped up lending even after former President Obama signed Dodd-Frank into law in July 2010 in hopes of staving off another financial crash.
For instance, in 2012 just as key elements of Dodd-Frank were being phased, commercial and industrial loans jumped by 12%, according to the Fed. Lending was up another 7% in 2013 and 12% in 2014.
Darrell Duffie, a finance professor at Stanford University, said Trump's lending claim "is too broad."
"U.S. banks have been providing large amounts of credit to businesses, much more than their European counterparts," he said.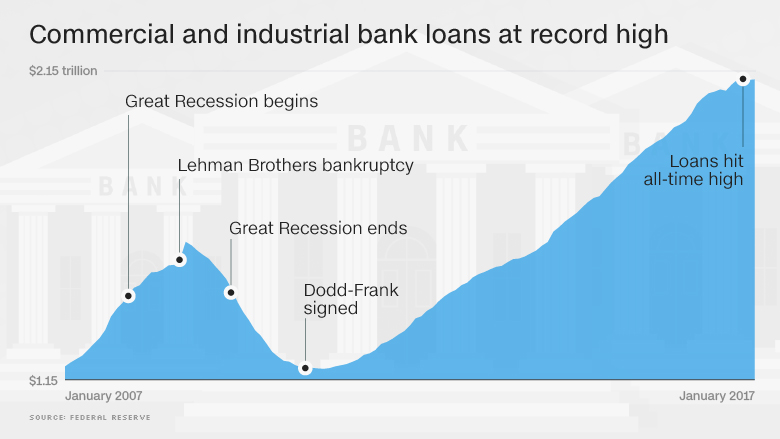 Related: Tough federal bank regulator calls it quits
Overall, 79% of small businesses that applied for a bank loan were approved for at least some financing, according to a 2015 Fed survey of small businesses.
Big banks would love regulatory relief. But that's not necessarily because they find it difficult to lend.
"Loan growth remains robust," Marianne Lake, JPMorgan Chase's chief financial officer, said during the bank's conference call last month.
JPMorgan (JPM) bragged about how it ended 2016 with record loan balances of $189 billion in its commercial bank. That's up an impressive 14% from the end of 2015.
One analyst, Kenneth Usdin from Jefferies, even complimented JPMorgan during the call on "another great year of double-digit loan growth."
Bank of America (BAC) also seems to be navigating the Dodd-Frank world pretty okay, when it comes to loans. BofA CEO Brian Moynihan said last month that commercial business loan growth "kicked up" during the fourth quarter as mid-size business borrowing was "strong."
Even Wells Fargo, which has been grappling with a scandal that's hurt its reputation, is lending more. Wells Fargo's (WFC) commercial loan book increased by 11% in the fourth quarter to nearly $507 billion.
Barney Frank, one of Dodd-Frank's authors, recently told CNNMoney there's "no evidence" to support Trump's claim that the law is killing lending.
"If we had inflicted a disaster on the American financial system, it would have shown up," Frank said.
Related: Wall Street has a powerful seat at Trump's table
Still, critics argue that Dodd-Frank made banks too risk-averse, hurting less-proven young companies.
"The only businesses that can obtain loans are those that can prove they don't actually need the loan," Harvey Pitt, who served as SEC commissioner under former President George W. Bush, told CNNMoney.
These early-stage companies aren't able to reliably turn to banks for loans because regulations have raised lending standards, Pitt said.
"Dodd-Frank has made it much harder for those businesses that are the true generators of economic growth to raise capital," he said.
To Pitt's point, the Fed small business survey shows that 50% of bank loan applicants faced a financing shortfall, meaning they received a smaller loan than they requested. Smaller businesses were dramatically more likely to run into loan roadblocks than larger ones.
Still, it only makes sense that banks would become more conservative after the worst financial crisis since the Great Depression. And unproven businesses have been able to turn to alternative sources of capital like venture capital and peer-to-peer lending.
None of this is to say that Dodd-Frank is perfect. Even Frank admits that community and midsize banks have been hurt by increased legal and compliance costs.
It's just tough to argue that Dodd-Frank has made it impossible to get a loan.
"I understand that may be a popular thing to say, but I don't think there's any evidence," James Pethokoukis, a columnist at the American Enterprise Institute, told CNBC.