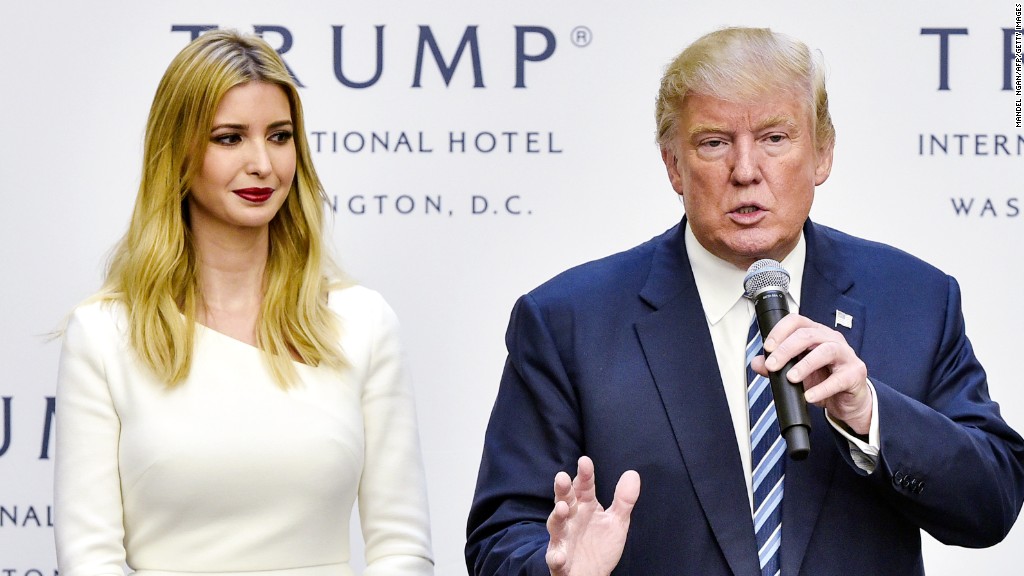 Companies are dropping the Ivanka and Donald Trump lines.
The question is why -- is it business? Or politics?
Nordstrom, TJ Maxx, Marshalls, Neiman Marcus, Kmart, Sears, Belk and Burlington have announced plans to eliminate or minimize their inventory of Trump-related brands.
The stores insist these decisions were based on performance, but none shared any sales figures.
Ivanka Trump's company says it is growing and had "significant year-over-year revenue growth in 2016." But because it's a private company, Ivanka's brand doesn't have to disclose its financials.
But several retail experts said they believe the stores' decisions were likely driven by business factors.
One veteran retail analyst points to Ivanka's decision to step away from the company as evidence that the brand may not be going strong.
"If the Ivanka Trump brand were going to be the next Ralph Lauren or Tory Burch, do you think Ivanka might've figured out a way to keep her finger in the pot, stay part of it?" said the analyst, who asked not to be identified.
Related: Trump brand takes another hit
Another retail analyst, Richard Jaffe from research firm Stifel, said companies like Nordstrom make decisions based on money.
"It isn't about a woman named Ivanka or her father -- it's about the hundreds of thousands of customers who come into the store and say no this is not for me," Jaffe said. "When a customer votes with their dollar, you recognize that it's your job to offer newness and novelty to inspire them to buy."
Jaffe said there are likely lots of Trump supporters who shop at Nordstrom, but if sales are down, that means they're not buying the product either.
The different demographics of the Ivanka and Donald Trump brands may make Ivanka's line more susceptible to political winds, according to Jamie Turner, the author and CEO of 60SecondMarketer.com.
Ivanka's brand, which caters to Millennials, may be more "sensitive to what they see as politically incorrect," he said. That could drive them to "react to what's going on in the Trump administration through their pocketbooks."
"The Donald Trump brand skews older. They focus on older males who might not be as sensitive to the things he's saying," Turner said.
Related: Kellyanne Conway unrepentant for Ivanka Trump plug
Nordstrom (JWN), which said it will stop carrying Ivanka's line, said earlier this month that "over the past year, and particularly in the last half of 2016, sales of the brand have steadily declined to the point where it didn't make good business sense for us to continue with the line for now."
Ivanka's sales surged in late 2015, according to Slice Intelligence, a retail analysis firm that used data from five stores that carry her products. The uptick in sales came just months after Donald Trump announced his run for president.
But by January 2017, online sales of Ivanka's brand dropped 26% compared with the previous year, according to Slice.
--Danielle Wiener-Bronner contributed to this report.