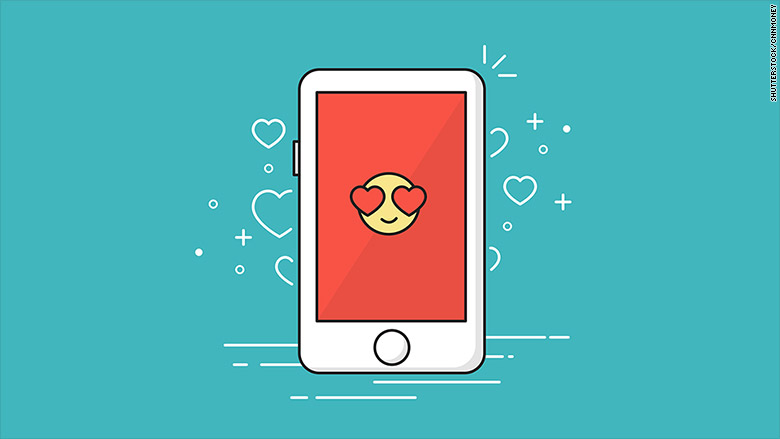 Your weirdness and nervousness are endearing to potential matches. But please turn off your phone on dates -- and stop complaining on Facebook.
Those are just a few modern dating dos and don'ts, according to new surveys from several dating sites conducted ahead of Valentine's Day. CNNTech culled the stats from Hinge, Match and OKCupid. Here are our favorite findings:
Phone compatibility is a thing.
iPhone users are 21 times more likely to judge their dates negatively if they carry Android phones instead of an iPhone. Android users are also judge-y -- just a little less so at 15 times more likely to see iPhone devotees negatively. That's according to the annual "Singles in America" report commissioned by Match and conducted by Research Now, which surveyed 5,500 singles across the country.
But most women agree cracked phone screens are gross: 86% of female respondents say they're negatively judging men for not fixing their phones (the report didn't include this stat for men).
Wealth isn't a concern when it comes to matters of the heart. Career ambition is, however.
OKCupid and NerdWallet partnered on a study to look at the intersection of dating and money, and 52% of those surveyed said they'd be "very comfortable" with a partner who brought in more money than they did. Men were more likely to indicate this than women. A mere 0.5% of respondents said they'd be "very uncomfortable."
Moreover, more than 60% in this survey said a partner who is complacent with a minimum wage job is at least somewhat of a problem, which aligns with a finding from "Singles in America": 38% of men say female entrepreneurs are sexy.
Related: New dating app ditches swiping, requires phone calls
Dogs rule, cats drool.
According to Hinge, which surveyed 2,000 of its users as part of a new book about dating success stories, "cat people" are 20% more likely to date a dog person than a "dog person" is to date a cat person. Woof.
Normal is boring.
Hinge's survey also found 71% of people are up for "taboo" talk on a first date. So, they're probably OK with talking about everything sex to politics, religion and more. This finding closely aligns with the percentage of people who think "weird" is better than "normal."
OkCupid has even decided to jump start conversations around these topics. On Tuesday the dating service refreshed its mobile app to include 50 new questions for singles to answer, including: "Trump?" (the response options "Hell no," "No," "Yes," and "Hell yes") and "Is climate change real?"
Obsessed with social media? That's unattractive.
Don't even think about texting or answering your phone on a date: 58% of survey respondents in "Singles for America" survey say it's a no-no to keep a phone face up on a date. And 58% of folks also said they aren't into people who complain on Facebook; 26% went so far as to say that people who abstain from all social media are a turn-on.
Also, 29% of respondents said they're jonesing for phone calls (which is good news for this new dating app).
Stop with the dating advice, for the love...
A whopping 65% of "Singles in America" respondents say dating tips and tricks aren't useful. Oops.
But seriously, scope out a bar that's not too crowded (78% of Hinge respondents say an empty one is better than a packed venue for a first date) and bring your A-game (87% of Hinge respondents say personality is more important than looks). Happy dating.