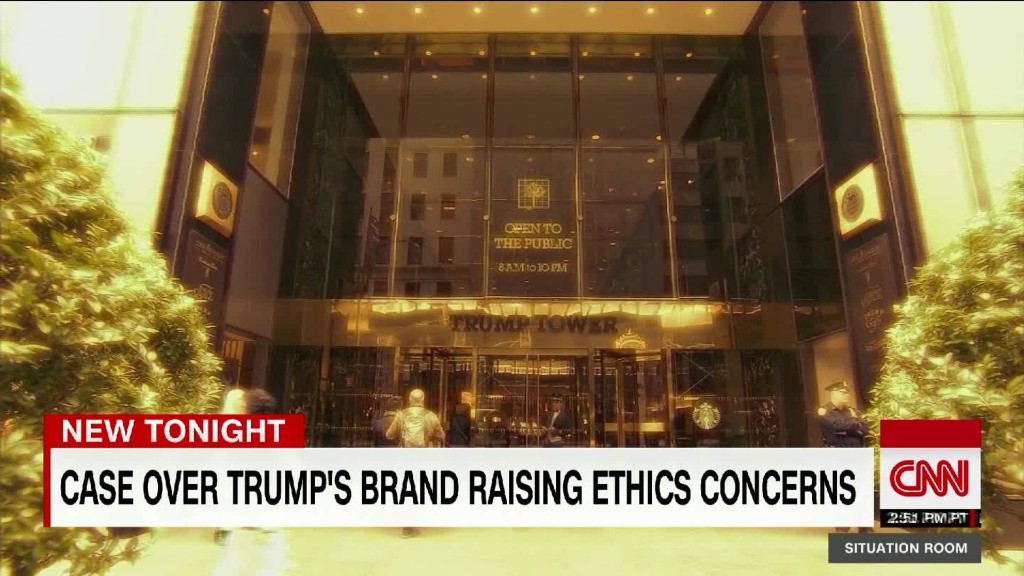 The Chinese government has granted President Trump and his business something they had been seeking for more than a decade: trademark protection for the use of the Trump name in the construction industry.
Trump fought unsuccessfully in Chinese courts for years to try to gain control of the trademark, but his fortunes changed suddenly last year during the latter stages of his campaign for the White House.
China's trademark review board announced in September it had invalidated a rival claim for the Trump trademark, clearing the way for Trump to move in. In November, soon after the election, it awarded the trademark to the Trump Organization. The trademark was officially registered this week after a three-month notice period for objections expired.
The sequence of events makes some ethics experts uncomfortable: Chinese authorities reversed their position as Trump's political star rose.
"China is going to want concessions from Mr. Trump, and this is now the first in what will be a series of efforts to influence him," said Norman Eisen, a White House ethics counsel under President Obama. Eisen is part of a group that has sued Trump for violating the foreign emoluments clause of the Constitution by accepting foreign payments through his business ventures.
But Trump Organization attorneys told CNN that it was simply trying to protect the Trump trademark from someone who had been improperly squatting on it, and that any accusation that President Trump could be compromised by the trademark decision granted by the Chinese government is completely baseless and shows a disregard for the facts.
It is difficult to assess the value of the new trademark. It covers construction-related services, not for Trump's core hospitality and real-estate businesses.
But even if construction-related services are not a core business for the Trump Organization, the company places a great value on anything with the Trump brand.
"The Trump brand is key to the value of the Trump Organization's assets," Sheri Dillon, a Trump lawyer, said last month.
Trump can also argue that he's a lot more famous in China now than he was when he first started the trademark battle there in 2006, giving him a stronger claim to the Trump name. Trump already holds dozens of trademarks in China and is seeking dozens more.
"The Trump Organization has been actively enforcing its trademark rights in China for more than a decade and its latest trademark registration is a natural result of those efforts -- all of which took place years before President Trump even announced his candidacy," said Alan Garten, the Trump Organization's chief legal officer.
The ethics concerns are fueled by Trump's decision not to completely sever ties with his company.
Before taking office, he bucked the advice of ethics lawyers who urged him to avoid conflicts by selling off his vast business interests and putting the money in a blind trust. Instead, he pledged to place his assets in a trust run by his adult sons.
Trump talked tough on China in his campaign rhetoric, but so far hasn't followed through on his threats to label it a currency manipulator on his first day in office, or to impose heavy trade tariffs.
Related: Ethics group lawsuit says Trump is violating Constitution
China legal experts say they think Trump's political ascendancy most likely played a role in the trademark decision.
"I've got clients who have fought these same cases time and time again without success. For this rapid turn of events, it does seem to be more than just a coincidence," said Dan Plane, a China intellectual property expert in Hong Kong. "What's striking about the Trump decision is the timing. I think it's reasonable to assume that politics played a part -- without Trump even necessarily asking for it."
The Chinese Embassy in Washington told CNN that the case was handled in compliance with China's trademark law.
"The Chinese trademark review board does not make its decisions publicly available, so we don't know on what basis they made their decision," said Matthew Dresden, an international trademark attorney. "I think these decisions were not made in a vacuum."
The White House declined to comment, referring the question to the Trump Organization.
Related: What we know, and don't, about Trump's trust
Another interpretation of the decision may simply be that China is becoming more responsive to Western companies that want to protect their trademark. In December, China's top court found in favor of U.S. basketball start Michael Jordan, ruling that a Chinese company sportswear company, Qiaodan, had to stop using the Chinese characters that rendered the name Jordan.
"You could say there's a nice ray of sunshine, that perhaps things are changing for foreign brands," said Plane. "But [the Trump decision] really was a bit of a bolt out of the blue, particularly in relation to the case's history and the decision's timing."
Related: Michael Jordan wins his Chinese name back
One remaining question is whether Trump will continue to find favor in future Chinese trademark decisions.
"If there's a consistent pattern where you have 'wins' in every case to which Trump's name is attached when normally, those cases would be non-starters for anyone else, then yes, I think there's a real concern about his being given something that others wouldn't receive," Plane said.
-- Dugald McConnell, Serena Dong and Cristina Alesci contributed to this story.