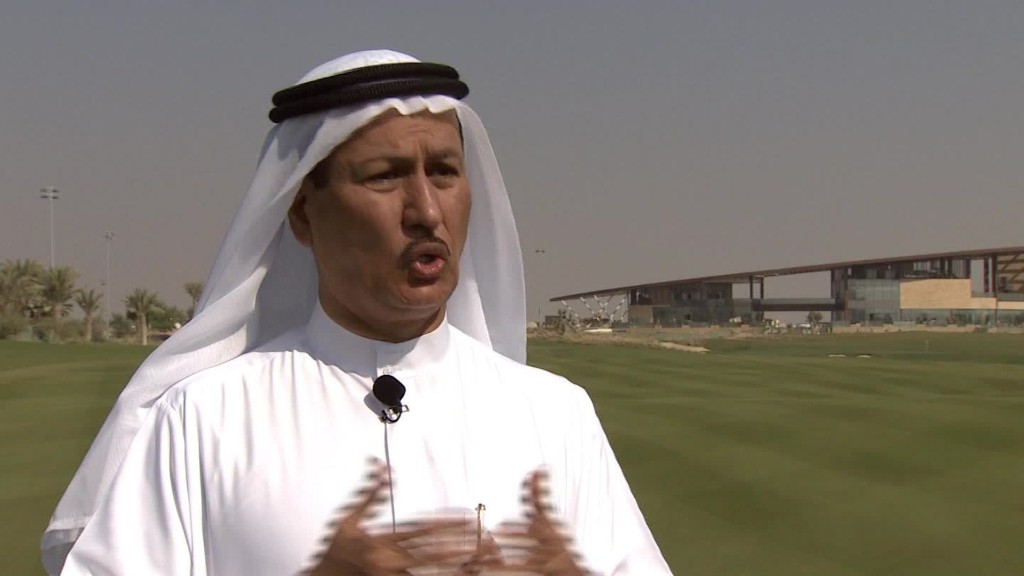 Dubai is bracing for a Trump takeover.
President Trump's sons are visiting the city this weekend to help inaugurate the new Trump International Golf Club Dubai, organizers said.
The sons -- Donald Jr. and Eric -- will be the guests of honor at the opening organized by Damac Properties, the local developer behind a new Trump-branded golf course. Invitations sent by Damac promise "an unforgettable evening."
Trump's adult sons are now running the sprawling Trump business network, an arrangement that critics say fails to put enough distance between the president and his privately held company.
In Dubai, preparations for the launch event are in full swing, with billboards featuring the Trump name popping up all over town.
The course, designed by the architect who drew up the 2016 Olympic course, is part of a larger $6 billion development owned by Damac. The Trump brand is being used under a licensing agreement.
The complex boasts a clubhouse, apartment buildings and villas that sell for as much as $9.5 million.
"This collaboration started four years ago," said Niall McLoughlin, a senior vice president at Damac. "We wanted to build a golf course community that would stand out."
The Trump organization did not immediately respond to a request for information about Eric and Don Jr.'s trip to Dubai.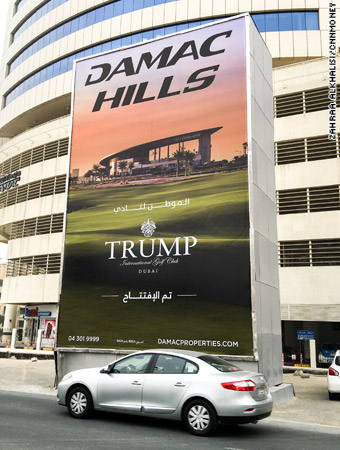 Related: Trump Organization names two execs to police conflicts
Trump, who has a financial stake in hundreds of businesses, has promised to place his vast assets into a trust run by his adult sons. But ethics experts have dismissed the arrangement as "window dressing" that does not ensure Trump will not abuse his office for personal gain.
Eric and Don Jr. told the New York Times this month that they don't need their father's input to run the business.
"His DNA will always be in the company in a big way," Eric told the newspaper. "His DNA built the company. His DNA also built us. We're extensions of him in so many ways."
Related: What we know, and don't, about Trump's trust
To help mitigate potential conflicts, Trump has pledged to strike no new foreign business deals while president.
He did, however, praise Damac chairman Hussain Sajwani during a New Year's Eve party at his Florida home Mar-a-Lago.
The interaction -- which took place before inauguration -- went even deeper. Trump said in January that he was offered a $2 billion deal in Dubai -- but turned it down.
"I turned it down, Trump said. "I didn't have to turn it down because as you know I have a no conflict situation because I'm president."
Damac confirmed at the time that it had discussed a series of new proposals with the Trump team.
Related: Dubai golf course developer: Trump 'doesn't discriminate
Damac and the Trump organization are already working on a second golf course, designed by Tiger Woods, that is slated to open next year.
"They had a very strong brand before this year," McLoughlin said of Trump. "The developments in the last year has made it an even stronger brand."
-- Jill Disis contributed reporting.