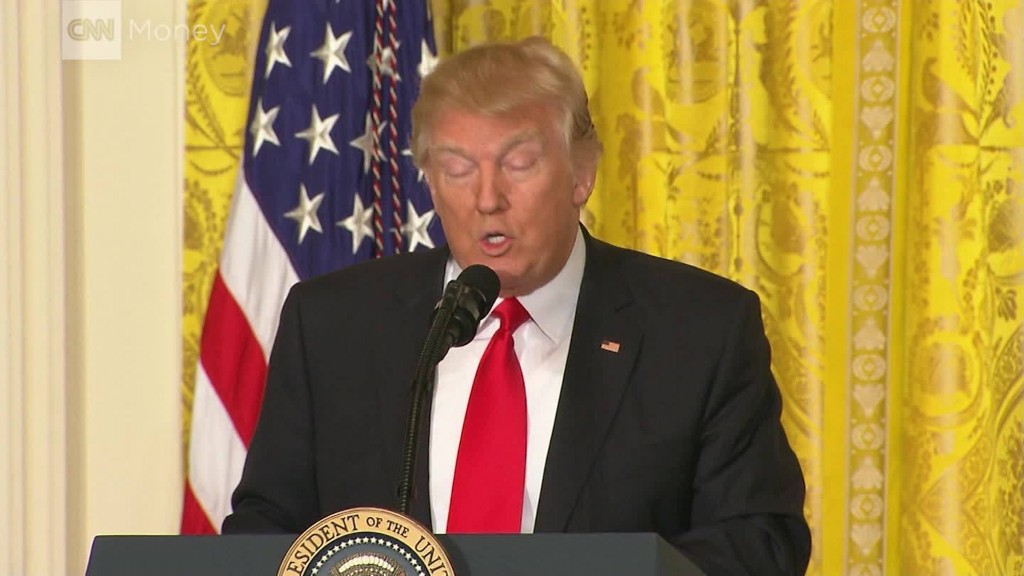 President Trump is probably saying: "TGIF."
Headlines claim the White House is in "chaos" after an extremely turbulent week. But there's one big thing going right for Trump right now: The U.S. economy.
A slew of economic data came out this week. Almost all of it was positive. Americans are still going to stores and spending big (retail sales came in better than expected for January). They're also buying houses. And cars. And using their credit cards.
On top of that, small and medium-sized business owners are giddy. The NFIB Small Business Optimism Index is at its highest level since 2004.
Heck, even manufacturing has made a pretty big turnaround and looks almost healthy again. The Philly Fed Index, a survey on how well manufacturers are doing, just hit its highest level since 1984. And anyone with money in the market likely noticed the U.S. stock market set even more records this week. In fact, American stocks are on their best winning streak in 25 years.
There's still a belief on Wall Street -- and many parts of Main Street that CNNMoney has recently visited -- that Trump is going to get the economy surging again. Yes, there are some red flags -- household debt is back at 2008 levels and prices are rising. But overall, things look good.
"The economy is better than you think," says Chris Rupkey, chief financial economist at MUFG Union Bank in New York. "President Trump inherited the best economy since President Bush, so let's hope things continue to run smoothly."
Related: Trump rally is best for new POTUS since LBJ and JFK
The bullish scenario: Trump gets back on track
But the reason consumers and CEOs are so excited is because they expect Trump to get going on his "pro-growth agenda." Business leaders -- big and small -- want tax cuts, not lengthy press conferences hammering the press and his former rival Hillary Clinton.
As a Trump supporter in Kentucky told CNNMoney recently, "He already won the election. Just shut up about the votes."
Business CEOs have been clear: They want lower taxes, infrastructure spending and some regulations scaled back (or just not as strictly enforced).
Trump voters have also been clear: They want jobs, jobs, jobs that pay more than minimum wage.
The question is whether Trump can get back on track to focus on these issues with Congress. If he does that, a lot of the "chaos" of his first weeks in office will likely fade.
"The bullish scenario is that Trump comes to realize quickly that he must use most of his political capital to fast-track tax cuts, tax reform, repatriated earnings, and deregulation," wrote economist Ed Yardeni of Yardeni Research in a note this week.
Yardeni went on to say, "If that path lifts economic growth, as it should, the strength of the economy should boost Trump's political capital and strength -- both at home and abroad."
Even one of Trump's biggest critics -- billionaire mogul Mark Cuban -- tweeted some praise Friday of the president's economic plans: "Trump is trying to do some things right. Taxes, lobbyists, bureaucracy, FCC, SEC. If he can get the changes passed, they are positives."
Related: Trump isn't killing the bull market. Here's why
Trump's 'Game of Thrones' could hurt economy
But the biggest threat to this bullish scenario unfolding is probably Trump himself. He has turned Washington into a "Game of Thrones" right now, argues Yardeni.
One Republican lawmaker put it even more bluntly to CNN Thursday after listening to Trump's wild 75-minute press conference: "We're just trying to manage this s***."
The more time Trump spends fighting with the media or having to stabilize his cabinet, especially the role of National Security Adviser, the less time he is spending on the economy.
At some point, stocks will do a big U-turn if Wall Street doesn't think Trump and Congress will come through on his economic agenda. Optimism can also reverse quickly, stalling spending and growth.
If the president fails to deliver a better economy, it may be the biggest let down of all to many of his supporters.