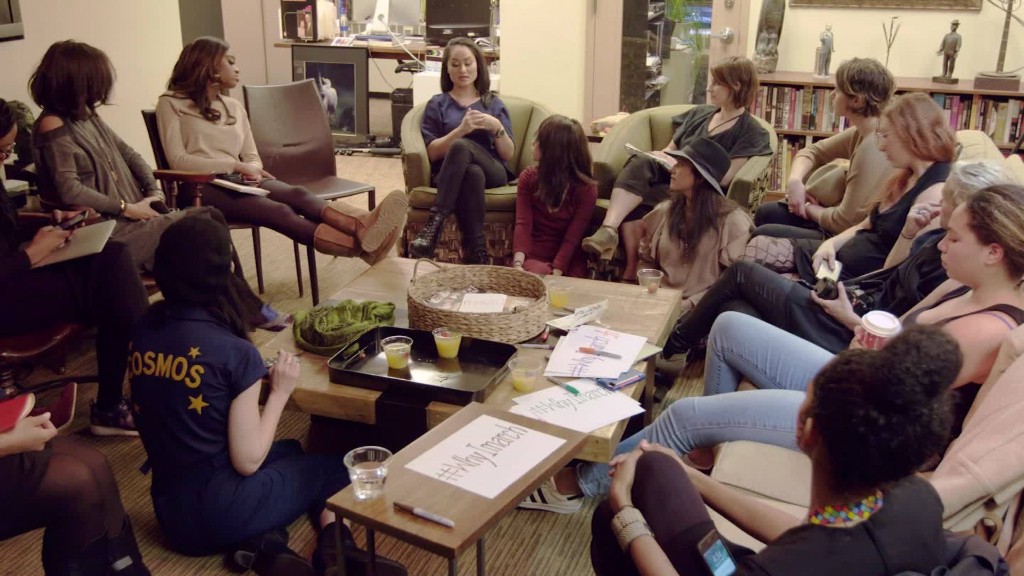 It's clear that Facebook played a big role in mobilizing people to participate in the global Women's March last month. And now researchers have determined just how much of an impact the social network had.
According to a study from researchers at the University of Maryland, almost 70% of people who attended the D.C. march heard about it on Facebook (FB). Meanwhile, 61% from friends and family.
"The take-home message here is clearly that Facebook matters more than friends and family to mobilization," Dr. Dana R. Fisher, sociology professor and leader of the study told CNNTech. "Which is surprising and a really big deal."
Just 13% heard out about the march through Twitter (TWTR).
An estimated 500,000 people attended the Women's March in Washington, and almost 3 million people participated in marches in cities across the U.S. on January 21. Protest organizers collaborated through groups and events on Facebook, and photos of the protests went viral across social media.
Researchers interviewed 528 people who attended the march in Washington, and found that, in addition to Facebook driving attendance, 33% of attendees were first-time protesters.
Related: How online resources are fueling the Trump resistance
Fisher has studied protests since 2000, and says Facebook is playing an increasingly important role. At the 2014 People's Climate March in New York, just 24% of participants said they heard about the event through online channels, and 55% through friends and family. The largest climate march in history brought over 300,000 people to the city to protest global warming.
As Facebook becomes an important tool in coordinating protests, some people are wary of using it to let friends know they're attending. A recent study from the ACLU found that police departments use social media to monitor protests, and although Twitter and Facebook cut off access to one tool, it does raise privacy concerns.
However, Facebook is crucial to mobilizing a large audience, according to Eva Galperin, director of cybersecurity at the Electronic Frontier Foundation. More than one billion people use Facebook -- it's the best way to connect to big groups and their friends.
"There are definitely elements of planning activism that you want to keep off Facebook, especially if you're planning some sort of civil disobedience," Galperin told CNNTech. "[But] in getting the word out, it is unrealistic to tell people not to use Facebook for this purpose."
The Women's March study looked at attendees of the Washington protest, but Fisher said the findings are likely representative of national marches.
"Although we don't have data from the other marches, my sense is that they were similar in terms of mobilization," Fisher said. "So I would expect the role of social media to be consistent across these events."