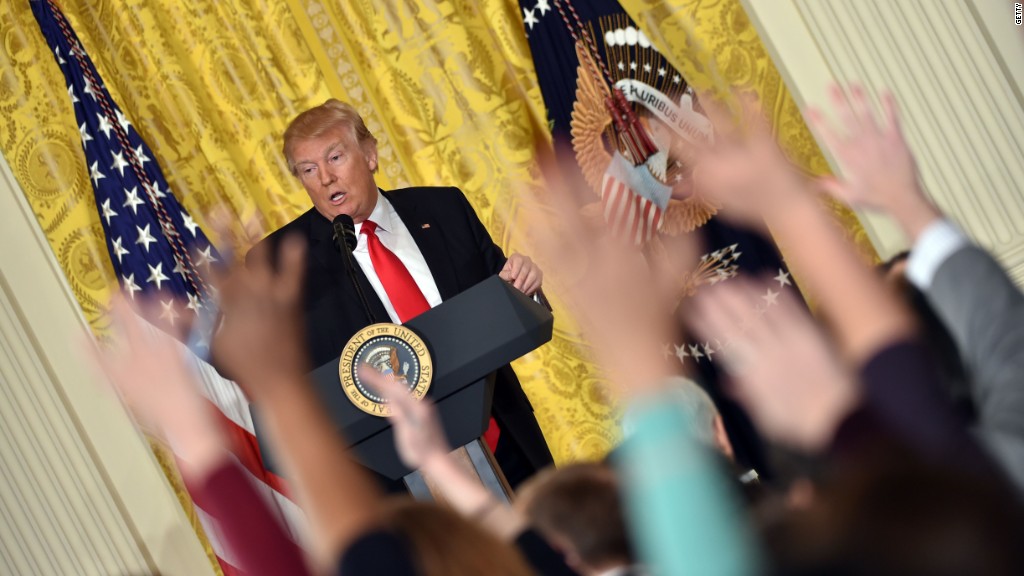 President Donald Trump's attacks on the press have spurred comparisons to former President Nixon, infamous for his deep disdain of reporters and leaks.
Carl Bernstein, the former Washington Post reporter who helped crack the Watergate case, thinks Trump is way worse.
"Trump's attacks on the American press as enemies of the American people are more treacherous than Richard Nixon's," Bernstein told CNN's Brian Stelter on "Reliable Sources" on Sunday. Bernstein is a CNN political commentator.
Related: Trump attacks media in lengthy, combative press conference
Nixon's White House conversations about the media were tape recorded.
"The press is the enemy," he said.
But Nixon's attacks were largely made in private, Bernstein said. Trump repeatedly calls the press the enemy in public.
That's a "demagogue's statement," Bernstein said.
"We live in a time now where there is no civic consensus in this country like there was at the time of Watergate about acceptable presidential conduct," he said. "There was a consensus that Nixon had to leave office because he had breached that acceptable conduct."
And there is a real effect, Bernstein said. Trump's words play to his base and are "further dividing the country."
"We've never seen in an American president such open authoritarian moves and rhetoric," he said. "This is a terrible time we're living in."
Related: Limbaugh on the news media: 'They're enemies of Trump'
Washington Post reporter Dana Priest cautioned Bernstein against reading too much into what the president says.
"Right now, we should pay attention to the language that we're using and stick to the facts and eliminate the opinion and eliminate the adjectives," Priest said. "And if we do that, I think we have a better chance of convincing the people that we're not 'for' anybody in particular, but we are for unearthing the closest to the truth we can get."
Bernstein maintained that reporting on Trump's words is an important part of the current narrative.
"That is a big part of this story -- just as it was when we were looking at Richard Nixon's words as well as his actions," he said. "The two fit together."
Reporters are just doing their jobs, Bernstein said.
"We are not enemies of the American people," he said. "In fact we're the last resort of the American people to a dictatorial and authoritarian-inclined president."