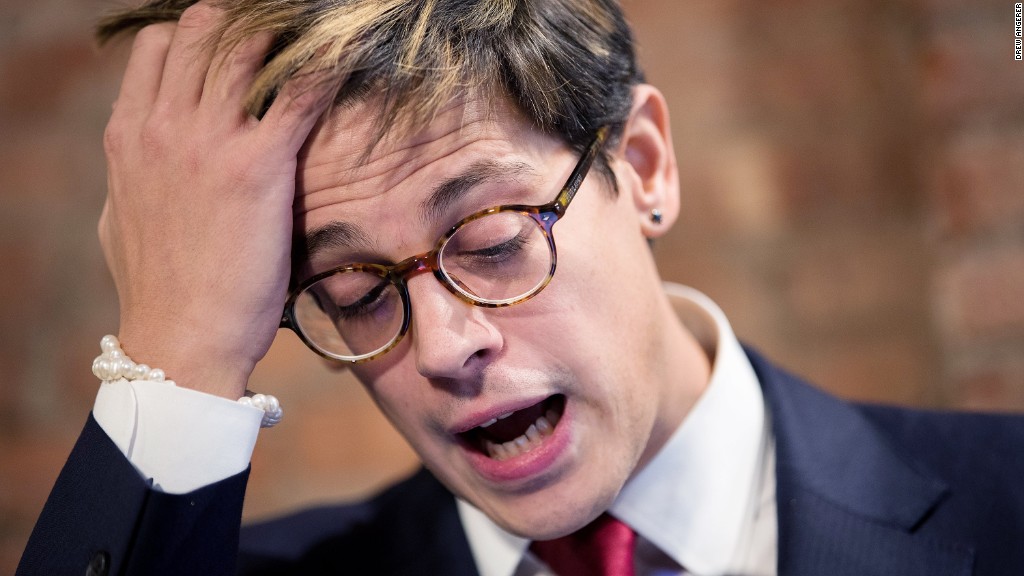 Milo Yiannopoulos finally went too far.
The professional provocateur has resigned as an editor at Breitbart News amid a firestorm over unearthed comments in which he seemed to endorse sex between "younger boys and older men."
Yiannopoulos released a statement on Tuesday afternoon, minutes before he was scheduled to give a press conference in Manhattan.
"It would be wrong to allow my poor choice of words to detract from my colleagues' important reporting, so today I am resigning from Breitbart, effectively immediately. This decision is mine alone," Yiannopoulos said.
While Yiannopoulos has made a living off deliberately offensive statements, his comments on two recently discovered video clips proved too much, even for his friends and colleagues at Breitbart.
In one of the clips, Yiannopoulos seemed to speak sympathetically of certain sexual relationships between adult men and 13-year-old boys.
"Pedophilia is not a sexual attraction to somebody 13 years old who is sexually mature," he said. "Pedophilia is attraction to children who have not reached puberty."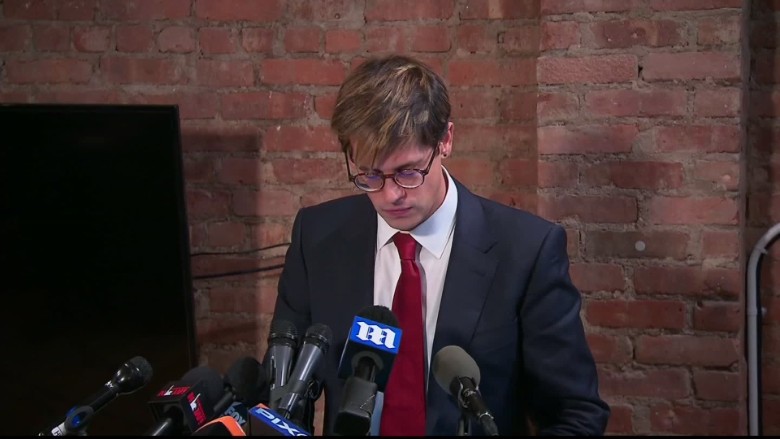 In another exchange, Yiannopoulos spoke fondly of "the sort of 'coming of age' relationship ... in which those older men help those young boys discover who they are and give them security and safety and provide them with love and a reliable sort of rock, where they can't speak to their parents."
The comments prompted Simon & Schuster to cancel a book contract with Yiannopoulos and the Conservative Political Action Conference to rescind a speaking engagement this week.
Breitbart editor-in-chief Alex Marlow, said the comments were "absolutely indefensible" and "appalling."
Nevertheless, Yiannopoulos praised Breitbart for its support.
"Breitbart News has stood by me when others caved. They have allowed me to carry conservative and libertarian ideas to communities that would otherwise never have heard them," he said. "They have been a significant factor in my success. I'm grateful for that freedom and for the friendships I forged there."
Related: CPAC rescinds Milo Yiannopoulos' invitation after swift backlash
He added, "When your friends have done right by you, you do right by them. For me, now, that means stepping aside so my colleagues at Breitbart can get back to the great work they do."
Yiannopoulos has said repeatedly that the videos were "deceptively edited." He told CNNMoney in a phone interview on Monday that his comment about 13-year-olds was a reference to the age at which he lost his virginity.
But Yiannopoulos also told CNNMoney he was "guilty of imprecise language," and insisted that he believes pedophilia is a "vile and disgusting crime."
In a statement, Breitbart praised Yiannopoulus' "bold voice."
"Milo notified us this morning of his decision to resign as editor of Breitbart Tech and we accepted his resignation," the statement said.
Breitbart has become a force in conservative politics, particularly as it championed the presidential candidacy of Donald Trump. The news outlet's chief executive during the campaign, Steven Bannon, is now one of Trump's top White House advisers.
Related: Milo Yiannopoulos' book canceled by Simon & Schuster
Yiannopoulos declined to say whether Marlow had asked for his resignation and said that he did not speak to Bannon about the decision.
Throughout the roughly half-hour presser, Yiannopoulos was at times contrite, defiant and self-aggrandizing. He said he did not mean some of the comments on the tapes, and they do not reflect his views.
But he also lashed out at the people he claimed were engaged in a coordinated campaign against him.
"They don't care about victims. They don't care about children," he said. "They only care about bringing me down. They will fail."
Yiannopoulos dismissed the notion that the controversy over the video tapes will derail his career.
"I don't think this has done any harm for my profile," he said.
In fact, Yiannopoulos said that the book that was canceled by Simon & Schuster has attracted interest from other publishers, and that it will be released later this year as originally planned. There may be an extra chapter, he said, and a portion of the proceeds will go to child abuse charities.
He also said that he intends to launch a new media company, but insisted it won't "go head-to-head with Breitbart."
Related: 10 of Breitbart's most incendiary headlines
Donning a navy blue suit and red tie, Yiannopoulos began the press conference by swapping out his sunglasses for reading glasses. He read from a prepared statement that described how two older men had made inappropriate physical contact with him between the ages of 13 and 16.
Yiannopoulos said one of those men was a priest, an encounter he joked about in one of the video clips that surfaced.
"I haven't ever apologized before. Name-calling doesn't bother me," he said. "But to be a victim of child abuse and for the media to call me an apologist for child abuse is absurd."