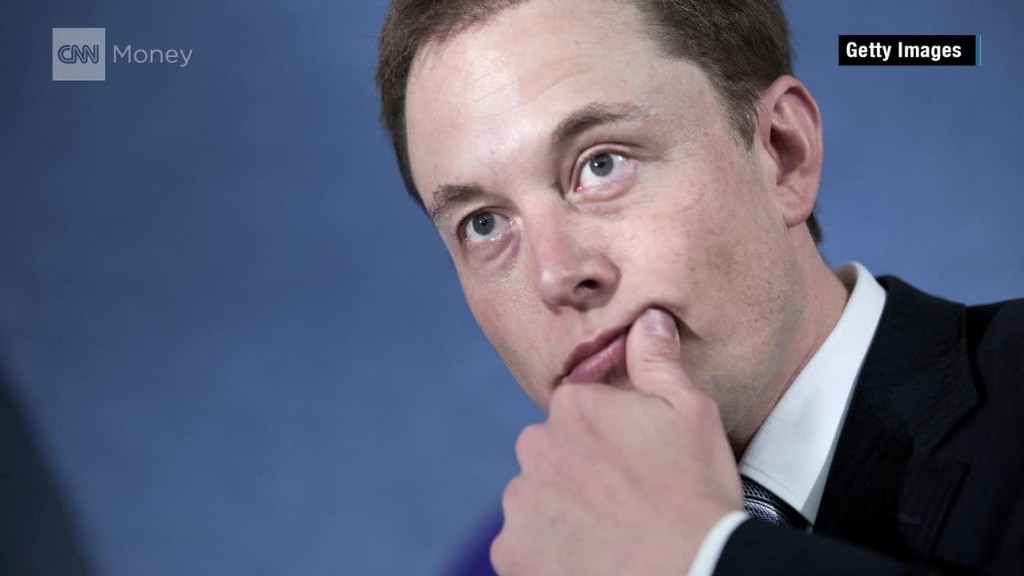 Tesla's market value is poised to overtake that of 114-year-old Ford.
Tesla (TSLA), which reports full-year earnings Wednesday, was worth $44.6 billion ahead of trading, while Ford (F) clocked in at $49.9 billion.
So the electric automaker only needs to gain another 12% to catch Ford at its current valuation.
Certainly Tesla, which is much smaller than Ford, is growing much faster. Tesla's value has climbed 30% since the start of this year, while Ford's has increased 5%.
Related: Elon Musk and Donald Trump - New BFF's?
Ford was worth twice as much as Tesla as recently as a year ago, and less than four years ago it was worth 10 times as much. Tesla is already worth more than twice as much as Fiat Chrysler, (FCAU) the U.S.-Italian automaker formed after Chrysler's 2009 bankruptcy.
Ford is one of the world's iconic automakers, and founder Henry Ford is the father of the modern assembly line. And unlike rivals General Motors (GM) and Chrysler, it avoided bankruptcy in 2009, which wiped out those automakers' shareholders.
Tesla, led by superstar CEO Elon Musk, is the top electric carmaker, but it's still is a small niche player compared to the major automakers.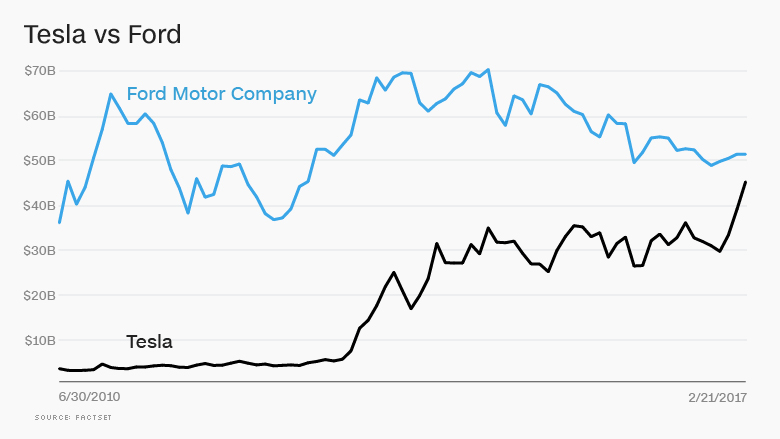 Tesla has sold 76,000 cars last year, compared with Ford, which sold 6.7 million cars and trucks worldwide. Tesla expects to report full-year revenue of about $7 billion, compared with Ford's annual revenue of $152 billion.
And Ford reported a profit of $4.6 billion. Tesla has never reported full-year profit. Its third quarter profit of $22 million was only its second profitable quarter it's had since it went public in 2010.
Related: I rented a guy's $145,000 Tesla Model X
But investors are betting on the company's future prospects, especially the sale of its first mass market car, the Model 3, which is due to go on sale late this year. The company has already taken orders for more than 300,000 of the Model 3, which will have a list price of about $35,000.
Ford and other traditional automakers are rushing to develop mass market electric cars of their own. In January Ford announced plans to invest $4.5 billion to build electrified vehicles by 2020, including electric versions of some of its iconic vehicles such as the F-150 pickup and the Mustang.
Ford is trying to play catch-up with Tesla and General Motors (GM), which has the Chevrolet Bolt. Ford CEO Mark Fields predicted in January that hybrid and electric vehicles will outsell purely gasoline-powered cars within the next 15 years.