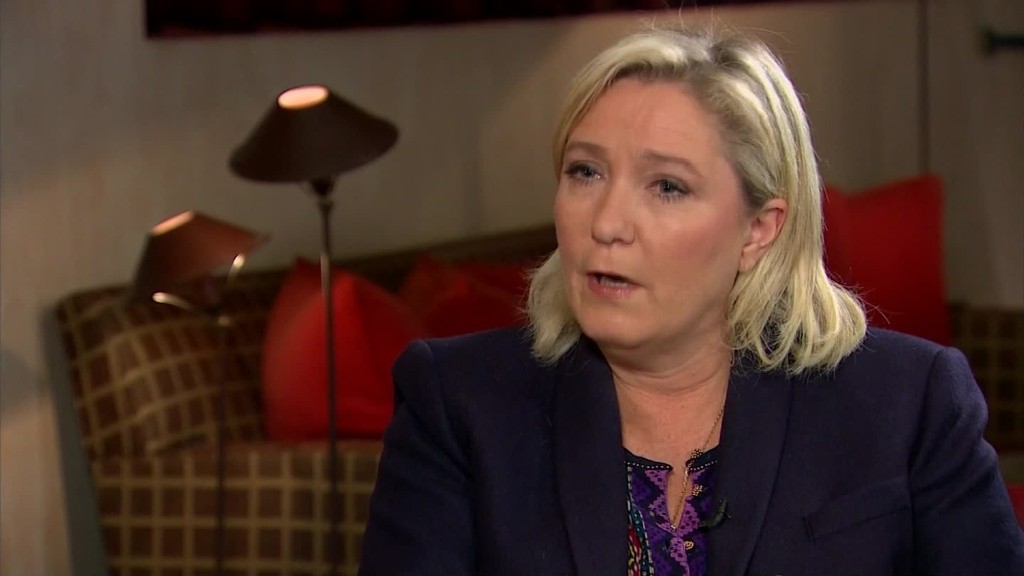 The Brexit referendum and President Trump's election shocked markets in 2016.
The looming French elections could do the same in 2017.
Investors have grown increasingly concerned about the rise of populist French politician Marine Le Pen, who could soon become leader of the sixth largest economy in the world.
Le Pen's campaign has focused on selling voters the idea that leaving the European Union and ditching the euro currency would help France regain its independence and boost the economy. She has also attacked globalization and warned of the dangers of immigration.
Polls show she is set to be among the final two contenders in France's two-round elections, and odds are growing that she'll win the whole thing.
A potential Le Pen win is scaring investors and contributing to a drop in the euro. It's sunk by about 3% to just $1.05 in the past month alone.
"[There's] so much uncertainty with nine weeks to go until the first round of the election, [which] means we will probably see nervousness persist, [which would] undermine the euro across the board," said Kit Juckes, a strategist at Societe Generale.
Related: Thousands of millionaires are leaving France each year
Investors are also selling French government bonds, causing yields to spike by nearly 50% since the start of the year.
The difference in yields on French and German government bonds is now the largest it's been since 2012, suggesting that investors see French debt as a substantially riskier proposition than German debt.
Kathleen Brooks, a market research director at City Index in London, warns that stock markets could be next in line for a shock.
"If Le Pen's odds of winning the election continue to rise at a similar pace in March as they have done in February, then we think that risk aversion could spread from the bond and [currency] market to the European equity markets," she said.
What is so frightening about a potential President Le Pen? Experts say her plans for a French withdrawal from the European Union could potentially topple the 28-nation European Union.
"The stable political relationship between France and Germany is at the core of the euro and the European Union. A French government that abandons the euro would be a far greater political shock than Britain leaving the EU," said professors Stephen Cecchetti and Kim Schoenholtz in an online article published Wednesday.
Debt ratings agencies S&P and Moody's have also warned that if President Le Pen ditches the euro and her government repays its €2.1 trillion ($2.2 trillion) debt in a new French currency, that would be the equivalent of a default.
If this happens, it would be the biggest default in history, surpassing Greece's huge default in 2012.
Related: Le Pen declares candidacy in French election
Le Pen's protectionist trade policies could also disrupt countless business operations in Europe, as she has vowed to implement policies that would favor French businesses over outsiders.
The first round of the French election is scheduled for April 23, with a runoff to be held on May 7 if no candidate gets more than 50% of the vote.
Le Pen's main competition for the top job is center-right Republican Francois Fillon and independent centrist Emmanuel Macron.
Le Pen is expected to get the most votes of all the candidates in the first round, but she's expected to lose in the second round as voters rally behind a more traditional politician with less radical plans.
However, all three have faced high-profile challenges over the past few weeks.
Fillon is being investigated after a newspaper alleged that his family members were given no-show government jobs that earned them nearly €1 million ($1.1 million).
Le Pen said Wednesday her bodyguard and chief of staff were being questioned by French police over allegedly getting paid for non-existent jobs at the European Parliament.
And Macron's party has spoken publicly about how it's been the target of thousands of coordinated hacking attempts to destabilize his campaign. They said the attacks came from Ukraine and warned Russia could be behind the moves.
-- An earlier version of this story misstated the size of Greece's record default.