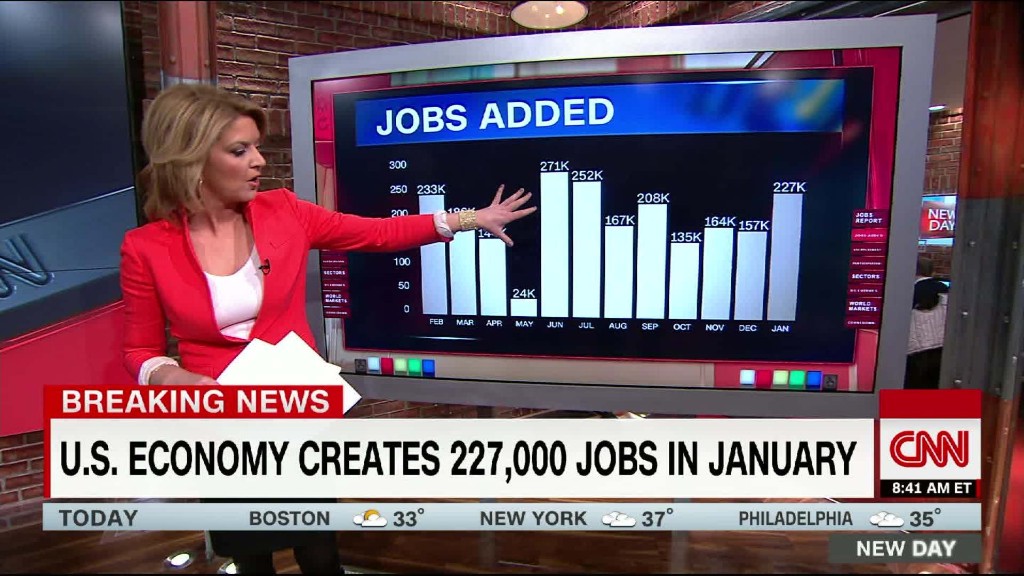 Another rate hike could be coming in a few weeks.
Federal Reserve leaders hinted that they could raise rates at their next two-day meeting on March 14-15.
"Many participants expressed the view that it might be appropriate to raise the federal funds rate again fairly soon" if the job market stays on track, the Fed said in the minutes it released Wednesday afternoon.
The Fed last raised rates in December, and most of its leaders currently project three or more rate hikes this year. The central bank only began raising rates in December 2015 after putting rates at zero in 2008 to help buoy the economy during the Great Recession.
While the economy's recent solid performance -- especially in the job market -- may justify further rate increases, Fed leaders face an uncertain future under President Trump.
Three of the Fed's 12 seats on its committee that votes on monetary policy are open. Two were already open when Trump was elected, and Fed Governor Daniel Tarullo announced in early February that he would resign in April. Tarullo led the Fed's enforcement of the Dodd-Frank Act, which Trump has promised to gut. Trump gets to nominate all three of those seats.
Related: Janet Yellen debunks Trump's case for killing Dodd-Frank
On top of that, Trump can appoint a new Fed chair in a year to replace current Chair Janet Yellen. He can also appoint a new vice chair -- the position currently held by Stanley Fischer -- in a year and a half. In other words, Trump could quickly reshape the Fed's leadership.
But it doesn't end there. Trump's expected policies could force the Fed to raise rates even faster than it plans to. Trump has talked a lot about wanting to ramp up spending to rebuild America's roads and bridges. That could spark demand for U.S. materials, which could cause prices and inflation to rise. When inflation speeds up, the Fed has to raise rates more.
Rising rates will eventually affect millions of Americans, from home buyers to anyone paying down credit card bills.
Some Fed leaders recently cautioned that with the job market already in good shape, Trump's big potential spending plan may not be the right medicine.
"If the economy ends up for whatever reason -- fiscal policy or other things -- growing faster, if we have more job growth and inflationary pressures pick up, then we will have to raise rates faster," San Francisco Fed President John Williams told the Financial Times in an interview in early January. "I don't think we need short-term fiscal stimulus."