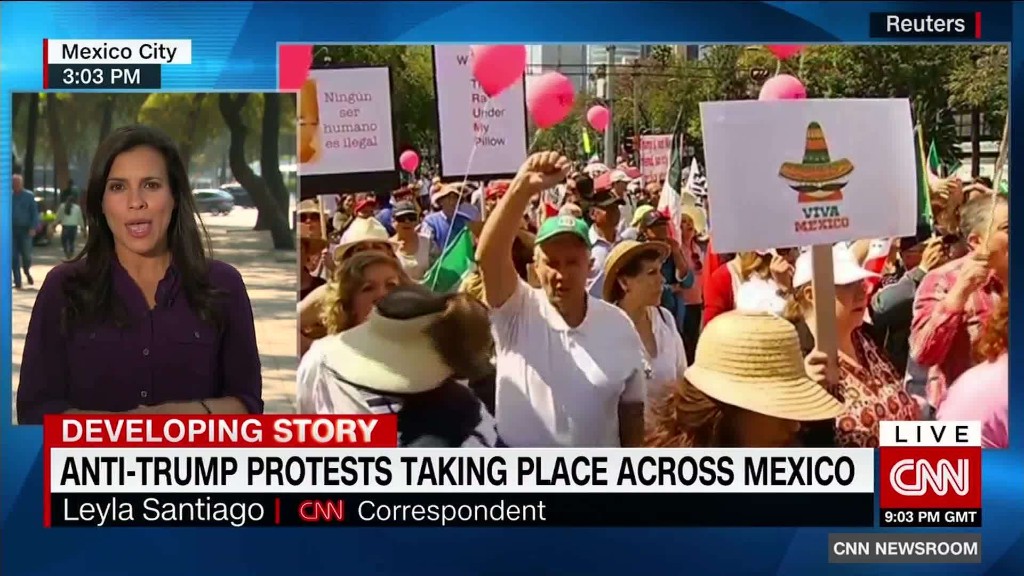 It wasn't long ago that Ed Schultz was lashing out at Republicans every night as a firebrand progressive on MSNBC.
On Thursday, he will participate in a panel on trade at the Conservative Political Action Conference -- a gathering he once compared to Nazi Germany.
Schultz, now a host for the Russian-backed media outlet RT, didn't understand why that's confusing.
"I don't know why people are making a big deal out of this," he said in a video on his website this week.
Schultz opened the panel by dismissing Democratic complaints about the Russian influence on the 2016 presidential election.
"Full disclosure: the Russians did not tell Hillary Clinton don't go to Wisconsin," Schultz said.
He applauded Donald Trump, saying the president isn't "bought and paid by anybody." Schultz said Trump used "a different vernacular" when communicating with voters and simply "outworked" Clinton on the campaign trail.
"He would do five events a day, she would do two," Schultz said.
Schultz declined an interview request for this story. But he said in the video earlier this week that he asked to participate at CPAC -- a surreal turn of events for someone who once made a living hammering conservatives.
"If you're going to have an exchange of ideas, the only thing you can do is to meet people face-to-face in front of a crowd who may think differently than you do." Schultz said in the video. "I mean, that's what democracy is about, isn't it?"
The Ed Schultz of 2009 might see it differently. After that year's CPAC, headlined by Rush Limbaugh, Schultz unloaded on his radio program.
"I think there are parallels drawn by some of the things Hitler was saying and some of the things that were at the CPAC convention," Schultz said at the time. "They are not Americans. They don't care about the greater good of society."
And the Ed Schultz of 2011, who called Trump a racist and said that "nobody" was interested in seeing him become president, would probably be surprised by his newfound sympathy.
In the video this week, Schultz spoke affectionately of Trump for tapping into trade and manufacturing during the campaign. And last year Schultz said Trump "would easily be able to function" as president.
Schultz was a Bernie Sanders fan in the primaries, but he -- like Trump -- staunchly opposed the Trans-Pacific Partnership trade deal.
"In the media seven years ago, we couldn't get anybody to talk about manufacturing," Schultz said. "I brought it up as subjects where I used to work, and they didn't tell me not to do it, but they kind of frowned on it, but I got to do it anyway."
MSNBC declined to comment.
Related: CPAC kicks off the Trump era, but conservative divisions remain
Schultz was joined on the CPAC panel by Joel Pollak, a writer at Breitbart News, the right-wing website. During Schultz's six-year run at MSNBC, where his gruff common-man populism stood out from other liberal hosts, Breitbart rarely passed up a chance to ridicule him.
A 2012 Breitbart story called Schultz "a massive bully, and a routine purveyor of hatemongering rhetoric." Breitbart doesn't go after him anymore, perhaps because the MSNBC-era Schultz sounded so different from the Schultz of today.
On a December broadcast of his program on RT, Schultz said derisively that allegations of Russian hacking during the American election had become "a lifeline for Clinton supporters in an effort to reverse the outcome of the election." The story, he said, "has entered the arena of the outrageous."
And last month, Schultz said he was encouraged that Trump had opened the door toward a "a positive relationship" with Russia.
Only a few years ago, Schultz was decrying Vladimir Putin's reckless behavior and human rights record, and mocking the admiration some Republicans showed him.
"Putie is their new hero," Schultz said in 2013.
Related: Kellyanne Conway sidelined from TV after Flynn debacle
A Los Angeles Times profile of Schultz in 2004 pointed out that his old regional radio show, which he launched in North Dakota in 1996, leaned much more conservative.
"I lined up with the Republicans because they were antitax, and I wanted to make a lot of money," Schultz told the paper.
But Schultz may have been warming to Trump even in his more liberal MSNBC days. In the spring of 2015, Schultz praised his business acumen. Trump reacted the way much of the political world responded to the news that Schultz was going to CPAC.
It was, as Trump put it in a tweet, "unexpected."