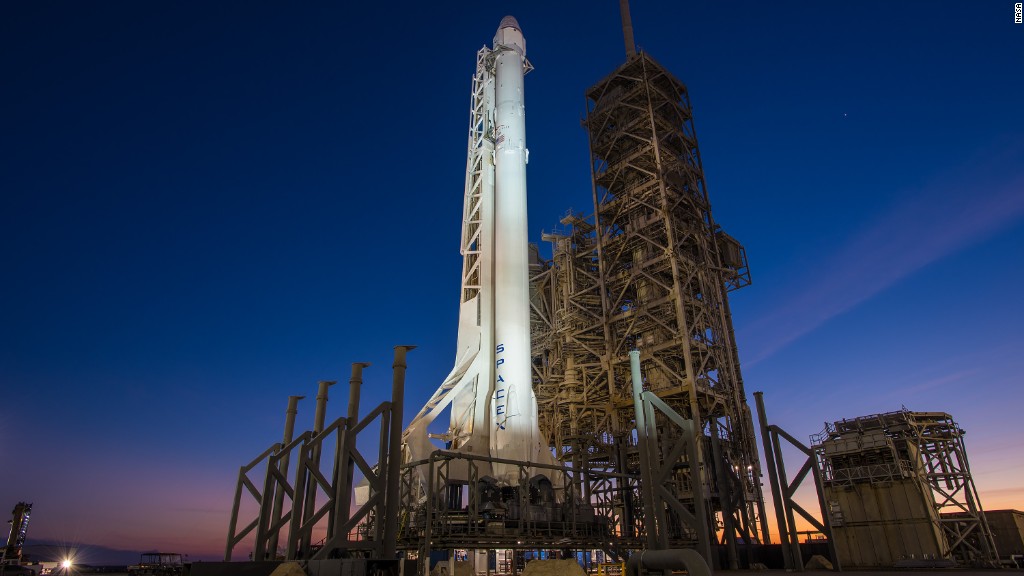 A SpaceX capsule has successfully docked with the International Space Station.
A NASA commander and a European Space Agency engineer captured the Dragon space capsule just before 6 a.m. ET using a robotic arm, according to NASA. A previous attempt was aborted because of a navigation problem.
The capsule is packed with more than 5,000 pounds of cargo and experiments for the six astronauts on board the space station, including two from the United States, three from Russia and one from France. It is the 10th supply mission that SpaceX has flown for NASA.
Related: SpaceX aborts space station docking
The company, run by Elon Musk, has yet to launch a manned flight. It has a contract with NASA to deliver astronauts to the space station one day using the Dragon capsule.
Russia also has a supply capsule on its way to the space station.
SpaceX has suffered two major failures in the last two years -- a June 2015 supply mission that exploded minutes after launch, and a rocket that exploded during fueling on the launch pad at the Kennedy Space Center in September.
Related: SpaceX launches and lands another rocket
But SpaceX returned to space with a successful satellite launch in January. And the launch of this supply mission on Sunday was flawless.
After the crew unloads the Dragon, the vessel will be packed with trash and other items and return to Earth. It is set to splash down in the Pacific Ocean off Mexico in March.
--CNNMoney's Jackie Wattles contributed to this report.