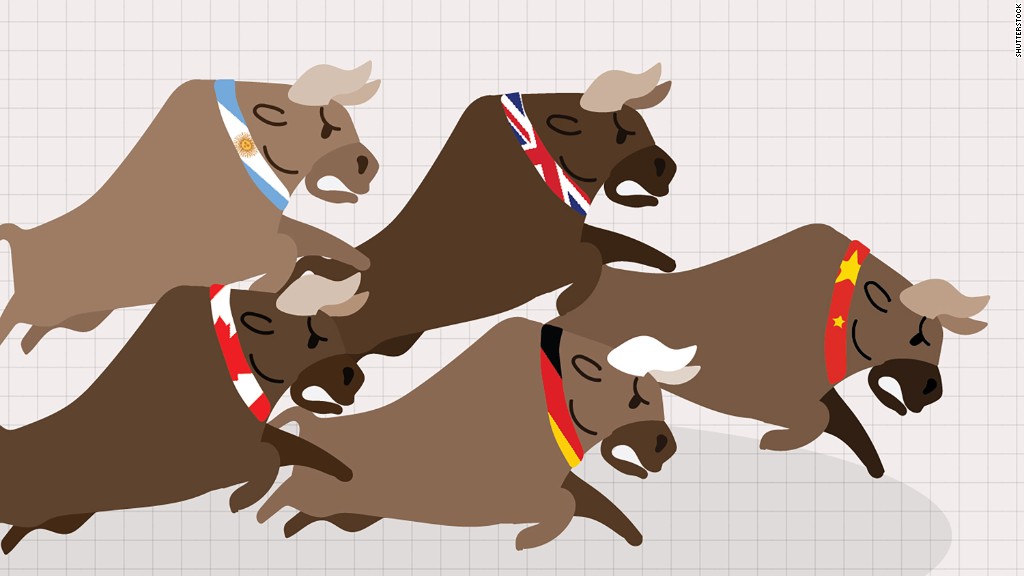 It's no wonder that so many CEOs who meet with President Trump leave the White House smiling these days.
The CEOs of companies in the Dow Jones Industrial Average have enjoyed a collective $402 million surge in the value of their stock holdings since Trump's election, according to a study by Equilar. That's an 18.4% increase, compared with the Dow's overall gain of 11% during that period.
Much of those gains belong to the leaders of big banks Goldman Sachs and JPMorgan Chase. That's because Trump's promise to rip up financial regulations and speed up the American economy have sent big bank stocks skyrocketing.
Related: Wow, Dow! Market hits 10th straight record high
Goldman's (GS) post-election rally of more than 30% has boosted the value of CEO Lloyd Blankfein's stock by an incredible $146 million since November 8, Equilar estimates. Blankfein probably didn't see that coming in late 2015 when he said the idea of Trump having his "finger on the button blows my mind."
The Trump rally has also been very kind to Jamie Dimon. The JPMorgan (JPM) boss has racked up a $116 million increase in his stock holdings.
And even though Apple has emerged as a vocal critic of Trump, its shares have soared 23% since his victory. The iPhone maker has opposed the administration's controversial travel ban and its withdrawal of Obama-era protections for transgender students. But the value of shares held by CEO Tim Cook has still climbed by $23 million since the election, Equilar said.
Other CEOs winning big thanks to the Trump rally include American Express (AXP) chief Kenneth Chenault and Boeing's (BA) Dennis Muilenburg.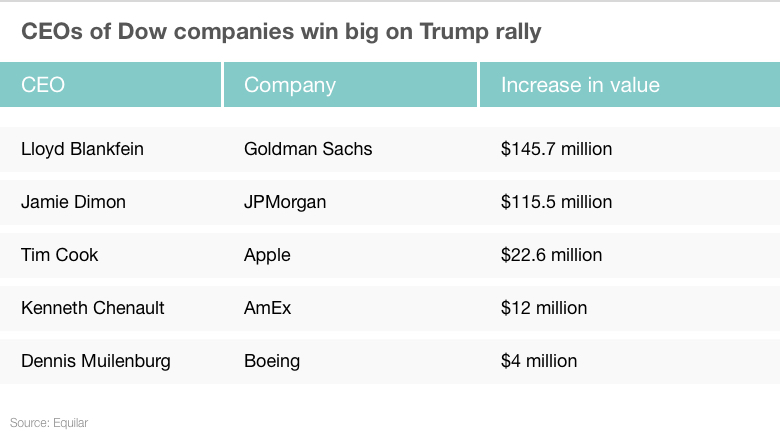 Equilar measured the stock holdings of the Dow 30 CEOs between Election Day and February 10. For now, these are gains are just on paper, and they could evaporate if the Trump rally fades. The study excluded three CEOs who left their positions after the election, including Secretary of State Rex Tillerson.
To join the Trump administration, Tillerson agreed to sell more than $54 million worth of ExxonMobil (XOM) stock and put $181 million in additional shares in a blind trust. Tillerson may have stepped down as Exxon CEO at the right time: the oil giant's stock is down 10% so far this year.
Many Dow CEOs have visited Trump at the White House to talk about his agenda. Dimon, IBM (IBM) CEO Ginni Rometty, Walmart (WMT) CEO Doug McMillon and Disney (DIS) CEO Bob Iger all met with Trump as part of the president's CEO advisory council.
Another Dow CEO, Intel (INTC) leader Brian Krzanich, appeared at the Oval Office earlier this month with Trump to tout a new U.S. factory.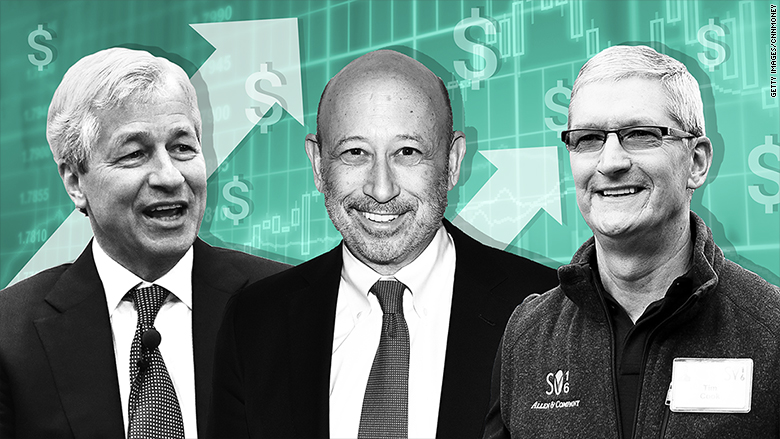 Wall Street has bid up stocks since the election as investors bet that Trump's promises to slash taxes, unleash infrastructure spending and cut red tape will stimulate the economy and boost corporate profits. It also helps that the U.S. economy looks healthy and interest rates remain historically low.
Related: The stock market rally: Too far, too fast
The Dow is quickly approaching the 21,000 level, and is in the midst of its longest streak of records since 1987. CNNMoney's Fear and Greed Index is flashing "greed."
But some fear the Dow has rallied too far, too fast. The markets aren't pricing in the risk that Trump's agenda gets delayed or fails to have a big impact.
The massive rally also ignores Trump's less business-friendly campaign rhetoric, including talk of ripping up NAFTA, breaking up the banks and criticizing the Federal Reserve.