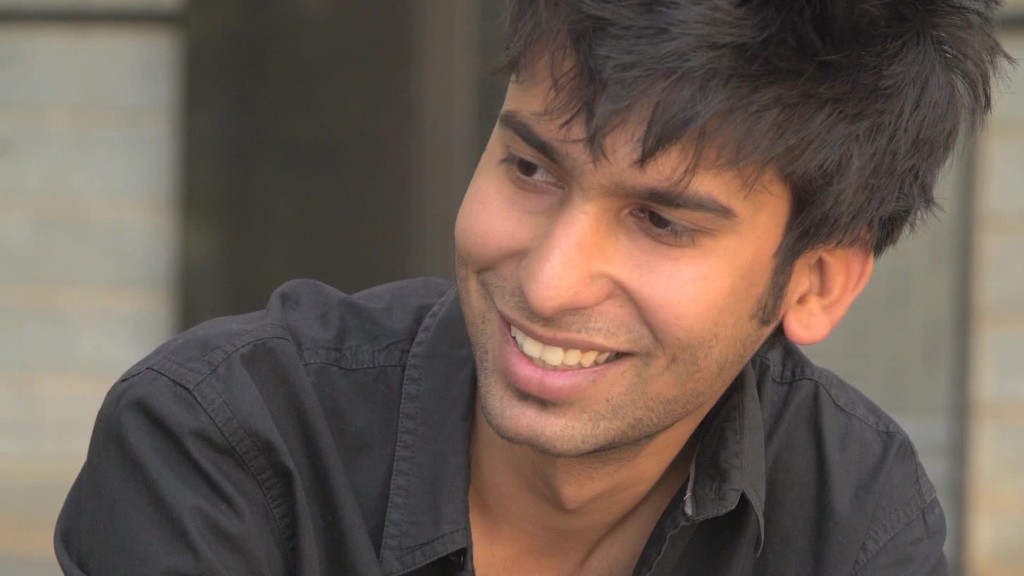 Ayush Suvalka has a lot going for him. He's about to graduate from one of the best engineering colleges in India and has already secured a job with the Bangalore branch of
JPMorgan

(JPM).

The 21-year-old computer science student isn't planning to spend his career in India's version of Silicon Valley. He hopes the big American investment bank will move him to its U.S. headquarters after a few years.

"It's always been America because the companies, all the big companies, are there," Suvalka said. "The life there is... really amazing."

President Trump and his desire to put "America First" could throw a wrench in those plans.

Related: Tech industry braces for Trump's visa reform

The Trump administration is looking to make changes to a host of visa programs, including restricting the H-1B visa that allows thousands of Indian techies to work in the U.S.

White House Press Secretary Sean Spicer said last month that this may be done "through executive order and through working with Congress."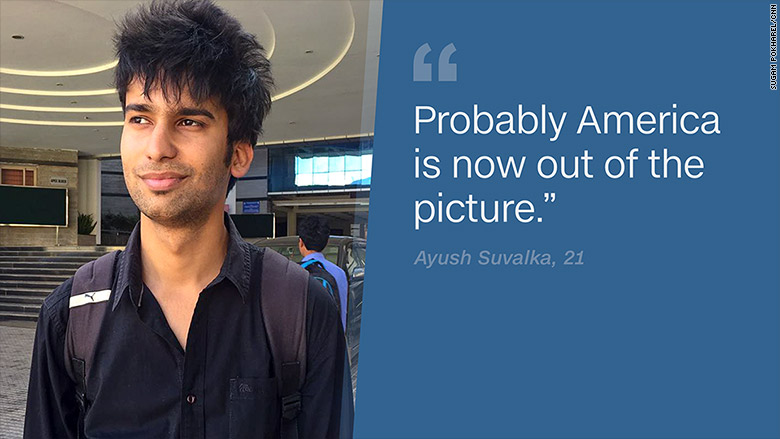 That could spell the end of the American Dream for Suvalka and many of his peers.
"Probably America is now out of the picture," he said.
Some students may also think twice after last week's murder of an Indian tech worker in Kansas. Srinivas Kuchibhotla, who worked for Garmin, was gunned down by a man who reportedly screamed "Get out of my country" before opening fire.
"There are opportunities over there, there are much better facilities," said 18-year-old Divyanshu Saxena, a computer science student at the Indian Institute of Technology (IIT) in New Delhi. "But we would not like to sacrifice our own well-being for that."
Related: A senseless crime and a friend lost in deadly Kansas shooting
U.S. efforts to restrict foreign workers through legislation are already in progress -- multiple bills seeking curbs on the H-1B program have been introduced by Republican and Democrat lawmakers this year.
Dr. Savita Rani, head of career counseling at the Ramaiah Institute of Technology where Suvalka studies, says jobs at outsourcing companies are in high demand because of the potential to move to the U.S.
But the possibility of America's doors slamming shut is already sowing confusion among students.
"They were shattered and they did not know what to do," Rani said. "At this juncture, America has got a cold and India is sneezing."
Related: Trump is making India's tech industry nervous
Indians studying engineering in the U.S. may be a step closer to working there, but they're worried too.
"There was a lot of panic among people here," said Kishan Rao, a computer science student at the University of Florida. "I'm feeling a little apprehensive, because everything is up in the air until there's a decision."
Rao, 24, is two months away from graduating with a Master's degree. He eventually wants to return to India, but is hoping for a few years of work experience in Silicon Valley first.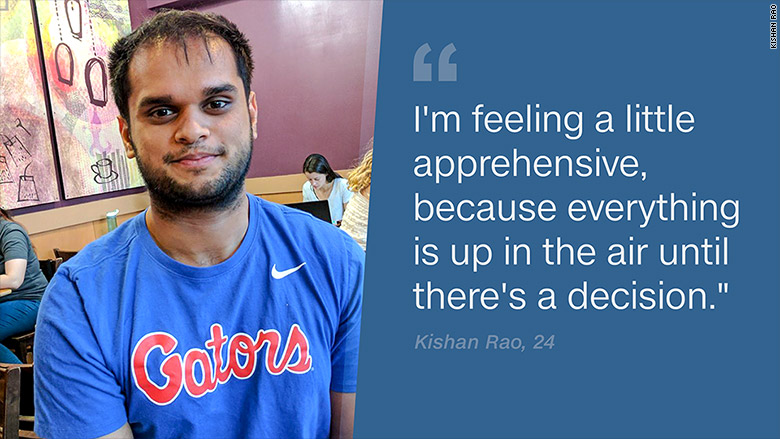 "Right now I'm looking for jobs, but this thing has made it more complicated," he said. "Every company that I apply to relies on the H-1B program, so if there are changes that are going to be made then it obviously puts the future of Indians here into question."
Visa uncertainty alone is hurting
Rao worries that even without a change in policy, the uncertainty may be enough to deter companies from hiring international students. All he can do, he says, is "just keep applying for jobs and hope [the visa crackdown] doesn't go through."
India's tech sector, which sends thousands of workers to the U.S., is similarly worried. Stocks of big outsourcing companies such as Infosys (INFY), Tata Consultancy Services and Wipro (WIT) slumped last month as reports of visa curbs gathered momentum.
A delegation of Indian tech executives will meet Trump administration officials in Washington, D.C. on Monday.
Related: Tech's beloved H-1B visa is flawed. Here's why
In Bangalore, meanwhile, Suvalka is already sketching out a Plan B.
"I'm thinking of Canada or New Zealand," he said, mentioning two countries whose immigration websites saw a huge surge in traffic as Trump closed in on his election win last November.
"Canada is a bit cheaper than America and it has amazing job opportunities," the young engineer added. "You can get a visa easily."
Safety concerns?
The Kansas attack left another Garmin worker, Alok Madasani, injured. Madasani and Kuchibhotla were both in the U.S. on work visas.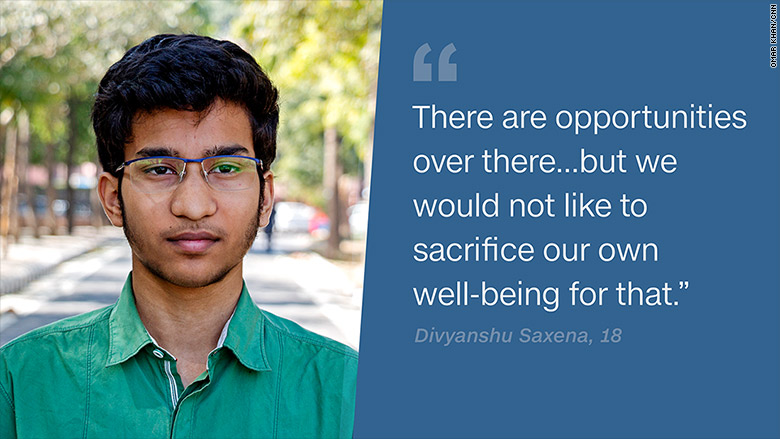 Other students at IIT Delhi told CNNMoney they were moved by the fatal shooting, but for some the U.S. remains their destination of choice.
"I would still like to go and work there," said Sannat Mengi, a freshman. "It's a matter of prestige."
-- Sugam Pokharel and Omar Khan contributed to this report