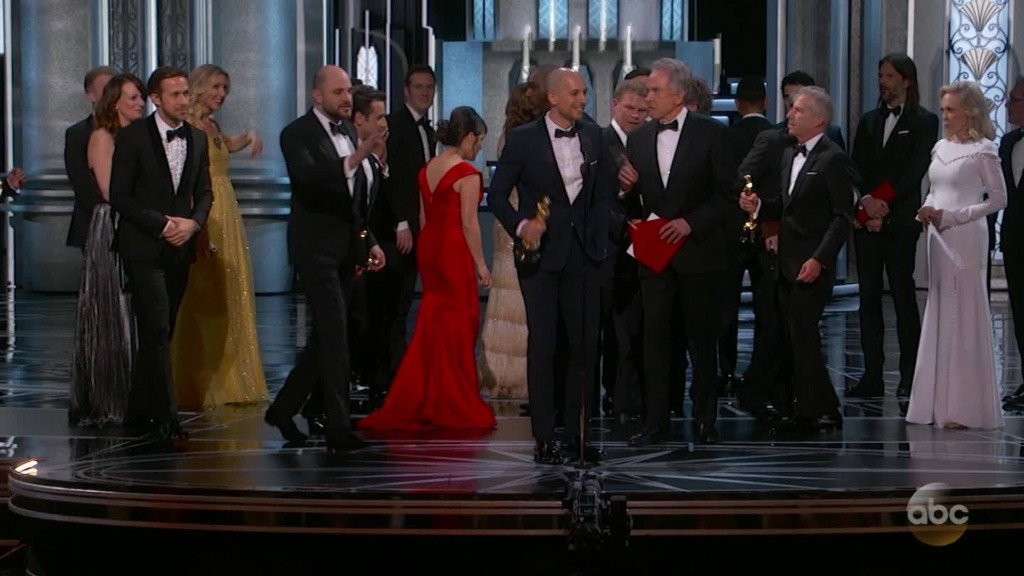 Before Sunday night, PricewaterhouseCoopers was known to the general public for one thing -- counting Academy Awards ballots. Now it's known for the most epic blunder in the history of the awards.
The firm PwC admits that it was an error on its part that caused the best picture award to be mistakenly presented to La La Land instead of Moonlight on Sunday's show, and it apologized for the error.
Sunday's flub strikes at the heart of why PwC has the high profile job of counting Oscar ballots.
Related: What went wrong --Timeline of historic Oscars blunder
The firm has the prestigious job thanks to its reputation for "integrity, accuracy and confidentiality -- all of those things that are really key to the role we have with the Academy," said PwC partner Brian Cullinan, the head of the firm's ballot counting unit.
"It's something we take very seriously and take a lot of pride in." Cullinan made the remarks in a video posted on its web site ahead of Sunday's awards program.
The mistake will do some lasting damage to PwC's reputation said James O'Rourke, professor of management at Notre Dame.
"The error was quickly corrected, but the damage will last for years," he said. "PwC is likely to be tarred with this event as the punch line to every joke involving a less-than-fully-competent accounting firm."
O'Rourke expects that PwC will lose its Oscar gig, which started in 1935. If so, it would be more a loss of prestige than anything else, since it's a tiny part of the firm's business.
"It's one of the most fun jobs I think you can have being an accountant," Cullinan said in the video.
PwC clearly revels in the glamor and glitz that comes with its Hollywood gig. Cullinan, described on PwC's Oscar site as a "Matt Damon look alike," and his colleague Martha Ruiz, get dressed up and appear on the red carpet carrying the briefcases that hold the envelopes that contain the names of the winners.
Related: PwC apologizes for Oscar blunder
According to the company's video, these employees are the ones who hand the envelopes to the presenters right before they go on stage to announce the awards.
"Martha and I are really the only two who know who the winners are on the night of the Academy Awards," Cullinan said in the video.
Even if the Oscars is the firm's highest profile role, it is a very small part of its global business, which employs 223,000 people and had sales of $39.5 billion last year.
The London-based firm has 743 offices in 157 countries, and provides services to 422 of the Fortune 500 companies.