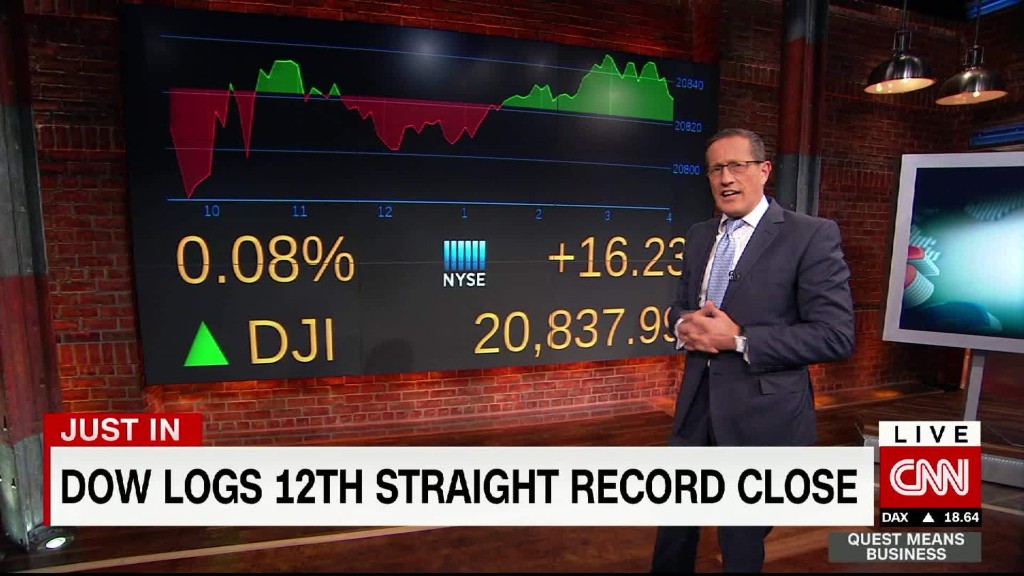 The streak is over.
The Dow finally closed down on Tuesday, snapping an historic string of 12 consecutive records.
In its 120-year history, the Dow has never achieved a 13-day streak of records.
The streak comes to an end as Wall Street gears up for President Trump's speech at 9 p.m. ET to a joint session of Congress. Investors are craving more details about Trump's pro-business agenda of tax cuts, deregulation and infrastructure spending.
Counting this week's march higher, the Dow has now skyrocketed roughly 2,500 points since Trump's victory.
And stocks could resume their march higher if investors are happy with what Trump has to say tonight.
"Needless to say, a lot of hope is built into this speech tonight," Michael Block, chief market strategist at Rhino Trading, wrote in a note.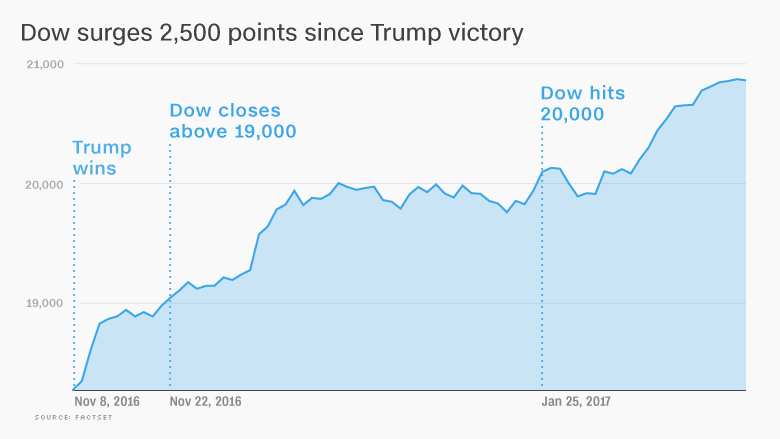 Block said that Wall Street could celebrate with a "big rally" if Trump talks "specific numbers" on tax reform, infrastructure spending and jobs programs.
Related: What Wall Street wants to hear from Trump
But investors could be disappointed if Trump's big prime time speech is too broad, lacking details about the timing and size of these proposals.
"Global markets have been somewhat patient and even resilient against the persistent Trump uncertainties," Lukman Otunuga, a research analyst at FXTM, wrote in a note. "But the crack could start to show if nothing new is brought to the table."
Even though stocks are on a long hot streak, the market hasn't gone straight up. It's been more of a slow grind higher.
The Dow was "only" up about 4% during this winning streak, and is up 5% so far this year. And CNNMoney's Fear & Greed Index has actually calmed down from "extreme greed" last week to simply "greed" this week.
While the current streak is "remarkable," Bespoke analysts say the pace of gains has "not been outlandish or dramatic."
Dramatic or not, the Dow is creeping closer to the 21,000 level. It's less than 200 points away from that milestone, barely a month after racing above 20,000 for the first time.