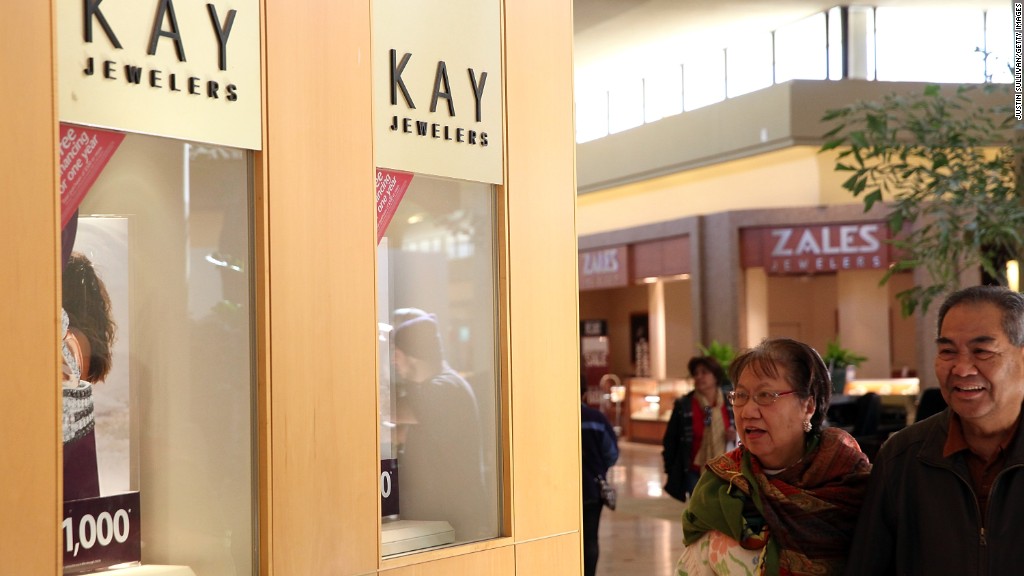 Trading in Signet Jewelers was halted briefly Tuesday morning following reports of a sexual discrimination case against the company, which owns Kay Jewelers and Jared the Galleria of Jewelry.
Before Signet (SIG) stopped trading, shares fell by more than 8%. When trading resumed shortly after noon, it continued to fall. Overall, shares fell by 12.8% Tuesday.
The arbitration has been ongoing since 2008 and now represents 69,000 former and current Sterling employees.
Hundreds of complaints claim that the company systematically discriminated against female employees and are rife with allegations of rampant sexual harassment.
Signet said in a statement Tuesday that the class action suit did not include allegations of sexual harassment.
"It's critical to understand that none of the 69,000 class members have brought claims in this arbitration for sexual harassment or sexual impropriety," the company stated. "Since the case was filed in 2008, it has never included legal claims of sexual harassment or hostile work environment discrimination. The only claims certified to proceed on a class wide basis related to alleged unintentional gender pay and promotions discrimination."
"Indeed, the distorted and inaccurate picture of our company presented in these allegations does not represent who we are. They involve a very small number of individuals in a workforce of more than 84,000 during the class period, and many of the allegations go back decades," the statement said.
Women who issued sworn statements in 2012 said that the company forbade discussion of pay among employees, which made it difficult for underpaid women to gauge whether they were being treated fairly.
The sworn statements include a number of accusations against Sterling managers and executives. Heather Ballou worked for Sterling in Florida, Louisiana and Alabama from 2000 until 2009, when she said the company terminated her employment. In a statement given in 2012, Ballou described an incident that took place during an Annual Managers' Meeting.
"There was a group of about 10 female Sterling managers in the pool. Two of them were totally nude. One or two others had removed their dresses and were clad in only bras and underwear," she recalled. "Seated by the edge of the pool observing the women was [a Sterling executive]. He had a drink in one hand and a cigar in the other," Ballou said. "It was a very disturbing scene."
Ballou added that "[The executive] said nothing to the women in the pool. He simply sat there gazing at them with a grin on his face."