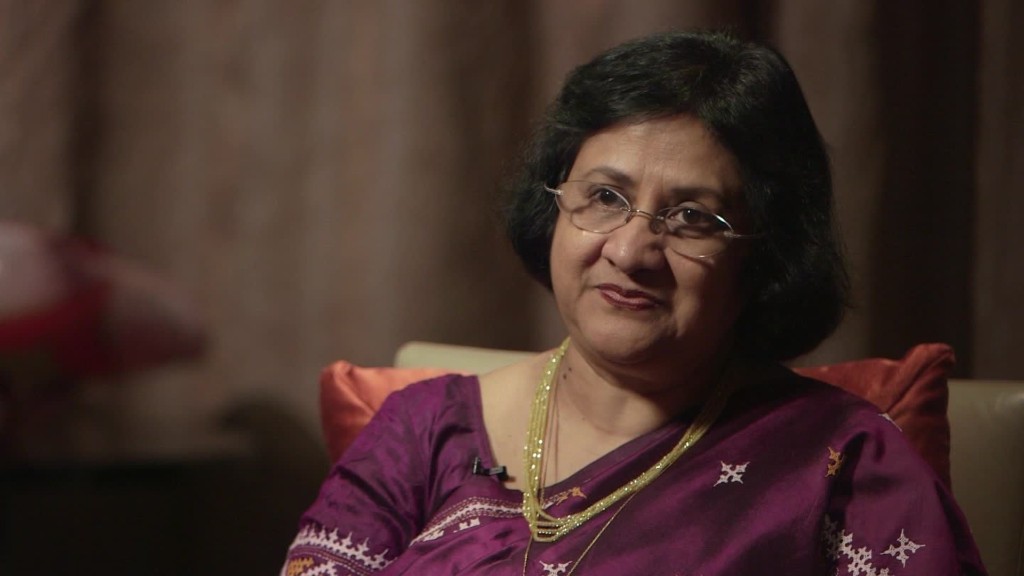 The head of India's top state-owned bank says the country has good reason to be worried about President Trump.
"We've been... watching along with the rest of the world," said Arundhati Bhattacharya, chairwoman of the State Bank of India.
In an interview with CNNMoney on Tuesday, Bhattacharya said that there was "a lot of concern" in India about recent developments in the U.S.
She cited three main reasons:
Trade
"The U.S. is one of our major trading partners," Bhattacharya said.
Trade between the U.S. and India was $109 billion in 2015, according to figures cited by the United States Trade Representative last October. Both countries have said they want that to grow to $500 billion in the years to come.
Trump's "America First" agenda could derail those plans. The president has urged American companies to bring jobs and manufacturing back home.
So far that hasn't stopped companies such as Apple, Tesla and Boeing from expanding -- or planning to expand -- their Indian operations.
And unlike Mexico and China, India has not yet been on the receiving end of Trump's ire on trade. That's no guarantee it won't be.
Interest Rates
Interest rates set by the U.S. Federal Reserve are "very material to the way things happen in the rest of the world," Bhattacharya added.
A hike in interest rates by the U.S. central bank -- like the one it enacted in December -- can suck money out of emerging markets such as India as global investors take advantage of higher yields on U.S. government bonds.
Fed officials have said they will raise interest rates slowly. But Trump's plan to spend heavily on infrastructure could fuel U.S. inflation, forcing the Fed to move faster.
Higher U.S. rates can push the dollar higher against currencies such as India's rupee. That could help Indian exporters but would hurt companies that have borrowed in dollars, and could push up Indian inflation.
India is a major importer of oil -- which is priced in U.S. dollars.
With another rate hike expected in March this year, India will likely be watching the Fed with some trepidation.
Visas
India's most immediate worry when it comes to the U.S. is a possible crackdown on work visas like the H-1B.
"We do have a lot of people who work in the U.S.," Bhattacharya said.
The Trump administration has said it intends to make changes to the H-1B and several other programs, potentially shutting its doors to thousands of Indian engineers in the process.
Stocks of Indian outsourcing companies -- the top beneficiaries of H-1B visas -- took a nosedive when reports of changes to the program emerged, and Indian engineering students now appear to be rethinking their U.S. plans.
The fatal shooting of an Indian engineer in Kansas last week has added safety concerns to the mix.
But Bhattacharya echoed Indian tech leaders, who say the U.S. needs immigrants to keep its economy running smoothly.
"One of its major strengths has been its openness, and that has attracted the best of talent from the rest of the world," she said. "I don't think they're going to give up that advantage in a hurry. Let us see how things pan out."