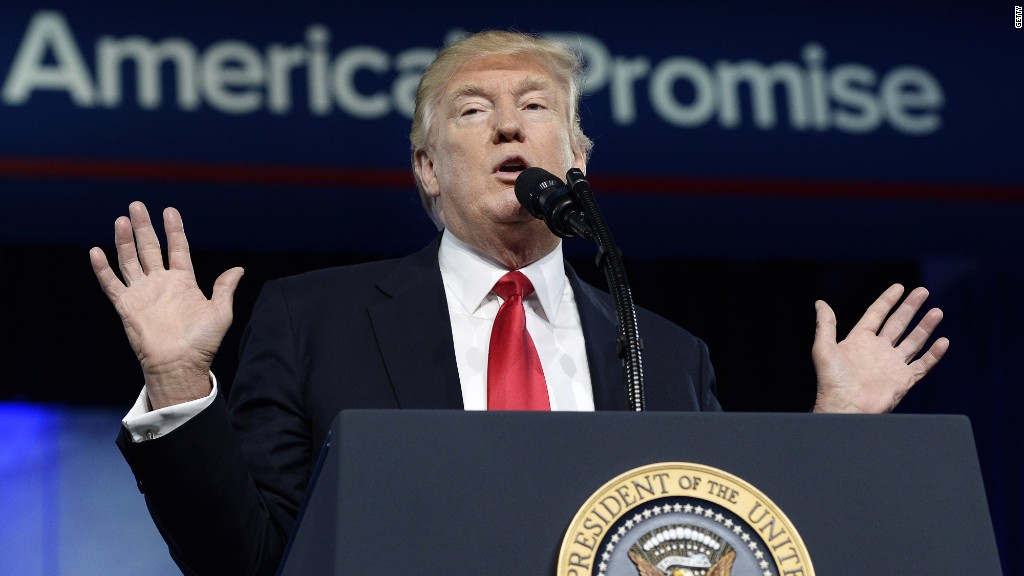 President Trump often speaks critically of the nation's debt. But his budget proposals so far don't indicate that he'll do much about it.
On Monday, Trump said, "With $20 trillion in debt, the government must learn to tighten its belt."
How exactly?
"We're going to do more with less and make the government lean and accountable to the people," he told the National Association of Governors.
Actually, it appears Trump is planning to do different things with the same amount of money. At least for next year.
White House budget director Mick Mulvaney said at a press briefing that the president's budget blueprint -- due out in May -- will not add to the projected deficit for 2018, which will approach $500 billion, the Congressional Budget Office estimates.
For instance, Trump wants to increase defense spending by $54 billion next year and offset that increase by cutting spending in other parts of the federal budget.
Those cuts will come primarily from so-called nondefense discretionary programs, which cover everything from food safety to Head Start to diplomacy to research to land management. Among those bracing for the biggest hits: the Environmental Protection Agency.
At a briefing Monday, White House spokesman Sean Spicer tried to spin these types of cuts as fiscal prudence: "With our nation's debt spiraling out of control, we simply must take a look at the way we're spending taxpayers' dollars."
Related: Republican plans will cost trillions. Can they pay for them?
But here's the thing: Nondefense discretionary programs make up the smallest part of the federal budget. As a share of the economy, spending on them is nearing the lowest level in a half century. And none of those programs are drivers of the country's long-term debt.
What's more, making cuts to them to support spending increases elsewhere doesn't begin to address "debt spiraling out of control."
Keep in mind, too, that Trump also wants to devote more money to border protection and infrastructure. And he is banking on passing big tax cuts, which could reduce revenue by trillions of dollars over a decade, only some of which may be recouped by economic growth.
Even if he wanted to offset all those new costs, he couldn't do it on the back of domestic programs alone.
"You simply cannot offset the magnitude of new spending that Trump wants by gutting the Environmental Protection Agency," Greg Valliere, chief global strategist at Horizon Investments, said in his daily note.
That's doubly true if the president ever wants to reduce growth in debt. For that, he'd need to address Medicare and Social Security. Spending on those programs plus interest on the debt is projected to suck up most tax dollars within 20 years.
Trump has said he doesn't want to touch those programs. Spicer on Monday seemed to suggest that his blanket promise may become a more pointed one as the White House works with Congress.
"I think the president understands the commitment that was made to seniors in particular. And that's a sacred bond and trust," Spicer said.